Larysa Rychkova, International Thriller Writer Debut Author Program writer,  launches her debut thriller.
Author Interview + Author & Book Information
A Clash of Forces by Larysa Rychkova
Two forces in a race against time . . . who will win?
After a whirlwind romance, a middle-aged Russian woman, Lara Petrova, marries an aging British businessman—Derek Harrison. Unbeknownst to Lara, Derek, a seemingly successful businessman under immense pressure, has agreed to collaborate with the Russian secret services against Lara's son Alex.
Alex is studying nuclear energy science for his doctorate at Stockholm University, and has invented an important new source of energy, which could remove the need for fossil fuels for the country who becomes the owner of this ground-breaking technology.
The Russians want the invention at any cost, Japan would be more than interested, but the British want it, too.
Alex just wants to stay alive . . .
---
Larysa Rychkova—The Interview
What intrigued you to write about new forms of energy to create a greener future?
Having been born and brought up in the Ukraine, and following the nuclear disaster at Chernobyl, I came to believe that developing a new, safe, renewable source of energy would create a greener future for the planet. It would remove the need for mega nuclear plants. It would also end the reliance on fossil fuels for all the countries around the world, especially for the country that develops and controls that groundbreaking technology.
I also used to live near the biggest European nuclear power plant and most of my friends worked there in some capacity.
Your novel is an international thriller, tell us about your background and how it makes your work authentic.
I was born in the Ukraine, in the former USSR. From the very start, I loved mathematics. I also liked sports, particularly gymnastics, swimming, and skiing. My degrees are in mathematics and computer programming from a university in the Ukraine, and my first job was in the central part of Russia.
My career took me to the Russian Far East. This taught me a lot of skills about dealing with people from different socio-economic sections of society. Later, I had a successful 20-year career as a Director at the Government Job Centre in Ukraine. I used my skills dealing with people to find employment for each applicant, which in turn gave me great satisfaction as I loved to help others.
My life circumstances changed, and I moved to Great Britain, where I enjoy a happy family life. Both of my children completed their higher education in the Ukraine, before earning their master's degrees in Sweden. One of them married a Swedish citizen, another married a French citizen, and I am married to an Englishman. So, we have a very international family.
This also gave me a lot of international experiences and together with my job experiences informed the creative road I traveled. My thriller is fictional, but includes many events taken from real life, from places where most readers have not been. It's very exciting for me to dive into a world created from past events to build a future filled with unbelievable inventions—which could change the real world.
What drew you to writing in English, when it's not your first language?
Because I have lived in England for a while I have started to THINK in English. As I wrote my thriller, I realized the story came to me in English. I decided not to mess with the language and put down whatever came into my head.
I also considered that of the 197 countries in the world, 67 of those nations have English as the primary or official language. There are an additional 27 other countries where English is spoken as an official secondary language. That makes a large pool of potential readers.
Tell us about your hobby of Marquetry.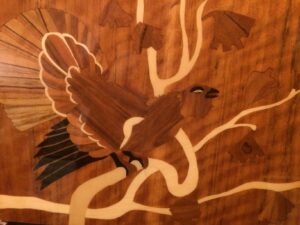 At some point in my life, I was inspired by a huge picture I saw hanging on a wall. It was a magnificent view of a storm at sea with a white yacht, lost and drowning between high waves. The picture was made from various types of wood! It covered most of the entire wall. It was beautiful! That picture was made by artists who worked in the laboratory at a furniture factory in the Russian Far East.
That inspiration led me to find a book that taught the techniques to create beautiful wood pictures. I did it, making pictures for our family and friends. If anybody wants to try it, they need a lot of determination and an artistic eye, as Marquetry is a challenging art form.
I also painted a few pictures that I keep in my home. Look at these flowers! I heard once that a mathematical mind, which I believe I have, could assist a person in the arts. I believe this may be true as I don't have an education in the arts, but I do have an education in mathematics.
You have lived in several countries, where are you living now? And how does that impact your writing?
I currently live in England, just outside Birmingham. It does not impact my writing, but I feel contented, settled here. There are many activities. Dancing, flower arraigning, painting, dominos, sports, running, swimming, volunteering . . . life is very busy. I have spent a lot of time volunteering and swimming.
An interesting fact about me is that all my life I have been a swimmer. And there is a community center very close to my home, where I can swim. I thought up much of the plot of my book while I was swimming, back and forth across the community pool . . . thirty minutes of back and forth and I would know what I wanted to put in the next chapter.
What are you working on now?
I am not writing at the moment. I am spending more time reading. I would like to see how my book does after it's published and how it reaches readers and how they like my writing. After that, I will decide if I should continue to write or not. Although honestly, I have been itching to continue.
Final words of wisdom for aspiring writers:
I would say to debut writers, "You can always edit if you have a bad page but you can't edit a blank page. Never give up. Take each step until you reach the end of your story and your dream—your first book."
Excellent advice! Great to have you visit with us today, best of luck with your debut novel!
---
Larysa Rychkova
Larysa Rychkova was born in the former Soviet Union, in the territory of the Ukraine. Although an exceptional student in her study of mathematics, she was very creative and had a love of the arts.
Seventeen years ago, after several years working in Russia, she moved to England as a newlywed with a British husband. She has settled there and begun to write in her retirement.
She hopes that her novel will help eliminate the myth about women from the eastern part of Europe, who search for love. She hopes that someone will invent the technology to make our world a greener place allowing us to live without a dependency on fossil fuels.
To learn more about Larysa, click on her name or photo or the links here: Black Opal Books & Facebook
---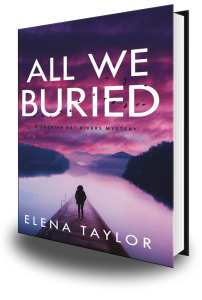 Elena Taylor is the author of All We Buried, available now in print, e-book, and audio book format at all your favorite on-line retailers. And don't forget many independent bookstores can order books for you and have them shipped to your home or for curbside pickup.
For more information on All We Buried, click on the link here to visit the home page.
Finalist: 2020 Best Mystery Foreword INDIE Awards