Saving Grace
Thrilled to have the International Thriller Writer Debut Author Program's Debbie Babitt on my blog today, talking about her debut novel.
Author Interview + Author & Book Info
---
Saving Grace by Debbie Babitt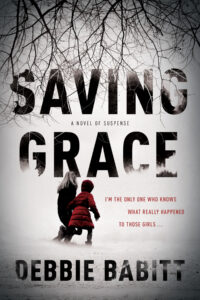 "I'm the only one who knows what happened to those girls…"
In this gripping suspense debut, the first female sheriff of a small mountain village investigates a disappearance that echoes the crimes that shattered her town decades before. 
For twenty-four years, Mary Grace Dobbs has been searching for salvation. Orphaned at eleven, she was forced to go live with her Bible salesman uncle, wheelchair-bound aunt, and a cousin who tortured and killed small animals. At school, a bully made her life a nightmare. Everything changed when a newcomer to town became her only best friend, and changed a second time when that friend and another classmate vanished two months later, never to be seen again.
Today, Mary Grace is the first female sheriff of her rural town, a position that doesn't sit well with some of the locals. Keeping order and her demons at bay becomes an impossible task when the Black drifter suspected in the earlier disappearances returns to Repentance . . . and another sixth grader vanishes.
With old prejudices and new secrets spilling out into the open, the modern world soon illuminates the village's darkest corners. The case becomes even more fraught as a cult of white supremacists brings its gospel of hate to Repentance and violence explodes, claiming more lives. Racing to find the missing girl while fearing for the safety of her own sixth-grade daughter, Mary Grace must confront an unspeakable truth―and face a decision no parent should ever have to make.
Set in a remote mountain town, where the secrets run as deep as the hollows, Saving Grace is at once a spell-binding tale of innocence lost and a twisty, edge-of-your-seat psychological thriller. This startling debut novel introduces a captivating protagonist whose concept of good and evil can shape a young girl―then and now.
---
Saving Grace: Author Interview with Debbie Babitt
Your debut novel, Saving Grace, has been labeled psychological suspense / psychological thriller. What do those subgenres of crime fiction mean to you?
Funny you should ask! I'm also going to include links to two articles I've recently written about psychological suspense. For me, it's all about being in (and getting into) the psyches/minds of the characters—the deeper, the better!
There was a time when thrillers were novels of (mostly) action—written by men and featuring male protagonists.
But female authors have in many ways taken over the genre! Which explains why psychological suspense (think Daphne DuMaurier's Rebecca) is at the heart of of many female-oriented thrillers being written today.
Yes, there is still plenty of physical action, but a lot of the drama stems from the mental/emotional. Think of all the latest subgenres, with their dizzying mental pyrotechnics and chilling mind games, i.e., domestic noir, which exploded on the scene with Gone Girl.
What's interesting is that Saving Grace has also been called a mystery. Although thrillers are usually more often why-dunnits, mine is also a who-dunnit with psychological underpinnings, which is why it straddles both genres. (And there do seem to be more genre-blurring hybrids out there lately.).
To read more about Debbie's thoughts on suspense settings, click the links here for Part I & here for Part II.
Tell us about Repentance, the remote Arkansas mountain town where Saving Grace takes place:
This is interesting, because the town ended up becoming a character in its own right.
I always begin with voice, (more on this below) and once Mary Grace Dobbs, my main character, started talking to me the storylines started falling into place. I knew she lived in the South; I also knew it wasn't the deep South. The Ozarks of Northwest Arkansas was the setting. Now I just needed a town.
Because Mary Grace (in the "Then" chapters when she is eleven) loves her town and vividly describes it to us, i.e., the lakes, caves, and other points of local interest, I needed to find a place that encompassed it all.
Jasper, a real town in northwest Arkansas, seemed ideal because it fit the locales that Mary Grace was telling us about. Then, about a third of the way into the novel, the town started taking on a life of its own. That was when I knew that, although Jasper was the town on which the setting was based, the Baptist community at the story's heart needed a new name.
And that name was Repentance!
How did working in the publishing industry help or hinder your shift to fiction writer?
Definitely helped!
My journey (back) to publishing was a peripatetic one. I say "journey back" because I wrote a 200-page novel when I was eight! I went on to write articles for school newspapers, etc. I also loved performing, so I took a detour into acting. (More on that below.)
Being a freelance copywriter and then a Copy Director for two major publishing houses was an eye-opening experience. Writing selling copy and being limited to a specific word count helped me hone my craft. I learned how to pack as much information and exposition into the fewest number of words.
I also learned to eliminate passive verbs and use only active verbs. Working in the publishing industry also made me realize that while it was wonderful helping authors by promoting their books, it was time to strike out on my own creative journey.
The other great thing about being a publishing insider was that I knew how the business end worked, especially from a marketing angle. It was a win-win!
You have also worked as an actress, playwright, and drama critic. How does your theater background inform your fiction writing?
The answer to your question is—One word: Voice.
Think of a first-person narrative as a four-hundred-page monologue! For me, everything begins with character. As the great Russian director Constantin Stanislavski said, "character is action." He also talked about the "Magic If."
For me, the creative process is akin to playing cowboys and Indians as kids. We believe completely in the reality we are creating/living. You have to imagine you are this person living in this specific time and place.
Case in point: When I was acting in Boston, I performed in a play by Albert Innaurato called The Transfiguration of Benno Blimpie in which I portrayed a Catholic schoolgirl. When I came off the stage, several audience members came over to me and said I was just like the girls they went to Catholic school with. I'd never set foot in a Catholic school. The "Magic If."
I also wrote and reviewed plays, which was a natural segue back into writing from acting. Then I met a woman in a bookstore…and my copywriting career was born!
As Copy Director at Kensington Books and Penguin Putnam, I worked with bestselling, award-winning authors on creating winning copy for their books. Then I decided it was time to write my own novel! As an actress, I wrote reams and reams of biography on my characters (that weren't provided in the play). As an author, I got to create histories/stories for all the characters. In a way, I was all of them.
And novel writing afforded me a broader canvas than playwriting. Instead of solely dialogue, I was able to utilize my descriptive powers, share observations, thoughts and the emotions of the characters. So yes, my background in acting has played a tremendous role in writing a novel.
Character, character, character!
You live in both New York and Florida. How do those very different locations impact your creativity?
I do a lot of thinking and plotting while in motion, especially walking.
In New York City, I walk everywhere, i.e., Central Park, up and down both familiar and non-familiar streets in different neighborhoods. Even while on the subway!
In Florida, I do my walking either on the beach or the intracoastal. I enjoy the warm weather here during the winter because I can be outdoors more. I also plot while at the gym, in both locations. I use a recorder, which is very handy wherever I am! (I used to use a legal pad or notebook, but I got tired of having to stop what I was doing or get off a machine at the gym to jot down thoughts!).
The difference in the two locations is that I walk everywhere in NY, including to markets to shop; in Florida I do my marketing, etc. in the car. I can't really plot while in the car, so I might be getting more plotting done in NY (haven't really measured in actual hours).
But the warm weather over Florida winters means I can just go out and walk and plot without bundling up, etc. (or having to take off my gloves to dig out my recorder while walking during cold NY winters. Brr!).
What are you working on now?
A novel that's a world away from the South of Saving Grace. This novel centers on a Manhattan Supreme Court judge who makes a shocking discovery while presiding over the trial of a rapist/murderer.
Final Words of Wisdom for Aspiring Writers
Write, write, write! Never stop. No matter how discouraged you become. No matter how many dark nights of the soul you experience. Keep writing. It will happen. Sticking to something for the long-term always pays off. Hones your craft. Deepens your experience. And really, what else can you do? You're a writer!
Debbie Babitt's Pet Corner!
Maya is a Bolonka, a Russian lap dog from the Bichon family.
She is a show dog and such a show-off!
My husband taught her to do pirouettes for her treats!
I used to have a cat and Maya has many feline traits. I call her my cat/dog.
Check out how cute Maya is, click the link here for video: Maya
---
Debbie Babitt: Author of Saving Grace
Debbie Babitt was Copy Director for two major Manhattan publishing companies. She is the author of "Adventures in Copywriting" that appeared in Making the Perfect Pitch: How to Catch a Literary Agent's Eye.
Previous creative incarnations include actress, playwright, and drama critic. Her writing has appeared in the New York Law Journal and mysteryandsuspense.com, where her piece about psychological suspense settings on the page and screen was a feature article.
Debbie is a member of International Thriller Writers and Sisters in Crime. The daughter of a former federal judge, she and her husband, a criminal defense attorney, live in New York and Florida.

Saving Grace is Debbie's debut novel, and has been named One of the Most Anticipated Thrillers of 2021 by She Reads and a Best Mystery & Thriller book of 2021 by A Book and a Dream. Saving Grace is also currently Number One on the Most Highly Rated, Popular, and Best Mystery Thrillers on the Web.
To learn more about Debbie, click on her name, photo or any of the following links:  Facebook, Twitter, Instagram & 

Goodreads
---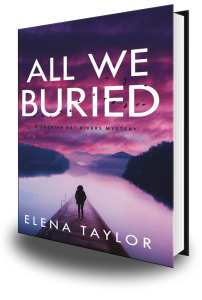 Elena Taylor is the author of All We Buried, available now in print, e-book, and audio book format at all your favorite on-line retailers. And don't forget many independent bookstores can order books for you and have them shipped to your home or for curbside pickup.
For more information on All We Buried, click on the link here to visit the home page.