Books for 2021!
Wondering what's in store in mysteries and thrillers for 2021? Check out some of the titles launching us through summer of 2021.
---
Books for 2021: January
Watch Her by Edwin Hill
In the third intelligently dark suspense novel by Edgar and Agatha finalist Edwin Hill, Harvard librarian Hester Thursby becomes enmeshed with a powerful Boston family desperate to keep their deepest secrets from coming to light…
While attending a gala at Prescott University's lavish new campus, Hester Thursby and fellow guest, Detective Angela White, are called to the home of the college's owners, Tucker and Jennifer Matson. Jennifer claims that someone broke into Pinebank, their secluded mansion on the banks of Jamaica Pond. The more Hester and Angela investigate, the less they believe Jennifer's story, leaving Hester to wonder why she would lie.
When Hester is asked by the college's general manager to locate some missing alumni, she employs her research skills on the family and their for-profit university. Between financial transgressions, a long-ago tragedy, and rumors of infidelity, it's clear that the Matsons aren't immune to scandal or mishap. But when one of the missing students turns up dead, the mystery takes on new urgency. Hester is edging closer to the truth, but as a decades-old secret collides with new lies, a killer grows more determined to keep the past buried with the dead…
"Complex characterization and a masterly mystery make this a superior read." — Kirkus
---
A Murder of Principal by Saralyn Richard
When a maverick principal comes in with a student-centered agenda, there's no more business as usual at Lincoln High School. And killing the principal is just the beginning…
Someone sets fire to Lincoln High and kills the new principal, and chaos threatens to overtake the urban school. Assistant Principal Sally Pearce, originally hired to help the deceased principal revamp the culture, vows to carry on the mission.
In so doing, she locks horns with fellow assistant principal, Wally Welburton, and gets caught up in gang threats, racial tensions, grievances, sexual harassment complaints, and murder.
Sally never dreamed she'd be faced with solving a mystery and returning the school to order.
The odds are against her-a woman in a man's job, a minority in a tough position. Her strong moral compass and commitment to students bolster her as she meets challenge after challenge. When a second murder happens on campus, Sally realizes she's trapped in a cycle of violence that must be stopped–now.
Every Waking Hour by Joanna Schaffhausen
The fourth book in Joanna Schaffhausen's heartpounding Ellery Hathaway mystery series, Every Waking Hour….
After surviving a serial killer's abduction as a young teenager, Ellery Hathaway is finally attempting a normal life. She has a new job as a rookie Boston detective and a fledgling relationship with Reed Markham, the FBI agent who rescued her years ago. But when a twelve-year-old girl disappears on Ellery's watch, the troubling case opens deep wounds that never fully healed.
Chloe Lockhart walked away from a busy street fair and vanished into the crowd. Maybe she was fleeing the suffocating surveillance her parents put on her from the time she was born, or maybe the evil from her parents' past finally caught up to her. For Chloe, as Ellery learns, is not the first child Teresa Lockhart has lost.
Ellery knows what it's like to have the past stalk you, to hold your breath around every corner. Sending one kidnapped girl to find another could be Chloe's only hope or an unmitigated disaster that dooms them both. Ellery must untangle the labyrinth of secrets inside the Lockhart household — secrets that have already murdered one child. Each second that ticks by reminds her of her own lost hours, how close she came to death, and how near it still remains.
---
Books for 2021:
February 
Killer Content by Olivia Blacke
In KILLER CONTENT – a cozy mystery – spunky Louisiana native Odessa Dean has three months in the trendy Brooklyn neighborhood of Williamsburg to make new friends, explore all that NYC has to offer, and solve a murder.
While Odessa is waiting tables and serving craft beer at Untapped Books & Café, her co-worker plunges to her death in a video gone viral.
Determined to prove that her fellow waitress's death is no accident, Odessa embarks on an investigation that meanders through Brooklyn, getting to know its quirky residents as she searches for the killer.
Amid Rage by Joel Burcat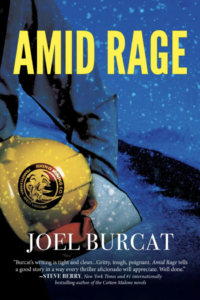 A psychotic coal mine operator and cynical neighbors with an anti-mining agenda ¬fight out a strip mine permit battle. Mike Jacobs, a 28-year old environmental prosecutor with Pennsylvania's environmental agency, DEP, is caught between the warring factions, but is ordered to "babysit" the case. All Mike wants to do is to protect the environment and neighbors from certain harm as a result of the proposed mining.
Sid Feldman, the Philadelphia lawyer for the mine operator, who oozes power and privilege, offers Mike a job midway through the proceedings. Miranda Clymer, the lawyer for the neighbors, pulls out all the stops to win Mike's affection and assistance. Mike's nearest and dearest friend, Nicky Kane, is by his side as his paralegal.
Mike must use all of his talents as a lawyer in the courtroom and rely on his discretion and courage to do what is right and not anger the political bosses for whom he works. In the cataclysmic ending, someone will die…but who?
---
Pursuit of The Truth by K.D. Richards
Security expert Ryan West's worst fears come to life when hotel CEO Nadia Shelton is pushed in front of a taxi and nearly killed.
Someone will do whatever it takes to find the brother Nadia thought was dead, and the only way Ryan can protect her as they uncover the truth is to stay strictly professional.
But the sparks igniting between them are nearly impossible to ignore.
---
Hide in Place by Emilya Naymark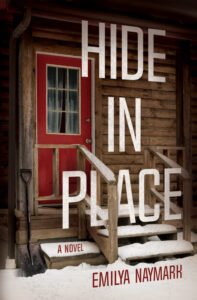 She left the NYPD in the firestorm of a high-profile case gone horribly wrong. Three years later, the ghosts of her past roar back to terrifying life.
When NYPD undercover cop Laney Bird's cover is blown in a racketeering case against the Russian mob, she flees the city with her troubled son, Alfie. Now, three years later, she's found the perfect haven in Sylvan, a charming town in upstate New York. But then the unthinkable happens: her boy vanishes.
Local law enforcement dismisses the thirteen-year-old as a runaway, but Laney knows better. Alfie would never abandon his special routines and the sanctuary of their home. Could he have been kidnapped–or worse? As a February snowstorm rips through the region, Laney is forced to launch her own investigation, using every trick she learned in her years undercover.
As she digs deeper into the disappearance, Laney learns that Alfie and a friend had been meeting with an older man who himself vanished, but not before leaving a corpse in his garage. With dawning horror, Laney discovers that the man was a confidential informant from a high-profile case she had handled in the past. Although he had never known her real identity, he knows it now. Which means several other enemies do, too. Time is running out, and as Laney's search for her son grows more desperate, everything depends on how good a detective she really is–badge or no.
---
Dead on the Delta by Sherry Knowlton
Alexa Williams is about to spend four months conducting lion research in the African bush with her boyfriend Reese. She looks forward to witnessing the elemental life and death struggle of the wild, but she never imagines she'll become one of the hunted on the remote Okavango Delta.
Botswana protects its wildlife with strict policies and an entire army deployed to combat poaching. So Alexa and Reese are shocked when poachers wipe out an entire herd of elephants. At the site of the mass slaughter near their lion project, they promise authorities that they'll watch for suspicious activity as they travel the Delta.
When the country's strict wildlife conservation policies come under debate in the capital, tensions flare and Alexa begins to suspect the ongoing poaching incidents may be about even more than the illicit ivory trade. Especially when a close friend dies when caught in the crossfire.
After an alarming series of near escapes, gunmen attack the safari camp where she and Reese are staying, and Alexa must brave wild animals and the dangerous labyrinth of Delta channels in a desperate attempt to save the hostages, including the man she loves.
---
Books for 2021: March 
Five Tribes by Brian Nelson
It's a countdown to doomsday.
The year is 2026. The US military has a new weapon in its arsenal: an intelligent life-form so versatile that it can not only create a new generation of weapons but can become a weapon itself—entering a host's body to manipulate (or kill) them. Admiral James Curtiss is tasked with deploying the new weapons, first in Cuba, then Venezuela, then China.
But the news of the military's breakthrough has gotten out and there are menacing forces trying to steal it. What's more, a single man has somehow harnessed the new power and has become something more than human—godlike and seemingly indestructible. He is known only as the Inventor, and he has a warning for humanity: abandon the new technology or the human race will face extinction.
It's a countdown to doomsday. But humanity's final fate may be decided in the most unlikely of places: among the primitive tribes of the Kalahari Desert where a top secret military mission has just taken an unexpected turn.
Five Tribes is an action-packed thriller about one man's journey to find himself and—in the process—save humanity.
Fatal Intent by Tammy Euliano
Elderly patients are dying at home days after minor surgery. Natural causes? Malpractice? Or a serial killer? And why doesn't anyone care? Anesthesiologist Dr. Kate Downey wants to know why, but her unorthodox investigation threatens her job, her family, and her very life.
"Tense and fulfilling, there's plenty of sizzle and emotional clout in this stirring debut.  And, even better, it's all written by someone who knows what she's talking about.  A wonderful beginning and I'm looking forward to more."  — Steve Berry, New York Times Bestselling Author
"Medical suspense as sharp as it gets. Euliano is off to a good, no, a brilliant start." — Kathy Reichs, New York Times best-selling author of the Temperance Brennan Bones series
"An intriguing plot with wonderful twists and turns and all kinds of dangers. I love the protagonist who finds strength in her purpose and will fight no matter the odds. Equally chilling villains–devious and frightening! A wonderful debut for this talented author!" — Heather Graham, New York Times best-selling author
"This is terrific – delicious suspense, done-that authenticity, and a great main character in Dr. Kate Downey … we want to see more of her." — Lee Child
Saving Grace by Debbie Babitt

"I'm the only one who knows what really happened to those girls…"
For twenty-four years, Mary Grace Dobbs has been searching for salvation. Orphaned at eleven, she was forced to live on the charity of her Bible salesman uncle. At school, a bully made her life a nightmare. Everything changed when a newcomer to town became her first and only best friend. Two months later, search parties were sent out to find her two classmates, who were never seen again.
Today, Mary Grace is a single mother and the first female sheriff of her Arkansas town. Keeping order and her demons at bay becomes an impossible task when the Black drifter who was a suspect in the earlier disappearances returns to Repentance…and another sixth grader vanishes.
Set in a remote mountain town, where secrets run as deep as the hollows, Saving Grace is at once a spellbinding tale of innocence lost and an edge-of-your-seat psychological thriller. This startling debut novel introduces a captivating protagonist whose concept of good and evil can shape a young girl living in the South—then and now.
---
Books for 2021:
April 
In the Company of Killers by Bryan Christy
In this intricate and propulsive thriller–from National Geographic's founder of Special Investigations–Tom Klay an investigative reporter leading a double life as a CIA spy, discovers that he has been weaponized in a global game of espionage pitting him against one of the world's most ruthless men.
Tom Klay is a celebrated investigative wildlife reporter for the esteemed magazine The Sovereign. But Klay is not just a journalist. His reporting is cover for an even more dangerous job: CIA agent. Klay's press credentials give him world-wide access, and the information he gathers is indispensable. But while on assignment in Kenya, Klay's closest friend is murdered and soon Klay's carefully constructed double life unravels as his ambition turns to revenge.
As a final mission, Klay is offered a devil's bargain to capture the man who killed his friend by infiltrating the offices of the woman he loves, South Africa's special prosecutor Hungry Khoza. As Klay investigates, he discovers that he and Hungry are part of a larger, more lethal puzzle–one that involves a ruthless global mercenary, China, and the Company. The deeper he digs, the more Klay realizes that everything he thought he knew about his work may have been a lie, and his sworn enemy may be his only ally. In this riveting, timely thriller, the lines between good and evil blur, and absolutely nothing is as it seems.
What You Never Knew by Jessica Hamilton
Told in alternating points of view between the living and the dead, Jessica Hamilton's debut novel will be perfect for fans of The Lovely Bones.
Old sins cast long shadows…
Idyllic Avril lsland, owned by the Bennett family, where their hundred-year-old cottage sat nestled in acres of forest. Forty-year-old June Bennett believed that the island had been sold after the summer of her father's disappearance when she was only twelve years old. It's months after the shocking death of her older sister May in a fatal car accident, that June finds out that the cottage was never sold. Avril Island is still owned by the Bennett family and now it's hers.
Still reeling from the grief of losing her sister, June travels back to Avril lsland in search of answers. As she digs, she learns that the townspeople believe her father may have, in fact, been murdered rather than abandoning his family in the dead of night, as she was led to believe by her mother. And that's when she begins to notice strange things happening on the island–missing family possessions showing up on her bed, doors open when she had locked them closed. It takes June no time at all to realize that her childhood summers at Avril Island were not at all what they had seemed to be.
---
Books for 2021:
May 
Denied by Mary Keliikoa
A high-risk pregnancy. A dangerous secret. When her case turns deadly, can this investigator avoid racking up a fatal debt? Despite her injuries, PI Kelly Pruett is eager to get back to work. So when a mommy-to-be hires her to locate her estranged dad, Kelly is thankful for the straightforward missing-persons case.
But as she rummages through his trash in search of clues, she uncovers gambling debts to gangsters… and a blood-soaked severed finger. With her investigation no longer cut-and-dried, Kelly's hunt takes a deadly turn when her quarry is found driven off a cliff to his doom. And she'll need more than her cop boyfriend's help to expose the truth when the mob sends her a cease-and-desist notice with an explosive ending.
Can the determined detective take on the mafia and make it out alive?
---
Arsenic and  Adobo by Mia P Manansala
The first book in a new culinary cozy series full of sharp humor and delectable dishes—one that might just be killer….
When Lila Macapagal moves back home to recover from a horrible breakup, her life seems to be following all the typical rom-com tropes. She's tasked with saving her Tita Rosie's failing restaurant and has to deal with a group of matchmaking aunties who shower her with love and judgment.
But when a notoriously nasty food critic (who happens to be her ex-boyfriend) drops dead moments after a confrontation with Lila, her life quickly swerves from a Nora Ephron romp to an Agatha Christie case.
With the cops treating her like she's the one and only suspect, and the shady landlord looking to finally kick the Macapagal family out and resell the storefront, Lila's left with no choice but to conduct her own investigation. Armed with the nosy auntie network, her barista best bud, and her trusted Dachshund, Longanisa, Lila takes on this tasty, twisted case and soon finds her own neck on the chopping block…
The Thief of Souls by Brian Klingborg

In Brian Klingborg's Thief of Souls, the brutal murder of a young woman in a rural village in Northern China sends shockwaves all the way to Beijing—but seemingly only Inspector Lu Fei, living in exile in the small town, is interested in justice for the victim.
Lu Fei is a graduate of China's top police college but he's been assigned to a sleepy backwater town in northern China, where almost nothing happens and the theft of a few chickens represents a major crime wave. That is until a young woman is found dead, her organs removed, and joss paper stuffed in her mouth.
The CID in Beijing—headed by a rising political star—is on the case but in an increasingly authoritarian China, prosperity and political stability are far more important than solving the murder of an insignificant village girl. As such, the CID head is interested in pinning the crime on the first available suspect rather than wading into uncomfortable truths, leaving Lu Fei on his own.
As Lu digs deeper into the gruesome murder, he finds himself facing old enemies and creating new ones in the form of local Communist Party bosses and corrupt business interests. Despite these rising obstacles, Lu remains determined to find the real killer, especially after he links the murder to other unsolved homicides. But the closer he gets to the heart of the mystery, the more he puts himself and his loved ones in danger.
---
Books for 2021: 
June 
I Don't Forgive You by Aggie Blum Thompson
Perfect for book clubs or the beach, Aggie Blum Thompson's I Don't Forgive You is a page-turning, thrilling debut "not to be missed." (Wendy Walker)
An accomplished photographer and the devoted mom of an adorable little boy, Allie Ross has just moved to an upscale DC suburb, the kind of place where parenting feels like a competitive sport. Allie's desperate to make a good first impression. Then she's framed for murder.
It all starts at a neighborhood party when a local dad corners Allie and calls her by an old, forgotten nickname from her dark past. The next day, he is found dead.
Soon, the police are knocking at her door, grilling her about a supposed Tinder relationship with the man, and pulling up texts between them. She learns quickly that she's been hacked and someone is impersonating her online. Her reputation—socially and professionally—is at stake; even her husband starts to doubt her. As the killer closes in, Allie must reach back into a past she vowed to forget in order to learn the shocking truth of who is destroying her life.
Shutter by Melissa Larsen
The Family Tree by Steph Mullin and Nicole Mabry
Liz Catalano is shocked when a DNA ancestry test reveals she's adopted. But she could never have imagined trying to connect with her unknown family would plunge her into an FBI investigation of a notorious serial killer.
The Tri-State Killer has been abducting pairs of women for forty years, evading all police efforts and leaving barely a trace behind.
Can Liz figure out who in her new family is the cold-blooded killer? And can she save his newest victims before it's too late?
Learn more about Steph and Nicole by clicking the link here.
UK & Holland release dates: June 2021
US & Canada Ebook release dates: June 2021
Us & Canada Paperback release dates: Fall 2021
Divided States by Rick Treon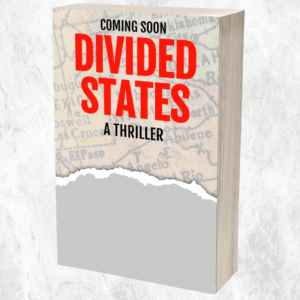 Lori Young went to New Orleans to get drunk and lucky. Instead, the self-destructive ex-detective finds herself in the middle of a mass shooting, one of many at New Year's celebrations across the former United States.
After taking down the gunman, she's taken by a group who claims to be working against the terrorists. They want Lori to help take down a deep state hellbent on reuniting the country under threat of a nuclear strike.
The key to stopping the plan lies back home in The Republic of Texas, where Lori's ex-husband has been coerced into helping transport the missile. But does Lori still have what it takes to stave off nuclear war across the Divided States?