Eleanor Kuhns, author of the Will Rees Mysteries—visit all the stops on her Partners in Crime Book Tour!
Interview + Author & Book Info + Excerpt + Rafflecopter
---
Eleanor Kuhns launches Death in the Great Dismal
Finding themselves in a slave community hidden within the Great Dismal Swamp, Will Rees and his wife Lydia get caught up in a dangerous murder case where no one trusts them.
September 1800, Maine. Will Rees is beseeched by Tobias, an old friend abducted by slave catchers years before, to travel south to Virginia to help transport his pregnant wife, Ruth, back north. Though he's reluctant, Will's wife Lydia convinces him to go . . . on the condition she accompanies them.
Upon arriving in a small community of absconded slaves hiding within the Great Dismal Swamp, Will and Lydia are met with distrust. Tensions are high and a fight breaks out between Tobias and Scipio, a philanderer with a bounty on his head known for conning men out of money. The following day Scipio is found dead – shot in the back.
Stuck within the hostile Great Dismal and with slave catchers on the prowl, Will and Lydia find themselves caught up in their most dangerous case yet.
Genre: Mystery, Thriller
Published by: Severn House Publishers
Publication Date: January 5th 2021
Number of Pages: 224
ISBN: 0727890239 (ISBN13: 9780727890238)
Series: Will Rees Mysteries #8
To buy the book, click on any of the following links: Amazon | Barnes & Noble | Goodreads
---
The Interview with Eleanor Kuhns
Tell us about your latest release:
In Death in the Great Dismal, Rees and Lydia are asked to help rescue a friend from Virginia. Taken off the Street in Maine, she was sold into slavery and fled to the Great Dismal Swamp.
When Rees and Lydia arrive, they are met with distrust and Ruth does not want to leave. A day later, one of the other members of the village is shot and killed.
What should we know about the series as a whole?
The series takes place in the late 1700s, early 1800s. It is a time period few writers have focused on. Rees is married, and there are stresses there as there are in any marriage. He and Lydia also have adopted several children and are beginning a family of their own.
I wanted to show a 'detective' who struggles to balance that part of his life with his role as a husband and father.
What made you decide to make Will Rees a traveling weaver?
Weaving was one of the few professions of that time done by both men and women. Most of the jobs were separated by gender.
Also, being a traveler means Rees can visit other places to solve crimes. I felt a slew of mysteries in a small town would be beyond unrealistic.
What drew you to this time period?
It was a period between wars. The new country was struggling to find its footing. And it is easy to see how decisions made twenty years earlier (allowing slavery) set up events in the future (the Civil War.)
How do you go about doing research for your novels?
I read a lot, of course. I also try to visit the places I am setting my novel within. Salem (For Death in Salem), and the Great Dismal Swamp for the current title.
What are you working on now?
I completed the next novel after Death in the Great Dismal (titled Murder on Principle.) Now I am working on sending Rees and Lydia to Boston to deal with her family. I have had numerous requests for more about Lydia.
Final words of wisdom for aspiring writers:
Never give up. It is extremely difficult to publish, Only the authors who keep at it succeed.
Author Pet Corner!

Meet Eleanor's rescue dog, Shelby. Nickname: Puppers!
Excerpt from Death in the Great Dismal
Prologue
'You want me to do what?' Rees asked, staring at the man next to him. He had not recognized Tobias at first. When taken by the slave catchers, Tobias had been a young man. He was still a young man in Rees's opinion, but he no longer looked like it. Now gray threaded his hair, grooves scored his forehead and his eyes were haunted. He looked as though he'd experienced the worst of what man had to offer. Rees felt a burst of sympathy.
'I want you to accompany me to Virginia,' Tobias repeated. 'To the great swamp.' When Rees sat back in the creaky porch chair without answering, Tobias rushed on, 'Please. Ruth is pregnant and wouldn't come north with me. She was afraid. And it was difficult, so difficult, even with the help of the Quakers. I don't dare go south to fetch her without help.'
'But you made it back home,' Rees objected. 'Won't the Quakers help you again? I don't understand why you need me.'
'I don't think they run the railroad south,' Tobias said with a faint smile. 'Besides . . .'   His eyes drifted away from Rees to the yard and the barn behind it. It was late September and the hills behind the farm were a mosaic of gold, orange and red interspersed with the dark rich green of the firs.
'Besides?' Rees repeated. Tobias was keeping something back; Rees knew it.
'Besides it is even more dangerous now.' Tobias's gaze returned to Rees. 'A man named Gabriel Prosser led a slave revolt. Planned it anyway. Right around Richmond. Everybody real tense. I need a white man beside me. Ruth trusts you. You're the only one I know who will travel.' He swallowed, his expression beseeching.
Rees still said nothing. Several years previously, Tobias and Ruth, both free blacks, had been snatched off the streets of Dugard, Maine and taken south. 
 'How did you find me?' he asked instead of acknowledging Tobias's question. He was tempted, no denying that. Most of the harvest was in and he'd finished his final weaving commission. After a summer spent working on the farm, he felt restless and was ready to do something different.
'I went to Dugard first. It was your son that told me where you were. He said you gave him your farm.'
'Yes. We moved to this farm.' 
'Will you help me?' Tobias asked, leaning forward. Rees looked at the eagerness on the dark face peering into his. Rees hesitated. He should say no, he knew he should.
'Maybe,' he said instead. What would Lydia say? His journey would leave her alone on the farm with the children for several weeks; he couldn't see her agreeing to that.
'I think we should go,' Lydia said, stepping through the front door. 
'Really?' he asked in surprise.
She nodded. 'I know the signs; you're getting restless.' She paused but Rees did not speak.  Since the circus had come to town in the spring and he'd been attracted to the beautiful rope dancer, the relationship between him and his wife had been strained. She was edgy with him.  Sometimes he caught her staring at him and lately she'd become prone to crying fits, for no reason he could see. 'But, if you go,' she continued, 'I want to accompany you.' 
'What?' Rees jumped to his feet and the chair crashed to the floor behind him. 
'I'd like you to join us,' Tobias said eagerly, turning to face her. 'Ruth will join us readily if there's another woman.' Then, catching sight of Rees's expression, he added, 'If possible.' 
 'It's too dangerous,' Rees said.
'Predictable,' Lydia muttered.
'It'll be easier to travel through the South if everyone thinks you are just a man and wife with your slaves.' Tobias's mouth twisted into a grimace. Rees leaned forward to clap the other man's shoulder in commiseration but before he touched him Tobias flinched away. The involuntary cringe made Rees himself jerk back.  What had happened to Tobias in Virginia?
'It would be a long trip for my horse,' Rees said. 'Especially pulling my wagon.'
'We could take the cart,' Lydia suggested.
'You couldn't get them through the swamp anyway.' Tobias said. 'Unless,' he paused a moment, thinking. 
'You could leave them at a livery in Norfolk.'
'Hmm,' Rees grunted. He didn't like the thought of leaving his horse and wagon anywhere. 'We're finishing up the harvest. Even if I wanted to help you, this isn't a good time.' He made that one final objection.
Tobias turned to look at the fields. The corn and wheat were cut to stubble, but pumpkins spotted the fields with orange and buckwheat, the second planting, waved in the breeze. 'You wouldn't be gone long,' he pleaded, his eyes reddening as though he might weep. 'Plenty of time to finish this.' He waved his hand at the fields.
Rees, who could not abide tears, especially in another man, held up his hand. 'All right, I'll think about it.' Of course he couldn't go. It was a long distance and even if they hurried, they might not return until mid-October or later. By then Maine could see snow.
'Please,' Tobias repeated, sensing Rees's longing and pressing his advantage. 'Most of your crops are in and you got help bringing in the last of them.'
Since that was true, Rees did not argue. The Shakers had made good on their promise to assist him and some Brothers were even now in the fields.  Besides the Shakers, Rees had hired a few of the landless men who wandered the roads looking for work. 'If I were to accompany you,' he said, 'and that's a big if, Lydia Rees must remain here.'
'If you go, I go,' she said. Rees shook his head, but she ignored him. Turning to Tobias, she said with a smile, 'I know Ruth well. Let my husband and I confer. Come back tomorrow for our answer.'
His face lighting up with hope, Tobias rose to his feet. 'Tomorrow then.'
As Tobias jumped off the wooden deck and began crossing the yard, Rees said to Lydia,  'You know this isn't possible.' 
'If you leave without me, I will follow. You know I will,' she said.
Rees frowned at her. Always watching him, that was his wife. He felt a combination of shame and irritation that she still did not trust him. 'Lydia,' he began. But she interrupted him.
'We need to talk about last spring and what happened,' she said. 'Here, at the farm, we are too busy and always distracted.'
'It will be a long and grueling journey,' Rees warned, hoping to discourage her.
'You know some of the Shakers are traveling south to check on their Georgia and Florida communities,' Lydia said. 'We can follow them in the cart. And Annie and Jerusha can watch the children.'
---
Eleanor Kuhns
Eleanor Kuhns is the 2011 winner of the Minotaur Books/Mystery Writers of America First Crime novel winner.
After working as a librarian, she transitioned to a full time writer.
This is number eight in the Will Rees Mystery series.
To learn more about Eleanor, click on her name, photo, or any of the following links: Goodreads, BookBub, Twitter & Facebook
---
Visit all the stops along the tour!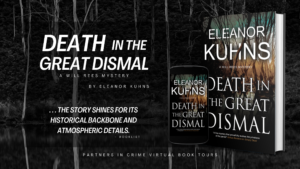 03/22 Guest post @ The Book Divas Reads
03/23 Guest post @ Books, Ramblings, and Tea
03/23 Review @ Archaeolibrarian – I Dig Good Books!
03/24 Guest post @ Quiet Fury Books
03/25 Review @ Book Reviews From an Avid Reader
03/25 Showcase @ Nesies Place
03/26 Review @ Books and Zebras @ jypsylynn
03/28 Interview @ Author Elena Taylors Blog
03/30 Showcase @ Eclectic Moods
04/01 Showcase @ The Stuff of Success
04/02 Review @ Jane Pettit Reviews
04/03 Showcase @ nanasbookreviews
04/04 Interview @ A Blue Million Books
04/05 Showcase @ Im All About Books
04/06 Review @ Novels N Latte Review
04/07 Showcase @ 411 ON BOOKS, AUTHORS, AND PUBLISHING NEWS
04/11 Showcase @ EienCafe
04/12 Showcase @ Celticladys Reviews
04/13 Interview @ BooksChatter
05/06 Podcast @ Blogtalk Radio

---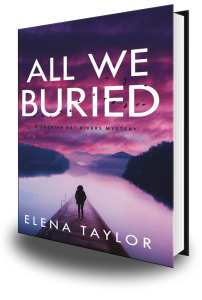 Elena Taylor is the author of All We Buried, available now in print, e-book, and audio book format at all your favorite on-line retailers. And don't forget many independent bookstores can order books for you and have them shipped to your home or for curbside pickup.
For more information on All We Buried, click on the link here to visit the home page.
Finalist: 2020 Best Mystery through the Foreword INDIE Awards