Police Procedural The Things That Last Forever by Peter W.J. Hayes
Author Interview + Book & Author Info + Excerpt + Rafflecopter Giveaway
Welcome to the latest stop on the Partners in Crime Virtual Book Tour!
---
Police Procedural: The Things That Last Forever
Genre: Mystery: Police Procedural
Published by: Level Best Books
Publication Date: August 1, 2020
Number of Pages: 294
ISBN: 978-1-947915-56-5
Series: A Vic Lenoski Mystery; Pittsburgh Trilogy #3 || Each is a Stand Alone Mystery
After a house fire hospitalizes his partner and forces him onto medical leave, Pittsburgh Bureau of Police detective Vic Lenoski starts a desperate search for the woman who set the blaze. She is the one person who knows what happened to his missing teenage daughter, but as a fugitive, she's disappeared so thoroughly no one can find her.
Risking his job and the wrath of the district attorney, Vic resorts to bargaining with criminal suspects for new leads, many of which point to North Dakota. He flies there, only to discover he is far from everything he knows, and his long-cherished definitions of good and bad are fading as quickly as his leads. His only chance is one last audacious roll of the dice. Can he stay alive long enough to discover the whereabouts of his daughter and rebuild his life? Or is everything from his past lost forever?
"The mystery plot itself is riveting…a captivating and emotionally intelligent crime drama." — Kirkus Reviews
To purchase the book, click on any of the following links: Amazon | Barnes & Noble | Goodreads
---
Author Interview with Peter W.J. Hayes
The Things That Last Forever is the third of a trilogy. Can this be read as a standalone?
Yes, The Things That Last Forever can be read as a standalone. I do think the trilogy works better if the books are read in order, because the reader picks up and understands (in more detail) the back story on each character, especially Vic Lenoski.
Vic's character arc, from book one to book three, will be much clearer. However, as the trilogy progresses, I tried to summarize backstories so the reader would have a sense of the past circumstances and tribulations of the main characters. Note that book two—The Things That Are Different—was nominated for a Silver Falchion award as a standalone.
Fire plays a role in both books two and three in your trilogy. What draws you to that element?
In book two I started with a fire only because my inspiration for the plot was based on the real-life story—from a few years ago—of an Assistant DA in rural western Pennsylvania who died in a house fire.
I remember reading the newspaper article describing the event and thinking there had to be a story behind it. I hadn't planned to end with a house fire in that book, but as I wrote I liked the idea of bookending the novel with fires at the beginning and end.
In The Things That Last Forever, I used the fire to satisfy plot points and amp up the tension. Charlie Running Bear and his crew were out for revenge, so it made sense they would set the blaze.
The fire itself puts Vic and Levon under pressure, and it serves as a nice red herring from the plot twist of what Vic finds in the house. But there is something final about house fires that forces decisions to be made and serves as a clean break from the past, and I like that as well.
I love complex characters, complete with flaws. What are the strengths and weaknesses of your protagonist Vic Lenoski?
Vic is something of a tough guy, an ex-Golden Gloves boxer whose father was a mill hunky. He also grew up during the period in Pittsburgh when the mills were closing and Pittsburgh was suffering huge economic dislocation, which made many Pittsburghers hard bitten.
Most of his high school friends departed for other parts of the country to find jobs and never returned. Vic made a clear decision (as I mention in book one…The Things That Aren't There) to stay and protect what's left of the city, which is why he joins the police force.
Vic lives by an old school morality. His leading virtues are honesty and loyalty, and he believes they can only be earned over time. He also has a keen analytical mind, which helps him in investigations.
His weaknesses are that he doesn't suffer fools, careerists and shows offs gladly, he is poor at facing his own emotions (his character arc in book one takes him from denial that his daughter is missing to acceptance that he must try to find her), and a hard definition of right and wrong that, in the first two books, is defined by written law.
By the end of book three he has come to accept that right and wrong should be defined by the way justice is served, as opposed to the letter of the law, and that empathy and kindness have a place alongside honesty and loyalty as his principal virtues.
The Things That Last Forever takes place in Pittsburgh and North Dakota. Tell us about those two landscapes and how they impact the characters and events.
Pittsburgh was always the setting I preferred for the majority of the books, simply because I am familiar with it and I do believe that geography helps determine our world views. Plus, to me, Vic is a Pittsburgh guy.
North Dakota was chosen more for the service of the plot (until I visited, and saw how it could become almost a character in its own right).
In The Things That Last Forever, Vic is chasing a fugitive, so by definition she would be somewhere other than Pittsburgh. Plus, I wanted Vic on a frontier and out of his natural element, because those conditions force people to review and reconsider their lives, as Vic needs to do. I'm glad I settled on North Dakota.
You have traveled extensively in your life, how does your travel enrich your worldview and by extension, your writing?
I think it helps a lot in the sense that, as my mother used to say, there is more than one way to skin a cat. Seeing the different ways people conduct their lives helped free me to accept and find different ways for my characters to live their lives, without judgement.
I also think that travelling turns everyone into more of an observer, which is a useful skill for novelists to have. I also think that regularly hearing foreign languages sharpens your ear to conversation patterns. I studied Mandarin Chinese for five years, and it taught me an awful lot about English and how English works.
In addition to novels, you write a lot of short stories, many of which have won awards and accolades. How does your process differ between a short story and a novel? How do you know when a story is meant to be fleshed out into a longer work and when it should remain short and concise?
I usually know right away if a story will be a short story or a novel. The resolution of the problem presented to the main character always arrives more rapidly in a short story (it tends to be something like an 'if…then' formula), and tends to be more focused around a single character.
The writing process is also different for short stories. When I'm working on novels, I tend to shoot for four newly written pages a day. With short stories, one page is a good day, and the rewriting is much, much more extensive. Every word counts.
What are you working on now?
I'm working on a standalone novel about the PI Levon Grace, who figures in all three books of the Pittsburgh Trilogy. The first draft is complete and I'm rewriting. I always have a short story I'm working on as well.
When I've finished the Levon Grace book I have a contract with Level Best Books to produce three more Vic Lenoski books, so I will be turning the trilogy into a series. If you have read The Things That Last Forever you will know there is a complication around that, but I think I have found a solution.
Final words of wisdom for aspiring writers:
There is no secret formula to becoming a successful writer. Write every day, even if the work is terrible. It will get better.
Read a lot and think about how other authors approached their topics.
Spend time learning the craft of writing: read books about plot, character, scene structure and whatever else you can find.
Become ruthless about self-editing your work. There is always another, better way to formulate a sentence, paragraph, scene or plot.
Lastly, seek out other writers and join critique groups. The writing community, including writers, editors, publishers, reviewers, bloggers, readers and fans is welcoming, supportive and just as committed to the success of your work as you are. Enjoy and trust in that.
Wonderful words of advice. Thank you for hanging out with us today, best of luck with all your projects!
---
Excerpt of the Police Procedural, The Things That Last Forever
Chapter 1
Sometimes you walk into a room and what's inside changes your life forever. That sense stopped Vic just inside the doorway. A woman with skin the color of dark amber lay on the only bed, her bandaged arms shockingly white among the shadows. She was reflected in a large window in the far wall, the outside sky as black and still as the inside of a tomb. He smelled disinfectant and blood. Numbers and graph lines flared on grey-eyed medical monitors. Somewhere in the vast empty spaces of the hospital a voice echoed.
He'd never visited a burn ward.
Never had a partner so close to death.
Never thought a room could seem as hollow as he felt inside.
The feeling was so disembodying that when he reached the bed and looked into the woman's face, he half expected to see himself. But it was Liz, her forehead and knobby cheekbones smeared with ointment, eyebrows and eyelashes burned away. A bandage covered her left earlobe where her favorite earring, a small gold star, usually sat. It seemed like every breath she took pained her.
He wanted to take her hand but the bandages made it impossible. "Liz," he said softly, her name almost lost among the beeps and clicks of the monitors. Liquid dripped into a tangle of IV tubes at the back of her fist.
Her eyelids fluttered.
"Liz. Doctor told me I could talk to you."
Her eyes opened. He watched her pupils widen and narrow as they absorbed the distance to the ceiling and distinguished shadows from feeble light.
"Vic?" A hoarse whisper.
"I'm here."
She turned her face to him. "You got me out."
Relief rose in Vic's throat. "Yeah. But the house didn't make it."
"Cora Stills?"
Vic squeezed his eyelids shut and rocked on his heels. He didn't know where to start. Cora Stills. The one person who knew something—anything—about his missing teenage daughter. Liz on her way to arrest her. Instead, Liz, handcuffed to a radiator pipe as flames lathered and stormed through Cora's house. Cora's burned-out car found two days later on a crumbling stone dock next to a deserted warehouse, the Allegheny River emptying westward.
Cora, alive and moving through that tomb of darkness outside the window. Free.
"Vic…" Liz said something more but he couldn't make it out.
He bent closer.
She forced her words from somewhere deep inside, and as she spoke, he knew this was what she saved through all the fear and pain to tell him. "Someone told Cora I was coming."
***
Excerpt from The Things That Last Forever by Peter W. J. Hayes. Copyright 2020 by Peter W. J. Hayes. Reproduced with permission from Peter W. J. Hayes. All rights reserved.
---
About the Author of the Police Procedural, The Things That Last Forever
Peter W. J. Hayes worked as a journalist, advertising copywriter and marketing executive before turning to mystery and crime writing.
He is the author of the Silver Falchion-nominated Pittsburgh trilogy, a police procedural series, and is a Derringer-nominated author of more than a dozen short stories.
His work has appeared in Black Cat Mystery Magazine, Mystery Weekly, Pulp Modern and various anthologies, including two Malice Domestic collections and The Best New England Crime Stories.
He is also a past nominee for the Crime Writers Association (CWA) Debut Dagger Award.
To learn more about Peter click on his name, photo, or any of the following links: Goodreads, BookBub, Instagram, Twitter
& Facebook
---
Visit all the stops along the Partners in Crime Virtual Book Tour!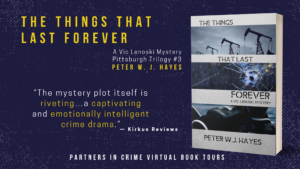 01/03 Review @ Book Reviews From an Avid Reader
01/04 Guest post @ Novels Alive
01/05 Interview @ Author Elena Taylors Blog
01/06 Review @ Avonna Loves Genres
01/07 Interview @ BooksChatter
01/08 Review @ Nesies Place
01/10 Review @ Jane Pettit Reviews
01/11 Interview @ A Blue Million Books
01/12 Review @ sunny island breezes
01/15 Review @ @ ebeeari
01/18 Showcase @ Archaeolibrarian – I Dig Good Books!
01/21 Guest post @ The Book Divas Reads
01/22 Showcase @ nanasbookreviews
01/24 Showcase @ EienCafe
01/27 Interview/showcase @ CMash Reads
02/02 Review @ The Review Crew
02/03 Guest post @ Nesies Place
02/04 Review @ Allie_reads95
02/05 Review @ The Things That Last Forever
02/08 Interview @ Podcast
02/08 Review @ Just Reviews
02/10 Review/showcase @ Our Town Book Reviews
02/12 Review @ Quiet Fury Books
02/16 Showcase @ Reading A Page Turner
---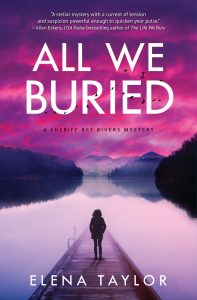 Elena Taylor is the author of All We Buried, available now in print, e-book, and audio book format at all your favorite on-line retailers. And don't forget many independent bookstores can order books for you and have them shipped to your home or for curbside pickup.
For more information on All We Buried, click on the link here to visit the home page.
Amazon Kindle Deal $1.99—January 1-31