Marco Carocari, professional photographer by day, novelist by night! Read my interview with this terrific debut author along with my review of Blackout.
Author Interview + Book & Author Info + Review
---
Blackout by Marco Carocari
Strait-laced forty-something Franco definitely picked the wrong night to get freaky. A hook-up with a hot guy on his Manhattan rooftop, and a joint he's unaware is laced, leaves him dazed. And-if memory serves him-the sole witness to a murder across the street.
Except, the cops can't find a crime scene or a body, and Franco's perforated recollections and conflicting testimony leave the detectives unimpressed. When days later the mutilated body of a philanthropic millionaire is discovered, he's not only shocked to learn he knew him, but with Franco's fingerprints all over the crime scene, he quickly graduates from unreliable witness to prime suspect. And the random trick who could alibi him has vanished into the anonymity of the Internet.
Unsettled, and confronted with forty-year-old memories, when Franco's father was murdered in front of him during Manhattan's infamous blackout, a shocking revelation finally unmasks the man who pulled the trigger that night. And painting Franco the perfect suspect.
With a target on his back and time running out, the truth will set Franco free, or earn him a toe tag at the morgue.
---
Marco Carocari: The Interview
Tell us about the road to publication with your first novel, Blackout:
I began this project on a dare (with myself) almost eight years ago, and the feedback I got was positive. But I had a lot to learn about professional writing, and am glad I had the sense to believe in and stick with the novel and to invest in classes to improve my writing.
As much of an Americanophile I may be, English is a second language for me, and I still utter or write the occasional awkward sentence.
When I pitched Blackout to seven agents and editors at Thriller Fest '18 I was really nervous, fearing my gay protagonist in a traditional mystery might be an issue. But they were all interested, and I got partial or full submission requests from everyone, which was awesome.
Until I got as many rejections.
On the upside, all but one commented positively on my writing, which is kind of straight from the hip, and that showed me I was making progress with the classes.
A fluke encounter with the wonderful Shawn Reilly Simmons at a writers convention culminated in a contract with Level Best Books, and here we are. I believe everything happens for a reason and that I needed the time and the failures to become a better writer to wrangle Blackout into the book it is today: a piece of work I'm proud of.
What should we know about Franco DiMaso?
Franco is a forty-three-year-old photographer in Manhattan who rarely ventures outside his comfort zone. He's also in a bit of a rut and, though talented, not very good at networking. At this point in his life, he expected to be more successful and well off enough not to work two jobs on the side to keep afloat.
When he was four, his father, a police officer, was murdered in front of him, right before the Blackout hit, in July of '77, something that still haunts him today.
The cops' poor handling of the case feeds his distrust in the system—something that only makes matters worse, forty years later, when he becomes a most (unreliable) witness and, later, a prime suspect in a murder across the street.
You grew up in Switzerland, traveled extensively as a flight attendant, and now live in Palm Springs. Those are all very different environments! How does the environment you live in impact your writing?
As someone whose stories are all set in the US, it is definitely easier to write about life in the States now that I live here. I still do a lot of research, read, and talk to people with experiences that I lack. For example, I've seen tons of movies showing American high school experiences, which my characters would have had, but Swiss school years were so different, especially in my small town.
Also, it is easier to do research when you only live hours away from the place you write about (my next project is set in LA). That makes me feel more secure, because I dread getting things wrong.
I did get more on the page when I lived in Zurich, a bustling, vibrant city than now, happily living in a beautiful home in a quiet neighborhood in the desert. But I suspect that also has to do with the fact that I write more carefully now, always looking for errors or ways to improve.
How does the environment play a role in Blackout?
I absolutely love it when someone delivers a great setting in a story, and the sounds, smells, and energy of a location leaps from the pages. I visited New York over two hundred times in the past thirty years but never lived there, and often worry I might therefore not sound authentic enough.
So I visit when I can, research, and watch movies and hope my imagination and writing skills do enough justice to set the scene right. I wanted to understand and show two New Yorks—the city it is today and the one struggling through the 70s.
Your debut novel, Blackout, shows a strong sense of humor. How do you work humor into a crime novel?
Some scenes and conversations are very much based on me and my friends and the way we talk to one another. But Blackout wasn't intended to be funny, nor is it, really.
Franco goes through some traumatic experiences, and his life is coming apart at the seams—I wanted to show his struggles, fears, and desperations, but also make sure he didn't lose his sense of humor.
I was a shy and quiet kid and am still an introvert in many situations today. But learning to laugh at myself and finding humor even in tough moments helped me through some very dark times in my life. Franco very much has that kind of attitude and way of looking at his surroundings.
You are a professional photographer. Tell us about that career.
I discovered my passion for photography during my years with Swissair in the 90s and began publishing some of my work with magazines around the world.
In 2002 I quit my job and started my own business, but I was naive to think it would be as easy.
Like Franco, I worked several side-jobs to keep afloat and often wasn't aggressive enough to push to the front of the line to be seen or heard.
Fortunately, it eventually all worked out, and I even got my five seconds of fame (yes, really that short). Today, shooting mostly architecture and real estate pays the bills.
What are you working on now?
I just got my short story "All In The Planning" accepted for the upcoming anthology Malice Domestic 16: Mystery Most Diabolical, have another one out for consideration and spent most of 2020 researching and writing an LA police procedural. I also outlined a sequel to Blackout, should it be a success, and people are interested in Franco's journey.
Final Words of Wisdom for Aspiring Writers:
Hang in there, always work on improving your skills, and keep your feet on the ground. "Getting there" is not only half the fun but also half the work—surround yourself with good people in the community, treat them well and support them back, then prepare to hit the ground running as you'll likely end up doing much of the work needed to promote your book.
Excellent advice! So great to have you join us today on my blog.
---
My Thoughts On Blackout by Marco Carocari
What a terrific debut! Marco Carocari ticks off everything I love about an amateur sleuth. The main character is the kind of person I'd enjoy hanging out with. He's funny, flawed, a little bit snarky, and does inappropriate things with hot men on roof tops.
The mystery is twisty enough to keep me guessing, but the crumbs are all there for the resolution to feel satisfying.
Jumping back and forth between past events and the current ones works effectively to create a full picture of how everything connects together.
The strongest part of the novel, for me, was the development of the characters. Even some of the secondary characters feel well-filled out and real. I like how everyone has flaws, which made them relatable and more complex. I truly enjoyed being a part of the strong community that the protagonist built for himself.
While some of the plot points require a suspension of disbelief, the ride is so enjoyable, I didn't care. This is not a police procedural, so taking liberties didn't bother me as it might have in a different kind of book.
I highly recommend Blackout for anyone who loves a good mystery, delightful characters, and bustling New York in the background. Congratulations to Marco Carocari for his debut, I'll be keeping my eyes out for his next one.
---
Marco Carocari grew up in Switzerland, where he, over the past fifty-odd years, worked in a hardware store, traveled the globe working for the airlines and later as an internationally published photographer, and frequently jobbed as a waiter, hotel receptionist, or manager of a professional photo studio.
In 2016 he swapped snow-capped mountains, lakes, and lush, green pastures for the charm of the dry California desert, where he lives with his husband. Blackout is his first novel.
To learn more about Marco, click on his name, photo, or any of the following links: Facebook, Twitter & Instagram
---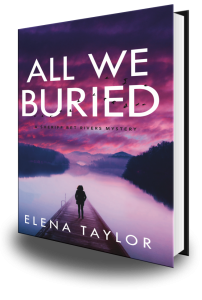 Elena Taylor is the author of All We Buried, available now in print, e-book, and audio book format at all your favorite on-line retailers. And don't forget many independent bookstores can order books for you and have them shipped to your home or for curbside pickup.
For more information on All We Buried, click on the link here to visit the home page.