Murder in First Position: An On Pointe Mystery by Lori Robbins.
Review + Excerpt + Author & Book Info + Rafflecopter Giveaway
---
Murder in First Position by Lori Robbins
Ballerina Leah Siderova knows the career of a professional dancer is short. But rarely is it as brief as that of her rival, Arianna Bonneville, whose rise to stardom ends when she is stabbed in the back.
New York City police detective Jonah Sobol fixes upon Leah as the prime suspect. After all, she was the one who found the body, she had the most to gain from Arianna's death, and it was her name Arianna whispered, just before she died.
Leah is desperate to clear her name, and she begins her own investigation, collaborating with her best friend and her ballet coach. As the three dancers sort through backstage intrigues, attempted blackmail, and a tangle of romantic liaisons, the noose around Leah's neck grows tighter.
Ballet, with its merciless discipline, is all Leah has ever known. Is that enough to keep her one step ahead of the police—and the killer?
Murder in First Position: An On Pointe Mystery

Traditional Mystery
1st in Series
Publisher: Level Best Books (November 24, 2020)
Paperback: 260 pages
ISBN-10: 1947915746
ISBN-13: 978-1947915749
Digital ASIN: B08GQBDLN9
---
My Thoughts on Murder in First Position
Lori Robbins' career as a ballet dancer fills her mystery with delicious details of professional dance.
Sidelined by an injury, Leah Siderova is hungry to regain her position as the top dancer with the American Ballet Company. But the world moved on while she was rehabbing, and personal alliances keep her from the lead role in the next ballet.
Discovering over text that the entire ballet community learns first when she's passed over for the younger up-and-coming Arianna Bonneville, Leah struggles to keep her composure. She has to get through the day, pretend everything is fine, and not give in to the physical pain in her recently reconstructed knee.
But sparks fly and things get ugly between the two women, and only Leah seems to notice how nasty Arianna truly is. Leah isn't sure how to navigate the complications the other dancer brings with her into the company Leah loves more than anything in the world, and she imagines a long and painful season.
Then Arianna turns up dead.
Leah becomes the prime suspect, both because of their very public confrontations and because Leah stumbles over the woman just before she dies.  With Leah's name on her lips, Arianna succumbs to her stab wounds, after pointing at Leah as her killer.
Racing against time—and the New York Police Department—to find the true killer, Leah also has to figure out who her real friends are, as people she once trusted may no longer deserve her loyalty.
Robbins does a solid job in creating an amateur whodunnit with several potential suspects and enough red herrings to hold a reader's interest, but the most enjoyable part may just be the view from backstage into the fascinating and envy-filled world of professional ballet.
---
Excerpt from Murder in First Position
Chapter One
I don't want dancers who want to dance. I want dancers who have to dance. —George Balanchine
I was the girl all the other kids wanted to kill. Skinny, pretty, and confident, I was the target of much envy and very little affection. I realized later that people resented my extreme disinterest in their lives.
But it was never personal, because all I ever cared about was ballet. was the girl all the other kids wanted to kill. Skinny, pretty, and confident, I was the target of much envy and very little affection. I realized later that people resented my extreme disinterest in their lives.I was the girl all the other kids wanted to kill. Skinny, pretty, and confident, I was the target of much envy and very little affection. I realized later that people resented my extreme disinterest in their lives.
These days, I wasn't quite so dismissive, even though the gap between us had gotten wider than ever. Because while my former classmates were still young, I was old. Not too old to get pregnant, and not too old to make partner in a law firm, but definitely old for a ballerina trying to make a comeback.
I wasn't bitter. One minute you were the newest baby ballerina and the darling of every critic. The next thing you knew, you were having knee surgery and The New York Times' dance czar was faintly praising you for your "mature artistry," which was ballet-speak for "time to retire." But I wasn't ready to hang up my pointe shoes. And Bryan Leister, the dance world's hottest choreographer was my ticket to the future.
I called Bryan the night before we were due to return from our summer break. I wanted to grab him before anyone else called in her chips.
"Bryan! It's me. How are you? How was Montauk?"
This seemed like a good opening. People loved talking about their vacations. At least over the phone you didn't have to look at any pictures.
Bryan's enthusiasm didn't match mine. "Uh, Leah. The summer was great. Yeah, it was great. Seriously, I've been meaning to call you, but I was, you know, about to leave for a really important appointment. Talk to you tomorrow?"
As Call Ended floated across the screen, I pondered his lack of interest. When we first met, he answered my calls as excitedly as a freshman girl who'd been asked to the prom by the captain of the soccer team. But Bryan sounded more like a college kid whose mother has phoned during his fraternity's beer pong competition.
I worried all night about whether or not I'd be cast in Bryan's ballet. Or any ballet.
The next morning, as I entered the lobby of the ballet studio, a different kind of nightmare emerged when a barrage of texts pinged in rapid-fire succession. I figured family and friends were messaging their support upon my return to ballet.
No hearts greeted me. No smiley faces either. Instead, a horrifying series of condolences filled the screen.
The links to each message were the same. Ballet's Newest Power Couple:
Bryan Leister and Arianna Bonneville Remake the Future of American Ballet Company. When I clicked on the title, a dramatic photograph filled the screen. Bryan, looking feverish and passionate, had his hands wrapped around a young dancer's waist. She was bent backward, in an understandably ecstatic pose. The shock of seeing another dancer in my place was so disorienting, I forgot to push the elevator button. I stared at the picture, unable to look away.
A voice from behind jolted me out of my funk. "Totally amazing, huh?" Bryan, his arm draped over the shoulders of the girl in the photograph, had an annoying grin on his face.
I swallowed my gloom and congratulated him. "Hitting the big time, I see."
"Yeah, the article was pretty great. Have you, uh…well, you probably already know Arianna?"
I bared my teeth—the closest I could get to a smile—and greeted her politely.
Taller than me by a good five inches, she looked down her flawless little nose. "Of course I know you. I used to watch you dance when I was still a little girl." She flipped her long blonde ponytail over her shoulder and softly laughed.
Bryan wasn't stupid. He probably knew what I was thinking, and he sounded sincere. "Leah, you know I appreciate all you've done for me. I'll make sure Friedrich keeps you on the rehearsal schedule. If you're up to it, of course."
I unlocked my jaw. "Thanks, Bryan. But I'm fine now. Better than ever. And I can't wait to get back into the rehearsal studio. I'm sure your ballet is going to be great."
When we got to the fifth floor, Bryan rushed into the men's dressing room.
I called after him, "Hey! Before you go, I wanted to ask you—"
He held up his index finger, indicating I should wait. Seven long minutes later, I realized he wasn't coming back.
---
Lori Robbins
Brooklyn-born Lori Robbins began dancing at age 16 and launched her professional career three years later. She studied modern dance at the Martha Graham School and ballet at the New York Conservatory of Dance. Robbins performed with a number of regional modern and ballet companies, including Ballet Hispanico, the Des Moines Ballet, and the St. Louis Concert Ballet.
After ten very lean years as a dancer she attended Hunter College, graduating summa cum laude with a major in British Literature and a minor in Classics. Her first mystery, Lesson Plan for Murder, won the Silver Falchion Award for Best Cozy Mystery and was a finalist in the Readers' Choice and Indie Book Awards. Murder in First Position is the first in her new mystery series, published on November 23, 2020, by Level Best Books.
She is currently working on the second book in both series. She is also the author of "Accidents Happen" a short story that will appear in the 2021 Malice Domestic anthology: Murder Most Diabolical. Robbins is a vice president of the NYC chapter of Sisters in Crime. She is also a founding member of the Damsels of Distress, a group that offers writing workshops and book readings. She is an expert in the homicidal impulses everyday life inspires.
To learn more about Lori, click on her name, photo, or any of the following links: Facebook, Twitter & GoodReads
---
Visit all the stops along the tour!
March 18 – Mysteries with Character – GUEST POST
March 18 – MJB Reviewers – SPOTLIGHT
March 18 – #BRVL Book Review Virginia Lee Blog – SPOTLIGHT
March 19 – A Wytch's Book Review Blog – CHARACTER INTERVIEW
March 19 – I'm All About Books – SPOTLIGHT
March 19 – Christy's Cozy Corners – REVIEW
March 20 – StoreyBook Reviews – CHARACTER GUEST POST
March 20 – Elizabeth McKenna – Author Blog – SPOTLIGHT
March 21 – Books a Plenty Book Reviews – CHARACTER INTERVIEW
March 21 – Sapphyria's Book Reviews – SPOTLIGHT
March 21 – I Read What You Write – AUTHOR INTERVIEW
March 22 – Celticlady's Reviews – SPOTLIGHT
March 22 – Maureen's Musings – SPOTLIGHT
March 23 – Socrates Book Reviews – SPOTLIGHT
March 23 – FUONLYKNEW – SPOTLIGHT
March 24 – The Pulp and Mystery Shelf – SPOTLIGHT
March 24 – Author Elena Taylor's Blog – REVIEW
March 25 – Ruff Drafts – AUTHOR INTERVIEW
March 25 – Literary Gold – CHARACTER GUEST POST
March 26 – Novels Alive – GUEST POST
March 26 – Laura's Interests – REVIEW
---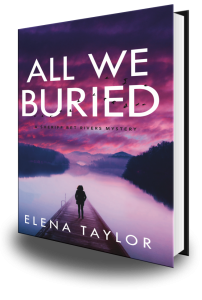 Elena Taylor is the author of All We Buried, available now in print, e-book, and audio book format at all your favorite on-line retailers. And don't forget many independent bookstores can order books for you and have them shipped to your home or for curbside pickup.
For more information on All We Buried, click on the link here to visit the home page.
Foreword INDIE Award Finalist, Best Mystery 2020