M.E. Browning launches her latest novel.
Shadow Ridge by M.E. Browning is a taut, page-turner not to be missed! 
Read on for my Author Interview with M.E. Browning + Review
---
Shadow Ridge by M.E. Browning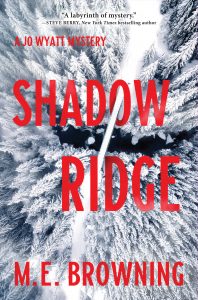 Death is one click away when a string of murders rocks a small Colorado town in the first mesmerizing novel in M. E. Browning's Jo Wyatt Mystery series.
Echo Valley, Colorado, is a place where the natural beauty of a stunning river valley meets a budding hipster urbanity. But when an internet stalker is revealed to be a cold-blooded killer in real life the peaceful community is rocked to its core.
It should have been an open-and-shut case: the suicide of Tye Horton, the designer of a cutting-edge video game. But Detective Jo Wyatt is immediately suspicious of Quinn Kirkwood, who reported the death. When Quinn reveals an internet stalker is terrorizing her, Jo is skeptical. Doubts aside, she delves into the claim and uncovers a link that ties Quinn to a small group of beta-testers who had worked with Horton.
When a second member of the group dies in a car accident, Jo's investigation leads her to the father of a young man who had killed himself a year earlier. But there's more to this case than a suicide, and as Jo unearths the layers, a more sinister pattern begins to emerge–one driven by desperation, shame, and a single-minded drive for revenge.
As Jo closes in, she edges ever closer to the shattering truth–and a deadly showdown that will put her to the ultimate test.
---
M.E. Browning: The Interview
Police detective Jo Wyatt is a tough, but deeply human protagonist. As a retired police officer yourself, how much of your own experiences are echoed in Jo's?
First, thanks so much for hosting me on your blog, Elena!
I have to admit there is a little bit of me in every character I write, but Jo's adventures are her own. That said, my experience definitely comes in handy when writing my stories. I know what situations require a warrant and how to process a crime scene. I've felt the buck of a handgun, and the adrenaline rush of a code-three response.
I've also held the hand of a person who just lost a loved one, and as a hostage negotiator, I've literally talked someone off the ledge. Those stories are not mine to tell, but they do allow me to drill down to the emotional truth of Jo's actions.
A police investigation in the real world can be a slow, methodical process, which often takes much longer than fiction readers want to wait for a resolution. As a novelist and an expert, how do you balance the fast pace required for a good page turner and the realities of a murder investigation? Do you take liberties in service of a good story?
I strive for authenticity, but I've learned not to be bound by facts in my stories. It was a difficult lesson and my first crack at writing a procedural had so much procedure in it that it read more like a textbook.
Once I realized that my experience had to inform but not overwhelm the story, I was able to dribble it in when appropriate. But when it comes to writing fiction, facts should never get in the way of a good story.
What inspired you to look at the gaming world, and the role gender plays there, as a backdrop for your story?
I'd read an article that delved into the very real issues women faced in the gaming industry and I began playing the what-if game.
Women have always been subject to misogynistic abuse online. But coordinated hate mobs took it to a new level by trolling, doxxing, and SWATting the subjects of their ire. Cybercrime investigations require specialized training and many smaller agencies simply don't have the officers or the resources—which means local reports are often referred to other agencies.
Harassers may not share the same zip code with their targets and are often hidden behind fake accounts or firewalls.
I created a character who, from the moment she could hold a gaming console, loved gaming. Her goal as an adult is to become a game designer and she runs afoul of online abuse—a parallel with the issues Jo finds herself facing within the department.
That character, Quinn Kirkwood, was a joy to write. She strutted into the story in all her prickly glory. Her moral compass doesn't always point north and she has few filters. Even when I thought I knew how her scenes were going to unfold, she frequently had other ideas. And I'm really glad I listened.
Tell us about Echo Valley, Colorado.
Echo Valley is in the southwest corner of Colorado, which if you've ever visited the area, you already know is a little slice of heaven.
After spending fourteen years working for a California agency, I finished the last several years of my law enforcement career working for the Durango Police Department in Colorado.
Both jurisdictions are tourist destinations and have higher education institutions, but Durango is far more rural. At the southern end of the Rocky Mountains each season brings fresh beauty, but it also has a dangerous side.
Abandoned mines dot the landscape, hikers get lost, river rafters sometimes end up in the whitewater, and weather often changes quickly.
For the record, Jo definitely knows how to drive in the snow better than I did when I first arrived in Colorado. And yes, it's embarrassing getting your patrol car stuck in a drift….
What was the most difficult aspect of writing this book?
From the start, I knew the basic story I wanted to tell. But I quickly became mired down and the words refused to flow.
Turns out despite knowing the story, I didn't know how to tell it.
I ended up putting it aside for a bit to mull. In that mini hiatus, I read Alafair Burke's The Wife, a story with multiple points of view (and a great read!). That's when I realized my story didn't belong solely to Jo. Instead, the story unfolds from three perspectives—all women, all with important observations to make.
Once I hit upon that, the story flowed.
---
"Honoring the Mull" is one of Elena's favorite sayings. Writers often take time to work on stories in their minds, not just on the page.
---
What are you working on now?
I'm hard at work on the next Jo Wyatt Mystery, which picks up a few months after Shadow Ridge ends and involves a missing child.
As Jo mines the girl's fractured family life, she unearths a trove of secrets and half-lies that paints a different picture of the girl's parents—two people Jo has known since high school.
Final word of wisdom:
Never give up—but realize you may need a new plan.
I still have the first rejection letter I ever received. I even framed it for a while, because the agent had said some nice things about my query and it gave me hope. Sure, I could have taken it at face value. It was a rejection, after all. It's hard to put yourself out there, and dealing with setbacks sucks. I've been known to wallow, but then I shake it off and see if there is something I can learn from the setback.
That first rejection? The agent loved my characters but found the writing episodic. When several other rejections cited the same problem, it was time to do something about it. I focused on honing my structure. I enrolled in a class where the instructor suggested plotting from the perspective of the antagonist and writing from the point of view of the protagonist (a concept attributed to Erle Stanley Gardner of Perry Mason fame).
That simple sentence changed everything for me. I kept studying craft. I wrote a new book. That book, Adrift, was nominated for an Agatha Award for Best First Novel. Rejection is a part of an author's life.
How you react to it is up to you.
Wonderful words to live by! Thank you for hanging out with us today. I can't WAIT to read the next Jo Wyatt Mystery
---
My Thoughts on Shadow Ridge by M.E. Browning
"Detective Jo Wyatt stood at the edge of the doorway of the converted garage and scanned the scene for threats."
M.E. Browning starts her latest novel Shadow Ridge at a crime scene. A place where both Browning and her protagonist are well-versed. Browning's law enforcement background shines through this engaging police procedural.
Readers know they are in the hands of an expert, as Jo Wyatt catches the clues others miss. Putting her reputation on the line to investigate an event determined to be a suicide, Jo Wyatt's strong sense of honor won't let her stop chasing a killer, even at the expense of her own career.
Set in Echo Valley, Colorado, the environment often works against Detective Wyatt. Snow and ice make the challenges Jo Wyatt faces even greater. I love when a writer gives the physical world an active role in events, and Browning does a fantastic job of painting pictures of the harsh climate.
Along with dynamic action and fascinating police procedures, Browning also provides Jo Wyatt with personal challenges.
One of my favorite aspects of her personality is that she is both a no-nonsense cop who can stomach a crime scene and takes no crap from anyone, while simultaneously showing empathy and compassion for the people she has promised to serve and protect.
The first of a series, Shadow Ridge adds another great protagonist to the crime fiction scene. I can't wait to get my hands on the next one.
---
M.E. Browning: About the Author
M.E. BROWNING served twenty-two years in law enforcement and retired as a captain before turning to a life of crime fiction. Writing as Micki Browning, she penned the Agatha-nominated and award-winning Mer Cavallo mysteries, and her short stories and nonfiction have appeared in anthologies, mystery and diving magazines, and textbooks.
As M.E. Browning, she recently began a new series of Jo Wyatt mysteries with Shadow Ridge (October 2020). 
Micki is a member of Mystery Writers of America, International Thriller Writers, and Sisters in Crime—where she served as a former president of the Guppy Chapter.
A professional divemaster, she resides in Florida with her partner in crime and a vast array of scuba equipment she uses for "research."
To learn more about M.E. click on her name, photo, or any of the following links: Amazon, Twitter, Facebook, Instagram, Goodreads, BookBub, Newsletter (with a free shortstory!
---
Want to read more about ME Browning? Click the link here for my interview with her about the launch of her debut novel Adrift.
---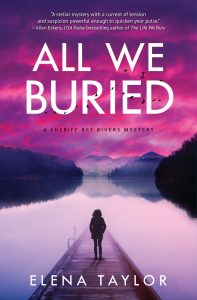 Elena Taylor is the author of All We Buried, available now in print, e-book, and audio book format at all your favorite on-line retailers. And don't forget many independent bookstores can order books for you and have them shipped to your home or for curbside pickup.
For more information on All We Buried, click on the link here to visit the home page.
Header photo by skeeze on Pixabay.
Digital image by Matrix on Pixabay.
---