Kim Davis launches Cake Popped Off, her latest in the Cupcake Catering Mystery Series.
Welcome to my spotlight for the Great Escapes Virtual Book Tour!
To visit all the stops along the tour, click the link here.
---
Wondering about other Great Escapes Virtual Book Tour posts? Click here to scroll through all my latest posts.
---
The Book by Kim Davis
Cake Popped Off (Cupcake Catering Mystery Series)
Cozy Mystery
2nd in the Series
Publisher: Cinnamon & Sugar Press (September 22, 2020)
Print Length: 295 pages
Digital ASIN: B08DZ7Z96H
Cupcake caterer Emory Martinez is hosting a Halloween bash alongside her octogenarian employer, Tillie. With guests dressed in elaborate costumes, the band is rocking, the cocktails are flowing, and tempers are flaring when the hired Bavarian Barmaid tries to hook a rich, hapless husband.
Except one of her targets happens to be Emory's brother-in-law, which bodes ill for his pregnant wife. When Emory tracks down the distraught barmaid, instead of finding the young woman in tears, she finds her dead. Can she explain to the new detective on the scene why the Bavarian Barmaid was murdered in Emory's bathtub with Emory's Poison Apple Cake Pops stuffed into her mouth?
With an angry pregnant sister to contend with, she promises to clear her brother-in-law's name. As Emory starts asking questions and tracking down the identity of the costumed guests, she finds reasons to suspect her brother-in-law has been hiding a guilty secret. Her search leads her to a web of blackmail and betrayal amongst the posh setting of the local country club crowd. Can Emory sift through the lies she's being told and find the killer? She'll need to step up her investigation before another victim is sent to the great pumpkin patch in the sky.
Includes spooky Halloween recipes!
To buy the book, click on the following link: Amazon
---
Kim Davis: The Author
Kim Davis lives in Southern California with her husband.
When she's not spending time with her granddaughters she can be found either writing stories or working on her blog, Cinnamon, Sugar, and a Little Bit of Murder or in the kitchen baking up yummy treats.
She has published the suspense novel, A Game of Deceit, and cozy mystery, Sprinkles of Suspicion.
She also has had several children's articles published in Cricket, Nature Friend, Skipping Stones, and the Seed of Truth magazines.
Kim Davis is a member of Mystery Writers of America and Sisters in Crime.
To learn more about Kim, click on her name, photo, or any of the following links: Facebook, Twitter, Goodreads, and Pinterest.
---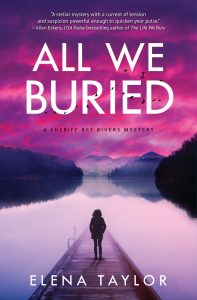 Elena Taylor is the author of All We Buried, available now in print, e-book, and audio book format at all your favorite on-line retailers. And don't forget many independent bookstores can order books for you and have them shipped to your home or for curbside pickup.
For more information on All We Buried, click on the link here to visit the home page.