Beyond the Pale by Sabrina Flynn is not your usual Victorian era mystery! Learn all about book eight in the Ravenwood Mystery series.
Author Interview + Book & Author Info
---
Beyond the Pale
An innocent accused. An infamous hotel. And a murder everyone wants to hide.
While recovering from a brutal beating, Atticus Riot is arrested for the murder of his ex-agent—the same agent who left Riot for dead. His wife and partner, Isobel Amsel, watches helplessly as he's taken to San Francisco's notorious 'sweat box' for interrogation by an inspector with a grudge.
Desperate to save her husband, Isobel seeks out the one ally they have—only he's in the infamous Hotel Nymphia, neck-deep in a murder investigation with a ghastly corpse and over three hundred suspects. In exchange for the inspector's aid, Isobel agrees to work as a consulting detective on his case.
Now Isobel needs to prove Riot's innocence while tracking down a killer no one wants caught. The diverging trails lead to an old friend, a tangled web of secret lives, and one all-consuming question: where's the line between justice and murder?
A suspenseful Victorian mystery with a strong female lead and a romantic detective duo in San Francisco's lawless Barbary Coast. Fans of Laurie R. King, Deanna Raybourn, and C.S. Harris will love this thrilling historical mystery series.
To purchase Beyond the Pale, click on the following link: Amazon
Series Order
RAVENWOOD MYSTERIES
From the Ashes
A Bitter Draught
Record of Blood
Conspiracy of Silence
The Devil's Teeth
Uncharted Waters
Where Cowards Tread
__________
LEGENDS OF FYRSTA
A Thread in the Tangle
King's Folly
Untold Tales
The Broken God
__________
BEDLAM
Windwalker
---
The Interview with Beyond the Pale Author Sabrina Flynn
What should readers know about Ravenwood Mysteries, and your protagonists Atticus Riot and Isobel Amsel?
I once described Ravenwood Mysteries to a TV producer like this: Imagine if Sherlock Holmes were a woman in Victorian San Francisco, Watson a gunfighter, and Mycroft a cross-dresser living in a male brothel.
It's not your average Victorian mystery series. There are no proper women in fancy gowns solving murders. But there is plenty of murder and mayhem to be found. As for the protagonists…
Atticus Riot is a gunfighter turned detective, who grew up in San Francisco's notorious Barbary Coast. His partner, Zephaniah Ravenwood, is the brilliant half of the partnership—until he's killed. Riot, a man of action rather than brains, is left adrift. And after twenty years in the detective business, he's not quite sure what to do with his life.
Then he collides with Isobel Amsel, and he knows brilliance when he sees it.
Isobel is unconventional in every sense of the word. She doesn't push the boundaries of propriety; she plows through them and never looks back. Coldly logical, she's mercurial by nature, and so is her identical twin, Lotario, who lives in a brothel.
Given the era, an unconventional woman might sound like fiction, but San Francisco has a long history of celebrating its spirited women. The more rebellious, the more popular they were, so Isobel fits right in with several larger-than-life women of the era.
Beyond the Pale is the eighth book in the series, does the book work as a standalone? Or should readers start with book one, From the Ashes?
I'm one of those readers who has to read a book series in order. There is a definite story-arc to the series, but I've had readers jump into the middle and still fall in love with the characters.
They usually go back to the beginning, though. So if you're one of those 'out of order' readers, go for it. I give little reminders of what happened in previous books, so I don't think you'll be lost, just exposed to spoilers.
What drew you to Victorian San Francisco as the place and time to set your series?
Here's a shortened quote from Lights and Shades of San Francisco written in 1876:
The Barbary Coast is the haunt of the low and the vile of every kind. The petty thief, the house burglar, the tramp, the whoremonger, lewd women, cutthroats, murderers, all are found here. Dance-halls and concert-saloons, where blear-eyed men and faded women drink vile liquor, smoke offensive tobacco, engage in vulgar conduct, sing obscene songs and say and do everything to heap upon themselves more degradation, are numerous. Low gambling houses, thronged with riot-loving rowdies, in all stages of intoxication, are there. And Hell, yawning to receive the putrid mass, is there also.
Throw in political crime bosses, police corruption, the Big Four Railroad Tycoons, Chinese criminal tongs, sex trafficking, racial tensions, smugglers, vigilante groups, and you have yourself a mystery writer's dream.
It's not uncommon for me to come across things that are stranger than fiction in my research. I read this account of two newspaper editors running through San Francisco shooting at each other. One editor ducked into a police substation, stuffed his revolver in his pocket so the officers playing a poker game wouldn't notice, then ran right back out and started shooting at his rival editor again.
To say nothing of the pirate egg wars, complete with a canon. I couldn't make this stuff up if I tried.
The year 1900 is interesting to me because it was the year of a bubonic plague outbreak in San Francisco. Who knew? I also find the generational overlap intriguing. You have an entire generation of people who lived without a police force in the West.
Buffalo Bill was still traveling with his show, Wyatt Earp was still alive, and Butch Cassidy's Wild Bunch was active. And yet… there are electric lights, electric motorcars, cable cars, and industry. It's something I explore throughout the series. Atticus Riot and his friend Tim come from a generation that took the law into their own hands, while Isobel and Lotario were born to a more civilized time.
What are the advantages and challenges of writing a series? Now that you are eight books in, how do you include material from past books, and make each story feel new?
I come from an Epic Fantasy background. Anyone who's familiar with the genre will know that a plot can take twelve books to develop and conclude, with each book being a thousand pages. So I LOVE overarching storylines. It's something I naturally write.
As a reader, I like for there to be a foreshadowing of a plot point. I dislike it when I'm reading a series and in book five the protagonist's best friend (who was never mentioned before) is suddenly in trouble. Or a Napoleon of Crime shows up out of nowhere and is defeated in one story.
So in Ravenwood Mysteries, while each book has a mystery and a conclusion, there's always something more waiting around the corner. It could be a seed I planted eight books back. For example, the first sentence of the first chapter in the first book isn't explained until book four.
Character development is important to me, too. I tend to slowly reveal my characters. In real life, when you meet someone for the first time, you don't know everything about them right away, or even their true personality. So my readers get to know the protagonists over time. And there's growth, too. I don't enjoy reading a series where the characters remain stagnant. People change with time and experience, and I think that's important to portray in fiction.
You are an avid swimmer. Do you use that time to check out from the fictional world you create in your books? Or work on your latest twisty plot point as you navigate the wild waters?
I do work out tricky plot points while I'm swimming or trail running. Though last year, I was nearly run over by a speedboat (I had to swim-dodge out of the way!) while working out a plot point, so I'm thinking I should pay more attention. In my defense, I was less than 100 yards from shore and had a bright safety buoy. The driver was drunk and speeding.
Writing is also how I got into open water swimming. I tossed a protagonist into the San Francisco Bay, and one of my beta-readers was arguing with me that the character would have drowned, been eaten by a shark, or died of hypothermia.
So I jumped off a ferry at Alcatraz and swam to shore sans wetsuit. She didn't argue with me anymore.
What are you working on now?
Too many things!
But I will probably edit my WW1 thriller, then write the next Ravenwood Mystery and another book in my Gaslamp Steampunk series. If only I could write faster…
Words of Wisdom for Aspiring Writers:
Pay attention to how books, TV shows, and movies manipulate an audience. Then manipulate the hell out of your own.
Great advice! And a great interview. Thank you for hanging out with us today!
Author Pet Corner
Meet Gus!
How adorable is this boy!
---
Sabrina Flynn: Author of the Ravenwood Mysteries
Sabrina Flynn
is author of Ravenwood Mysteries set in Victorian San Francisco. When she's not exploring the seedy alleyways of the Barbary Coast, she dabbles in fantasy and steampunk, and has a habit of throwing herself into wild oceans and gator-infested lakes.
She lives in perpetual fog and sunshine with a rock troll and two crazy imps. She spent her youth trailing after insanity, jumping off bridges, climbing towers, and riding down waterfalls in barrels.
After spending fifteen years wrestling giant hounds and battling pint-sized tigers, she now travels everywhere via watery portals leading to anywhere.
To learn more about Sabrina, click on her name, photo, or any of the following links: Facebook & BookBub
---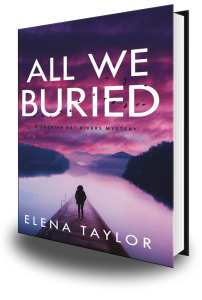 Elena Taylor is the author of All We Buried, available now in print, e-book, and audio book format at all your favorite on-line retailers. And don't forget many independent bookstores can order books for you and have them shipped to your home or for curbside pickup.
For more information on All We Buried, click on the link here to visit the home page.
Foreword INDIE Award Finalist, Best Mystery 2020