Psychological Thriller, Girl, 11, the debut novel from Amy Suiter Clarke, promises to be a suspenseful ride!
Author Interview + Author & Book Info + Author Pet Corner!
---
A Psychological Thriller: Girl, 11
"A masterful, heart-pounding suspense that ushers in an astonishing new voice in crime fiction."
—Samantha M. Bailey, internationally bestselling author of Woman on the Edge
Elle Castillo once trained as a social worker, supporting young victims of violent crime. Now she hosts a popular true crime podcast that focuses on cold cases of missing and abducted children.
After four seasons of successfully solving these cases in Minnesota's Twin Cities, Elle decides to tackle her white whale: The Countdown Killer. Twenty years ago, TCK was terrorizing the community, kidnapping and ritualistically murdering three girls over seven days, each a year younger than the last. Then, after he took his eleven-year-old victim, the pattern—and the murders—abruptly stopped. No one has ever known why.
When Elle follows up on a listener tip only to discover the man's dead body, she feels at fault. Then, within days, a child is abducted—a young girl who seems to fit suspiciously into the TCK sequence halted decades before. While media and law enforcement long ago concluded that TCK had suicided, Elle has never believed TCK was dead. She had hoped her investigation would lay that suspicion to rest, but her podcast seems instead to be inciting new victims.

"A tale of obsession, dark histories, and one woman's quest to bring a terrifying killer to justice, GIRL, 11 is delivered with poise, style, and cunning – making it impossible to put down."
—Alex Segura, acclaimed author of Miami Midnight and Blackout
---
Psychological Thriller: a subgenre of crime fiction that incorporates elements of mystery & suspense, the psychological state of the characters, with the tension of a thriller.
---
Girl, 11: A Psychological Thriller by Amy Suiter Clarke
What should readers know about Elle Castillo, the protagonist in Girl, 11?
Elle is a smart, confident woman with a natural talent for investigation. However, she's also anxious, impulsive, and not great at drawing the line between her passion for solving crimes and the need to protect herself.
I wanted to write a main character who's strong and intelligent, but also a little bit broken and afraid. So many female investigator characters are tough-as-nails badasses—which is great!—but I wanted to create a character who had lived through trauma and was still dealing with the aftermath of it, but pursues her goals anyway.
---
"Publishing is definitely a marathon."
---
Tell us about your road to publication with Girl, 11
I wrote two books before Girl, 11 that unfortunately never sold.
I was incredibly grateful to my literary agent, Sharon Pelletier, for sticking with me over those years and lending a keen editorial eye to my manuscripts.
The initial spark for Girl, 11 came to me in 2015, but I didn't really start writing it in earnest until 2017. It took about eighteen months to have a draft to show my agent, and then we edited it together for several months.
We went on submission in fall 2019, and I was lucky enough to have a couple offers within just a few weeks.
The book sold in September, and now it's coming out in April 2021—about eighteen months later! Publishing is definitely a marathon.
What do you wish you'd known between coming out of your MFA and your first publishing deal?
Firstly, I'm glad I didn't know that it would take this long to get published, because I might have given up.
I was warned it might, but of course, I thought I was the exception like we all do!
What I wish I had known is that I should start building a community of author friends online as early as possible. For authors who enjoy it, social media is a great way to grow your network, especially when you live overseas.
I think I waited for a few years after I graduated to get active on Twitter as a writer, and even though I have some incredible friends there now, I could have gotten more involved sooner.
You grew up in Minnesota, earned your MFA in creative writing in London, and now live in Melbourne, Australia. How has your international travel and living in different countries impacted your writing?
For one thing, I sometimes use the wrong country's slang in my books!
Thankfully, I have an eagle-eyed agent who catches these out in early drafts.
The other major impact this has had on my writing is just in my overall worldview. My idea of how the world can and should look has changed so much since I lived in the States. There were so many things I thought were impossible, whether politically or socially, when I grew up in Minnesota. Now I see they are normal parts of life in countries like the UK and Australia (e.g. universal healthcare, gun safety, social programs).
Living overseas has also allowed me to meet people from all over the world, which is great when developing characters too.
---
"I host a monthly podcast called Scared Lit-less that's all about crime and thriller media…"
---
Tell us about your Podcast:
I host a monthly podcast called Scared Lit-less that's all about crime and thriller media, the authors who write in those genres, and our international obsession with these stories.
Each month, I interview an author about their book and what it's like to be a crime writer, and I play a round of "Author or killer?" with the incredible writer Bethany C. Morrow, where we each bring trivia facts about various people and the other has to guess if the fact relates to an author or a famous killer.
It's a good mix of humor and serious discussion, and I would love for your readers to check it out! (To find the podcast, click the name above or the link here.)
What are you working on now?
I am one of the many authors who wrote a book in the wild year that was 2020, so now I'm working on doing the structural edit for that.
It's tentatively called Noble Wife and will release around this time next year! I won't say too much, but readers who enjoyed Girl, 11 can expect another psychological suspense novel about a different amateur investigator living in Minnesota, although this time it's focused on a single murder rather than a series of crimes.
Words of Wisdom for Aspiring Writers:
I always recommend that you don't take other people's writing advice too seriously, which makes it a little interesting to be the one giving it.
What I mean by that is, not every piece of advice works for every person. I don't like prescriptive rules for what you have to do to be a writer. You are a writer if you write—even if you don't write every day, even if you don't write by hand or on a typewriter or on a Macbook. Even if you've never been published! You're a writer if you write, so I recommend you take the advice that works for you and leave the rest behind.
Great advice!
Author Pet Corner!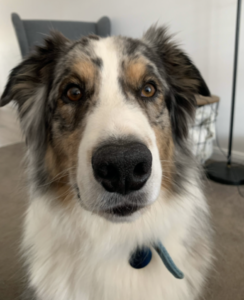 Oh, I'm always looking for an opportunity to show off my dog babies!
London is an Australian Shepherd just shy of five years old. He's very protective and fiercely loyal, but he's also a soft baby who likes belly scratches and following me around the house.
Maple is our adopted Bull Arab/Boxer cross who thinks she's a lapdog at 55 pounds and three years old. If she has a blanket and a sofa to cuddle on with you, she's the happiest dog on earth.
They both love running around outside, but they're also incredibly chill in the house and can often be found lying under my desk while I work.
Adorable!! Thank you for visiting with us! I'm a huge fan of Psychological Thrillers!
---
Amy Suiter Clarke: Author of Psychological Thrillers and Suspense
Amy Suiter Clarke is a writer and communications specialist.
Originally from a small town in Minnesota, she completed an undergraduate in theater in the Twin Cities.
She then moved to London and earned an MFA in Creative Writing with Publishing at Kingston University.
She currently works for a university library in Melbourne, Australia.
Girl, 11 is her debut novel published by Houghton Mifflin Harcourt in the USA, Text Publishing in Australia, and other publishing houses all over the world.
To learn more about Amy, click on her name, photo, or any of the following links: Twitter, Instagram, TikTok & Facebook
---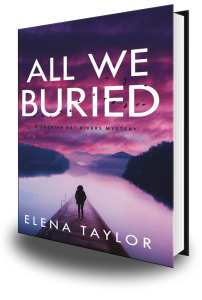 Elena Taylor is the author of All We Buried, available now in print, e-book, and audio book format at all your favorite on-line retailers. And don't forget many independent bookstores can order books for you and have them shipped to your home or for curbside pickup.
For more information on All We Buried, click on the link here to visit the home page.
Foreword INDIE Award Finalist, Best Mystery 2020