Long Island Iced Tina: A Catering Hall Mystery by Maria DiRico
Author Interview + Book & Author Info + Rafflecopter
---
Long Island Iced Tina
Mia Carina is back in the borough of Queens—in charge of the family catering hall, Belle View Banquet Manor, and keeping her nonna company. But some events—like murder—are not the kind you can schedule . . .
Mia's newly pregnant friend Nicole plans to hold a shower at Belle View—but Nicole also has to attend one that her competitive (and mysteriously rich) stepmother, Tina, is throwing at the fanciest place in Queens. It's a good chance for Mia to snoop on a competitor, especially since doing a search for "how to run a catering hall" can get you only so far.
Mia tags along at the lavish party, but the ambience suffers at Nicole's Belle View shower when a fight breaks out—and then, oddly, a long-missing and valuable stolen painting is unwrapped by the mom-to-be. Tina is clearly shocked to see it. But not as shocked as Mia is when, soon afterward, she spots the lifeless body of a party guest floating in the marina . . .
Italian recipes included!
Long Island Iced Tina (A Catering Hall Mystery)

Cozy Mystery
2nd in Series
Publisher: Kensington (February 23, 2021)
Mass Market Paperback: 288 pages
ISBN-10: 1496725352
ISBN-13: 978-1496725356
Digital ASIN: B089NCJ9NS
To purchase the book, click on any of the following links: Amazon – B&N – Kobo – Google Play – IndieBound
---
Long Island Iced Tina: The Interview with Maria DiRico
Tell us about Mia Carina:
Mia is the feisty, street-smart daughter of a Mob lieutenant who's determined to help her father run Belle View Banquet Manor as a legitimate business.
She's suffering from a case of relationship PTSD, since her husband disappeared with his mistress and she was a person of interest until a boat washed up containing the mistress's body but not her husband, who was declared dead.
She's also insecure about her thick Queens accent and lack of a college degree.
Long Island Iced Tina is the second in your Catering Hall Mysteries. Can reader start with book two? Or should they begin with Here Comes the Body?
They can absolutely read two first, but if they can get their hands on the first book, Here Comes the Body, I recommend starting at the beginning of the series.
What drew you to setting this series in Queens?
My life! My whole Italian family lived in Astoria at one point, except for us. Cousins ran the Astoria Manor and Grand Bay Marina.
Mia, my protagonist, literally lives in my nonna's two-family house. She lives upstairs, where my aunt and uncle lived, and her own grandmother lives downstairs in Nonna's old pad. I see every detail of the real rooms when I write the books. 
Temp us with some of the recipes we're going to find in the book.
You'll find a quirky recipe for Potato and Beet Salad, which is actually delicious. You'll also find recipes for Honey Phyllo Rollups, Easiest Lasagna Ever, and my favorite, Cannoli Cake. 
You also write the Cajun Country Mysteries under the name Ellen Byron.
Tell us about that series.
In that series, artist Magnolia Marie "Maggie" Crozat returns home to Pelican, Louisiana – town motto, "Yes, We Peli-CAN!" – to help her family run the family historic home as a bed and breakfast.
She must juggle her commitment to her family with her commitment to her art and career, as well as a burgeoning relationship with divorced detective Bo Durand.
All this is complicated by a surprising number of murders in the small village of Pelican and its environs. I like to say the Cajun Country Mysteries are cozies with a spicy twist.
The Catering Hall Mysteries are set in Queens, the Cajun Country Mysteries are set at an old plantation in a Louisiana bayou. Very different locations, characters, and situations. Do you put on a different hat and write from a different aspect of yourself as you go between these two worlds? How do you keep them separate?
I finish one, then launch into the other. There's no way I could work on both simultaneously.
My first agent once told me I have a theatre voice and a TV voice. I think the Cajun Country Mysteries are the former, and the Catering Hall the latter. But I make mistakes. Like creating two protagonists whose names begin with M and C! Did I ever mix them up? You bet. On the very first page of my very first Catering Hall Mystery, I called the character Maggie instead of Mia. DOH!!!
Tell us about working as a cater-waiter for Martha Stewart.
I loved her. I'm in the early editions of her first book, Entertaining. There's another pic of me in the book too. They were walking around taking pictures and I had no idea why.
Martha is totally authentic. What you read or see is what she is. She worked harder than anyone I may have ever known. And she has a great laugh.
I have only good things to say about her.
What are you working on now?
My 7th Cajun Country, Cajun Kiss of Death, launches on August 10th. And my Christmas-themed Catering Hall, It's Beginning to Look a Lot Like Murder launches in November.
Meanwhile, I'm working on the first book in a new series, The Vintage Cookbook Mysteries.
Author Pet Corner
Pogo Byron-Remillong, age 14.5
He's been our furbaby since 2012.
Likes: treats, short walks, chasing his Chewnel toy.
Dislikes: big dogs, fake people.
You have so much going on! Congrats on the new book and the ones on the horizon, I look forward to having you back. Also, Pogo is adorable!
---
Maria DiRico: Author of Long Island Iced Tina
Maria DiRico is the pseudonym for Ellen Byron, author of the award winning, USA Today bestselling Cajun Country Mysteries. Born in Queens, New York, she is first-generation Italian-American on her mother's side and the granddaughter of a low-level Jewish mobster on her father's side.
She grew up visiting the Astoria Manor and Grand Bay Marina catering halls, which were run by her Italian mother's family in Queens and have become the inspiration for her Catering Hall Mystery Series. DiRico has been a writer-producer for hit television series like Wings and Just Shoot Me, and her first play, Graceland, appears in the Best Short Plays collection.
She's a freelance journalist, with over 200 articles published in national magazines, and previously worked as a cater-waiter for Martha Stewart, a credit she never tires of sharing. A native New Yorker who attended Tulane University, Ellen lives in Los Angeles with her husband, daughter, and two rescue dogs.
For more information about Maria, click on her name, photo, or any of the following links: Chicks on the Case, Facebook & Twitter 
---
Visit all the stops along the tour!
March 1 – Baroness Book Trove – REVIEW
March 1 – FUONLYKNEW – SPOTLIGHT
March 1 – Novel Alive – SPOTLIGHT
March 2 – Cozy Up With Kathy – REVIEW, AUTHOR INTERVIEW
March 2 – Brooke Blogs – SPOTLIGHT
March 2 – Brianne's Book Reviews – REVIEW
March 3 – My Reading Journeys – REVIEW, EXCERPT
March 3 – This Is My Truth Now – REVIEW, RECIPE
March 3 – Sapphyria's Book Reviews – SPOTLIGHT
March 4 – I'm All About Books – SPOTLIGHT
March 4 – ebook addicts – SPOTLIGHT, RECIPE
March 5 – Christy's Cozy Corners – GUEST POST
March 5 – Read Your Writes Book Reviews – CHARACTER INTERVIEW
March 5 – Cassidy's Bookshelves – SPOTLIGHT
March 6 – Ruff Drafts – SPOTLIGHT, RECIPE
March 6 – Mystery Thrillers and Romantic Suspense Reviews – SPOTLIGHT, EXCERPT
March 7 – Rosepoint Publishing – REVIEW
March 7 – StoreyBook Reviews – SPOTLIGHT, RECIPE
March 7 – I Read What You Write – AUTHOR INTERVIEW
March 8 – Books a Plenty Book Reviews – REVIEW
March 8 – Literary Gold – CHARACTER GUEST POST
March 9 – Reading, Writing & Stitch-Metic – SPOTLIGHT, EXCERPT
March 9 – Novels Alive – REVIEW
March 9 – Maureen's Musings – SPOTLIGHT
March 10 – Socrates Book Reviews – REVIEW
March 10 – Author Elena Taylor's Blog – AUTHOR INTERVIEW
March 10 – Escape With Dollycas Into A Good Book – REVIEW
March 10 – Island Confidential – SPOTLIGHT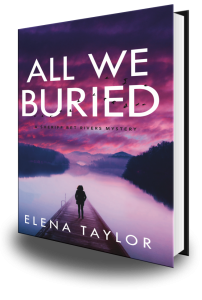 ---
Elena Taylor is the author of All We Buried, available now in print, e-book, and audio book format at all your favorite on-line retailers. And don't forget many independent bookstores can order books for you and have them shipped to your home or for curbside pickup.
For more information on All We Buried, click on the link here to visit the home page.