Terry Korth Fischer launches Gone Astray
Author Interview + Author & Book Info + Rafflecopter Giveaway
Visit all the stops on the Great Escapes Virtual Book Tour!
---
Gone Astray by Terry Korth Fischer
A heart attack sends detective Rory Naysmith reeling. Too young to retire, he accepts a position in small-town Winterset, Nebraska.
Handed an unsolved truck hijacking case, with the assistance of a rookie, Rory sets out to prove he is still able to go toe-to-toe with younger men.
When the body of a Vietnam veteran turns up, he dons his fedora and spit-shines his shoes. But before he can solve the murder, an older woman disappears, followed closely by a second hijacking.
He doggedly works the cases, following a thread that ties the two crimes together. But can Rory find the mental and physical strength to up his game and bring the criminals to justice before disaster strikes and he loses his job?
To purchase the book click on any of the following links:  Amazon – B&N 
Gone Astray

Mystery/Suspense
Publisher: Wild Rose Press (February 15, 2021)
Paperback: 300 pages
ISBN-10: 1509235256
ISBN-13: 978-1509235254
Digital ASIN: B08SQCWXBG
---
Terry Korth Fischer: The Interview
Gone Astray is set in Winterset, Nebraska. Tell us about the town and why you set it there:
Winterset is a fictional town of eleven thousand in northeastern Nebraska.
It thrives where many small towns have died because it is the county seat, a college town, and only miles from a major city. Traditional values, strong family ties, and a low crime rate help. Well, until recently, as Detective Rory Naysmith discovers in Gone Astray.
Growing up, I spent summers with my grandparents in a town much like Winterset. Those visits and the town's charm created lasting memories.
Rory Naysmith, your protagonist, survives a heart attack before the novel starts. What made you choose to give him a life-threatening condition besides solving a series of crimes? How do those two aspects of his life interact?
Rory is more than a detective, although he thinks it defines him.
Before the incident, Rory was fearless, leaping buildings and stopping bullets. He knows he needs a lifestyle change but isn't willing to give up his career—or identity.
Rory moves to Winterset, where he is comfortable ignoring the elephant in the room and believing lightning can't strike twice. Gone Astray is as much about Rory coming to terms with himself as it is about solving crimes.
What else should we know about Rory Naysmith?
Rory is a private person who works in a public arena. He wants to be liked but believes personal detachment is a job requirement.
You also write memoir, how was the process different from writing fiction?
Fiction and memoir utilize the same writing skills, but I found memoir simpler to draft.
For one thing, the characters were people I had known since birth, and all I had to do was get them down on paper. When I wrote Omaha to Ogallala, a girl-trip chronicle, I started with the map we followed and the principal characters' diaries. Actual events defined the plot.
Writing Gone Astray was vastly different; I had to create all facets of the story. It could go anywhere, and only my imagination limited the characters. I found that getting to know the individuals well enough to portray them effectively was my greatest challenge. And even with an outline, they wandered off, and I had to change directions.
What do you love most about writing short stories?
I do love short stories, both writing, and reading. I find they can be as powerful as a novel but in a bite-size piece.
Since they are short and concise, one can be written in a single day and revised over a weekend. The result is an instant feeling of accomplishment.
Writing a book-length manuscript can feel endless. Creating a short story in the midst of writing a novel gives me the emotional boost to stay with the job.
What are you working on now?
I am working on a second Rory Naysmith mystery and expect to have it ready this spring. During ten months of stay-at-home, Rory and the Winterset crew have been my constant companions. I hope we stay best friends forever—or at least for a while more.
Final Words of Wisdom for Aspiring Writers:
In a single word, persistence. Don't give up. Writing requires constant learning, practice, and patience. You can't read too widely or write too often.
---
Author Terry Korth Fischer Pet Corner
Cleo is a black American short hair we adopted four years ago. She thinks her sole purpose in life is to be my sidekick. Cleo is beside me on the desk when I write, and if I hesitate, climbs onto the keyboard—a relentless taskmaster.
The only thing she loves more than together time is her stuffed puppy. He gets daily grooming and shared naps. Note: She attends all zoom meetings. And if the phone rings, she wants to talk.
Meet Penny, the outdoor cat. She adopted us, or more accurately, adopted the yard, which she guards in exchange for twice-a-day kibble. The lawn and pool men don't fool around with her on duty. We have invited her into the house, but Penny prefers the fresh air.
Luckily, we live in Texas, where this is not a problem. Cleo and Penny like to play peek-a-boo through the French door windows. We are confident that although they are not siblings, they are sisters-of-the-heart.
---
Terry Korth Fischer
Terry Korth Fischer writes mystery and memoir.
Her memoir, Omaha to Ogallala, was released in 2019, S&H Publishing, Inc.
Her short stories have appeared in The Write Place at the Write Time, Spies & Heroes, Voices from the Plains, and numerous anthologies.
Transplanted from the Midwest, Terry lives in Houston with her husband and their two guard cats. She enjoys a good mystery, the heat and humidity, and long summer days.
---
Visit all the stops along the tour!
March 1 – Christy's Cozy Corners – AUTHOR INTERVIEW
March 1 – #BRVL Book Review Virginia Lee Blog – SPOTLIGHT
March 2 – I'm All About Books – SPOTLIGHT
March 2 – FUONLYKNEW – SPOTLIGHT
March 3 – Here's How It Happened – CHARACTER INTERVIEW
March 3 – Brooke Blogs – SPOTLIGHT
March 4 – Novels Alive – GUEST POST
March 4 – Celticlady's Reviews – SPOTLIGHT
March 4 – Escape With Dollycas Into A Good Book – REVIEW
March 5 – Books to the Ceiling – REVIEW
March 5 – MJB Reviewers – SPOTLIGHT, INDIVIDUAL GIVEAWAY
March 6 – Literary Gold – SPOTLIGHT
March 6 – I Read What You Write – GUEST POST
March 6 – The Book Diva's Reads – SPOTLIGHT
March 7 – Maureen's Musings – SPOTLIGHT
March 7 – Here's How It Happened – REVIEW
March 8 – Author Elena Taylor's Blog – AUTHOR INTERVIEW
March 8 – Sapphyria's Book Reviews – SPOTLIGHT
---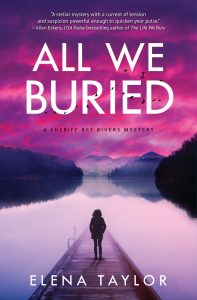 Elena Taylor is the author of All We Buried, available now in print, e-book, and audio book format at all your favorite on-line retailers. And don't forget many independent bookstores can order books for you and have them shipped to your home or for curbside pickup.
For more information on All We Buried, click on the link here to visit the home page.