Brighton Beach is one of my favorite places to visit when I'm in New York. Something about its old world charm captures my imagination. I've always wanted to set a novel there, but my guest blogger today has already done that. I'm thrilled to introduce Emilya Naymark, her blog post, and her wonderful debut novel, Hide In Place (Check back for my review on March 3).
---
Brighton Beach Salad by Emilya Naymark
Most Americans are familiar with Coney Island, the mermaid-parading, hotdog-eating, sideshow-flaunting, Cyclone-riding beachfront at the southern tip of Brooklyn in New York City. Fewer know about Brighton Beach, Coney Island's next-door neighbor with better food and international vibe.
The almost four miles of beach and boardwalk that comprise the two had been New York City's summer getaway from the late 1800s on, when adventurous entrepreneurs began building luxury resorts on the beach. A railroad soon materialized to transport the hordes from Brooklyn Heights and Manhattan, and entertainment arrived in the forms of music halls, dance pavilions, fine dining establishments, a racetrack, sideshows, and a bathing club. Summers saw thousands of Manhattanites, rich and poor, make their way to the beach.
---
"…Jews began to escape the over-crowded conditions on the Lower East Side of Manhattan, choosing Brighton Beach as their idyllic destination."
---
By the 1920s the rich found other playgrounds, and Jews began to escape the over-crowded conditions on the Lower East Side of Manhattan, choosing Brighton Beach as their idyllic destination. Soon they were joined by Russian and other Eastern European Jews fleeing pogroms, starvation, and the onset of communism, which, among other unpalatable horrors, punished any religious practice with death.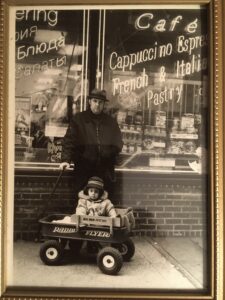 With the rise of Hitler, already established Jewish families did what they could to save European Jewry and helped those fleeing the Holocaust settle in Brooklyn. At that time, many of the residents in Brighton Beach spoke Yiddish, and the music hall, which a few decades earlier held concerts devoted to Wagner, became a Yiddish vaudeville theater.
And so, this relatively quiet neighborhood aged while slowly falling prey to increased crime until the Soviet Union relaxed its borders for Jews, allowing hundreds of thousands, my family included, escape to the West. The gargantuan wave of Soviet Jews splashed onto New York City in the '70s and '80s, depositing tens of thousands of new citizens in Brighton Beach. In a remarkably short number of years, Brighton turned into a neighborhood so Eastern European, it came to be called "Little Odessa."
Many, if not most, of the delicatessens, restaurants, bookstores, and pharmacies sport signs in the Cyrillic alphabet. If you like the dough and meat heavy Eastern European cuisine, Brighton is for you. Over the years the demographic has changed again, while remaining Russian speaking. Now, the names and cuisine will skew toward the ex-Soviet republics from the far east, and you are just as likely to find a perfectly seasoned plate of pelmeni (meat dumplings) as one of satsivi (chicken curried in a walnut and garlic sauce).
There are nonagenarians who had lived through, and fought in, WWII, and who still walk up and down the boardwalk, pushing their own wheelchairs ahead of them for exercise. The elderly women dye their hair bright red and plum shades, with lipstick to match, and animal prints are in high demand. Families walk with strollers. There's plenty of eye candy to boot, as on every beach.
But there is another side to this slice of America. Whereas the beach, sand, geriatric beach bums in leopard-print bikinis, and mouthwatering food drew me to Brighton weekend after weekend, summer and winter, it's the Russian mob's occupancy of this New York corner that made it an irresistible (partial) setting for my debut crime novel.
Although called the Russian mob, the Brooklyn contingent is a mix of Jews, Ukrainians, Georgians, and Uzbekistanis who were born in the ex-Soviet Union or, more recently, in the Russian Federation. This distinction is not unimportant because the Soviet Union itself made it clear to the millions of people it encompassed that being anything other than full-blooded Russian was second class.
The Soviet passport had something called the fifth line, listing a citizen's nationality ("Jew" was considered a nationality, even if the citizenship belonged to the USSR). In other words, the criminals don't think of themselves as ethnically Russian, mostly, though they very much accept and are proud of their culture.
---
"…The mobsters based in Brighton Beach have ties to the old world but work seamlessly with the new."
---
The mobsters based in Brighton Beach have ties to the old world but work seamlessly with the new. There is no crime too small or too ambitious. Being multi-lingual and tech savvy works in their favor because they can communicate in a blend of languages difficult for non-speakers to crack.
But ultimately the reason I set part of my novel in Brighton Beach was because I miss visiting it and writing is a little like magic. Imagining yourself in a place, researching that place, looking at pictures of that place, can almost feel like being in that place.
And if you ever find yourself in New York City and have an afternoon or an evening to spare, take the train down to Brighton, go to the boardwalk, and have a pilsner and a plate of shashliks or pelmeni at one of the outdoor restaurants. They'll serve the beer in half-liter glass steins and you will, for a few hours, feel as if you're somewhere completely unique—maybe in some long-forgotten old-world resort by the Black Sea.
---
Hide In Place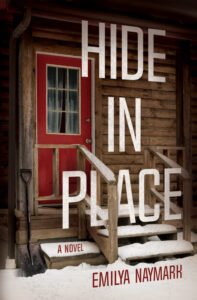 She left the NYPD in the firestorm of a high-profile case gone horribly wrong. Three years later, the ghosts of her past roar back to terrifying life.
When NYPD undercover cop Laney Bird's cover is blown in a racketeering case against the Russian mob, she flees the city with her troubled son, Alfie. Now, three years later, she's found the perfect haven in Sylvan, a charming town in upstate New York. But then the unthinkable happens: her boy vanishes.
Local law enforcement dismisses the thirteen-year-old as a runaway, but Laney knows better. Alfie would never abandon his special routines and the sanctuary of their home. Could he have been kidnapped–or worse?
As a February snowstorm rips through the region, Laney is forced to launch her own investigation, using every trick she learned in her years undercover.
As she digs deeper into the disappearance, Laney learns that Alfie and a friend had been meeting with an older man who himself vanished, but not before leaving a corpse in his garage. With dawning horror, Laney discovers that the man was a confidential informant from a high-profile case she had handled in the past.
Although he had never known her real identity, he knows it now. Which means several other enemies do, too. Time is running out, and as Laney's search for her son grows more desperate, everything depends on how good a detective she really is–badge or no.
---
Emilya Naymark
Emilya Naymark's short stories appear in Secrets in the Water, After Midnight: Tales from the Graveyard Shift, River River Journal, Snowbound: Best New England Crime Stories 2017, 1+30: THE BEST OF MYSTORY, and in the upcoming Harper Collins anthology A Stranger Comes to Town.
She has a degree in fine art, and her artworks have been published in numerous magazines and books, earning her a reputation as a creator of dark, psychological pieces.
When not writing, Emilya works as a visual artist and reads massive quantities of thrillers and crime fiction. She lives in the Hudson Valley with her family.
Learn more about Emilya by clicking her name, photo, or any of the following links: Goodreads, BookBub, Instagram, Twitter & Facebook
---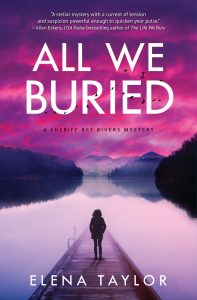 Elena Taylor is the author of All We Buried, available now in print, e-book, and audio book format at all your favorite on-line retailers. And don't forget many independent bookstores can order books for you and have them shipped to your home or for curbside pickup.
For more information on All We Buried, click on the link here to visit the home page.
Header photo by Bruce Emmerling on Pixabay.