Symphony Road by Gabriel Valjan—Visit all the stops along the Partners In Crime Virtual Book Tour!
Interview + Excerpt + Book & Author Info
---
Symphony Road
Trouble comes in threes for Shane Cleary, a former police officer and now, a PI.
Arson. A Missing Person. A cold case.
Two of his clients whom he shouldn't trust, he does, and the third, whom he should, he can't.
Shane is up against crooked cops, a notorious slumlord and a mafia boss who want what they want, and then there's the good guys who may or may not be what they seem.
Praise for Symphony Road:
"The second installment in this noir series takes us on a gritty journey through mid-seventies Boston, warts and all, and presents Shane Cleary with a complex arson case that proves to be much more than our PI expected. Peppered with the right mix of period detail and sharp, spare prose, Valjan proves he's the real deal." – Edwin Hill, Edgar finalist and author of Watch Her
"Ostracized former cop turned PI Shane Cleary navigates the mean streets of Boston's seedy underbelly in Symphony Road. A brilliant follow up to Dirty Old Town, Valjan's literary flair and dark humor are on full display." – Bruce Robert Coffin, award-winning author of the Detective Byron Mysteries
"A private eye mystery steeped in atmosphere and attitude." – Richie Narvaez, author of Noiryorican
Genre: Crime fiction, Procedural, Noir, Historical Fiction
Published by: Level Best Books
Publication Date: January 15, 2021
Number of Pages: 232
ISBN: 978-1-953789-07-5
Series: Shane Cleary Mystery, #2
To buy the book, click on any of the following links: Amazon | Barnes & Noble | Goodreads
---
The Author of Symphony Road—Gabriel Valjan
Gabriel Valjan lives in Boston's South End.
He is the author of the Roma Series and Company Files (Winter Goose Publishing) and the Shane Cleary series (Level Best Books).
His second Company File novel, The Naming Game, was a finalist for the Agatha Award for Best Historical Mystery and the Anthony Award for Best Paperback Original in 2020.
Gabriel is a member of the Historical Novel Society, International Thriller Writer (ITW), and Sisters in Crime.
---
The Interview with Gabriel Valjan—Symphony Road
Tell us about Shane Cleary:
Shane is in his late twenties, Irish, born and raised in Boston. His father committed suicide and his mother died of a broken heart shortly thereafter.
Shane bounced around foster care but completed his education, thanks to a former teacher. He served in Vietnam, returned home, and tried to find a purpose in life.
He joined the Boston Police Department, which was a short-lived experience because he witnessed a fellow cop shoot and kill a black kid in a housing project. He becomes a private eye to support himself.
Shane Cleary is the guy you call at 3am, the kind of man who will do the right thing, despite the consequences.
What drew you to writing about the 1970s?
I was a child during the Seventies.
The Seventies, as I see it now, was a cautious decade. In the Fifties, nobody questioned Authority. In the Sixties, the answer to a question might include a nightstick to the head. There were, however, moments for optimism in the 70s.
Norman Lear brought social issues and taboos into the living room with his television shows, such as All in the Family, Good Times, and Maude. Audiences were clued into the fact that not everybody had "a piece of the pie." Activism reminded America that society was not equal for people of color, and for gay men and women. We recognized that we ought to take care of the earth, our home.
The decade was marred by economic hardship, whether it was inflation or energy shortages. Vietnam, Watergate, and the Iranian hostage crisis made people suspicious of political leadership. I think people were tired and cynical from the failures of the Sixties; they had lived through assassinations and race riots, and I suspect that this is why music and choice in recreational drugs changed, from rock to disco and from psychedelics to downers.
Then the mysterious virus we now call AIDS appeared in the late-70s. All in all, it was a cynical decade, which is perfect for a noir or hardboiled story.
Terms like noir and hardboiled are often applied to your writing. What do those terms mean to you, and how would you describe your voice?
Noir is equated with hopelessness and, I suppose, pessimism. No matter what you do, you're screwed. Hardboiled denotes an absence of feeling, empathy, and why the protagonist is a borderline sociopath, incapable of emotion. The Continental Op and Mike Hammer are hardboiled examples.
I'd say that the worlds I've created in my novels are noir and my characters are hardboiled.
Walker in The Company Files Series has no illusions that if he revealed his softer side, it could be fatal. He is a combat veteran, an unintentional Company man, and late to the discovery that he is a writer. Creativity is the romance and idealism in his life. He has no delusions about people. He has seen what few have experienced or could understand, which is one reason why the men of that era did not discuss the war.
In postwar America, men went to work, suppressed the ugliness they'd seen or perpetrated. They set out to earn a paycheck and support a family. Unless it was the advertising business, real men didn't push a pen because writers lived in garrets and in poverty.
Shane, likewise, is hardboiled, because he doesn't forget for one moment that the world is a violent and ugly and broken place. Beauty is rare and one moment of lost vigilance belongs to the predator. The cumulative stress, in my opinion, is why men don't live long. Shane sees Life as three choices: You are either the sheep, the sheepdog, or the wolf.
What role does geography and the city of Boston play in the novel?
When people think of Boston, I'd wager that Pilgrims and the Revolutionary War are what come to mind. Some people may associate Boston with a financial and social elite, such as the Kennedys or Brahmins of yesteryear. While the city was the first to implement many of the social and healthcare reforms in the nation, it was the last city in the country to desegregate its schools and public housing. Desegregation didn't start in Boston until 1974. Digest that date: the battle for desegregation in Boston didn't end until 1988, two decades after Martin Luther King, Jr's assassination, and thirty years after the Little Rock Crisis.
As for Shane Cleary … it's 1976, and racism and other prejudices are alive and well in his Boston. Cops are not clean, and the politics are dirtier. Everyone has an agenda. Your zip code denotes wealth and privilege. It's rich and poor, with the people in between, not middle-class but the working Joe and Jane trying to survive the day, night, or week.
Symphony Road is book two in a series. Can readers start with this one? Or should they read Dirty Old Town first?
You can start with Symphony Road, if you can accept that there will be references to events in the first book. I'd like for you to read Dirty Old Town, so you can see Shane's growth as a person. In the first book, his desperation is blatant, as is the torch he carries for an ex.
In Symphony Road, readers learn that Boston was the Arson Capital of the United States, and gentrification bordered on criminal enterprise.
Your Company Files Series is set in the late '40s and early '50's. What drew you to that era for those books?
In 1948, the CIA was born from the ashes of the Office of the Strategic Services. The agency bumbled and stumbled more than it was successful, and I found that interesting and entertaining.
More appealing and terrifying was the power vested in J. Edgar Hoover. With Joe McCarthy's unsubstantiated allegation that there were Communists in government, the perfect storm was there for Hoover and his FBI to assume complete control of law enforcement, domestic and foreign.
The Founding Fathers feared a tyrant, but they'd never anticipated that their nightmare would carry a badge. Hoover maintained power and kept presidents under his thumb for five decades until his death in 1972.
In The Good Man, I introduce readers to postwar Vienna and the CIA's first real mission: to recruit former Nazis for whatever intelligence they might have on the Soviet Atomic Program. Operation Paperclip is real history, and our government aided and sheltered shady characters. The novel tries to show that spy craft is a matter of moves on the devil's chessboard.
The Naming Game, which was nominated for an Agatha for Best Historical Mystery and an Anthony Award for Best Paperback Original, brings my characters stateside, into the Hollywood studio system, where they learn how the studio moguls played the name-change game for writers suspected of Red sympathies.
Hoover and Roy Cohn, McCarthy's minion, will stop at nothing to amass power. Hoover saw film as a way to perpetuate his brand of propaganda, and he became aware that a certain Chief William Parker of the LAPD had started the first criminal database in the nation, which Hoover, who had started his career in the aftermath of the Wall Street Bombing of 1920, failed to accomplish and for which he resented Parker.
At the end of day, Commies or not, the result was American as apple pie: money had to be made, at any cost.
The Roma Series is set in Italy in contemporary times. Tell us about that series.
The Roma Series is about a woman, Bianca, who fled a rogue US government agency. She realized that her employer was not beyond extrajudicial measures to close cases of white-collar crime. She lives in Italy, where she has a love interest and befriends his coworkers, who are experts at fighting organized crime. She has skills they could use in their investigations. Meanwhile, her former employer wants her dead.
I wrote the Series out of my love for Italian culture. Also, the organized crime I portray in the novels is often subtle, seamlessly integrated into the finance and pharmaceutical industries and technology. I want to show readers that organized crime has evolved, here in the US and abroad.
Tony Soprano would not survive in the world I created because he draws too much attention to himself.
I'd recommend readers to start with Five Before Rome, which is five novellas and five introductions to the men around Bianca. Think of it as a taste test. You will come to understand why each man has a stake in the fight against organized crime. I also introduce you to lesser-known areas of Italy, the culture, and the local cuisine.
Five Before Rome is in digital format only, and available on Amazon.
What are you working on now?
I am working through the edits for Diminished Fifth, the next Company Files Series novel. In the immediate aftermath of the Rosenberg executions, Jack and Walker have to protect their work (those Nazis they recruited in Vienna) from J. Edgar Hoover, Roy Cohn, and an ambitious lawyer named Robert Kennedy.
An off-Broadway play is the venue for their operation. There are romantic tensions and an alliance with the mafia.
Final Words of Wisdom for Aspiring Writers:
Write the story you want to write but remain true to yourself.
Remember, it's difficult to get noticed, and that has always been the case for most writers. Be grateful for those who offer you suggestions. They care. Be grateful to all your readers and ignore the naysayers.
Remember that many people talk, but few do the hard work. Learn from the writers you admire, try to understand what is it that you like about them, and how they do what they do, but then do it your way. Your book, your story is your mark on the world.
---
Excerpt of Symphony Road
I went to cross the street when the wheels of a black Cadillac sped up and bristled over tempered glass from a recent smash-and-grab. The brake lights pulsed red, and a thick door opened. A big hulk stepped out, and the car wobbled. The man reached into his pocket. I thought this was it. My obituary was in tomorrow's paper, written in past tense and in the smallest and dullest typeface, Helvetica, because nothing else said boring better.
Click. Click. "I can never get this fucking thing to light."
It was Tony Two-Times, Mr. B's no-neck side man. His nickname came from his habit of clicking his lighter twice. "Mr. B wants a word."
"Allow me." I grabbed the Bic. The orange flame jumped on my first try and roasted the end of his Marlboro Red. "You really oughta quit."
"Thanks for the health advice. Get in."
Tony nudged me into the backseat. I became the meat in the sandwich between him and Mr. B. There was no need for introductions. The chauffeur was nothing more than a back of a head and a pair of hands on the wheel. The car moved and Mr. B contemplated the night life outside the window.
"I heard you're on your way to the police station to help your friend."
"News travels fast on Thursday night. Did Bill tell you before or after he called me?"
"I'm here on another matter."
The cloud of smoke made me cough. Tony Two-Times was halfway to the filter. The chauffeur cracked the window a smidge for ventilation. As I expected, the radio played Sinatra and there were plans for a detour. A string of red and green lights stared back at us through a clean windshield.
"A kid I know is missing," Mr. B said.
"Kids go missing all the time."
"This kid is special."
"Has a Missing Persons Report been filed?"
The look from Mr. B prompted regret. "We do things my way. Understood?"
We stopped at a light. A long-legged working girl with a chinchilla wrap crossed the street. She approached the car to recite the menu and her prices, but one look at us and she kept walking.
"Is this kid one of your own?"
The old man's hand strummed leather. The missing pinky unnerved me. I've seen my share of trauma in Vietnam: shattered bones, intestines hanging out of a man, but missing parts made me queasy. The car moved and Mr. B continued the narrative.
"Kid's a real pain in my ass, which is what you'd expect from a teenager, but he's not in the rackets, if that's what you're wondering. This should be easy money for you."
Money never came easy. As soon as it was in my hand, it went to the landlady, or the vet, or the utilities, or inside the refrigerator. I'd allow Mr. B his slow revelation of facts. Mr. B mentioned the kid's gender when he said "he's not in the rackets." This detail had already made the case easier for me. A boy was stupider, easier to find and catch. Finding a teenage girl, that took something special, like pulling the wings off of an angel.
"He's a good kid. No troubles with the law, good in school, excellent grades and all, but his mother seems to think he needed to work off some of that rebellious energy kids get. You know how it is."
I didn't. The last of my teen years were spent in rice paddies, in a hundred-seventeen-degree weather—and that was before summer—trying to distinguish friendlies from enemies in a jungle on the other side of the planet. And then there were the firefights, screams, and all the dead bodies.
"Does this kid have a girlfriend?" I asked.
Mr. B said nothing.
"A boyfriend then?" That question made Mr. B twist his head and Tony Two-Times elbowed me hard. "I've got to ask. Kids these days. You know, drugs, sex, and rock' n roll."
"The kid isn't like your friend Bill, Mr. Cleary."
The mister before Cleary was a first. The ribs ached. I caught a flash of the driver's eyes in the rearview mirror. Mr. B conveyed specifics such as height and weight, build, the last known place the kid was seen, the usual hangouts and habits. This kid was All-American, too vanilla, and Mr. B had to know it. Still, this kid was vestal purity compared to Mr. B, who had run gin during Prohibition, killed his first man during the Depression, and became a made-man before Leave It to Beaver aired its first episode on television.
The car came to a stop. The driver put an emphasis on the brakes. We sat in silence. The locks shot up. Not quite the sound of a bolt-action rifle, but close. Mr. B extended his hand for a handshake. I took it. No choice there. This was B's way of saying his word was his bond and whatever I discovered during the course of my investigation stayed between us, the Father, the Son and the Holy Ghost.
"I've got to ask," I said.
"I'll pay you whatever you want."
"It's not that," I said, feeling Tony Two-Times' breath on the back of my neck. "Did you hire Jimmy C to do a job lately?"
"I did not."
"And Bill called me, just like that?" I knew better than to snap my fingers. Tony would grab my hand and crush my knuckles like a bag of peanuts. A massive paw on the shoulder told me it was time to vacate the premises, but then Mr. B did the tailor's touch, a light hand to my elbow. "Jimmy is queer like your friend, right?"
"What has that got to do with anything?"
"When it comes to friends, you forgive certain habits, like I allow this idiot over here to smoke those stupid cigarettes. Capisci?"
"Yeah, I understand."
"Good. Now, screw off."
I climbed over Tony Two-Times to leave the car. Door handle in my grip, I leaned forward to ask one last thing, "You know about Jimmy's predicament?"
"Ironic, isn't it?" Mr. B said.
"What is?"
"I know everything in this town, except where my grandnephew is. Now, shut the door."
The door clapped shut. I heard bolts hammer down and lock. There was a brief sight of silhouettes behind glass before the car left the curb. I had two cases before breakfast, one in front of me, and the other one, behind me in the precinct house. There was no need for me to turn around. No need either, to read the sign overhead.
The limestone building loomed large in my memory. Two lanterns glowed and the entrance, double doors of polished brass, were as tall and heavy as I remembered them. It was late March and I wasn't Caesar but it sure as hell felt like the Ides of March as I walked up those marble steps.
---
Visit all the stops along the Symphony Road Partners In Crime Blog Tour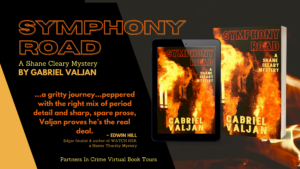 02/02 Showcase @ Im Into Books
02/03 Guest post/showcase @ Novels Alive
02/04 Interview @ A Blue Million Books
02/06 Review @ Book Reviews From an Avid Reader
02/07 Interview @ Author Elena Taylors Blog
02/08 Review @ Jane Pettit Reviews
02/08 Showcase @ Reading A Page Turner
02/10 Showcase @ nanasbookreviews
02/11 Guest post @ Nesies Place
02/15 Review @ Rozierreadsandwine
02/16 Showcase @ The Bookwyrm
02/17 Showcase @ The Pulp and Mystery Shelf
02/18 Guest post @ BooksChatter
02/18 Showcase @ 411 ON BOOKS, AUTHORS, AND PUBLISHING NEWS
02/19 Showcase @ The Book Divas Reads
02/20 Review @ The Book Review Crew
02/22 Review @ Jersey Girl Book Reviews
02/23 Review @ sunny island breezes
02/24 Showcase @ CMash Reads
02/25 Interview @ Quiet Fury Books
02/25 Showcase @ Archaeolibrarian – I Dig Good Books!
02/26 Review @ Lynchburg Mama
02/27 Review @ Books and Zebras @ jypsylynn
02/28 Review @ Just Reviews
---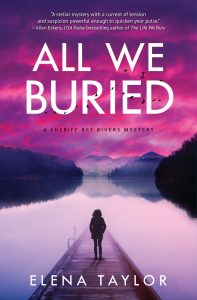 Elena Taylor is the author of All We Buried, available now in print, e-book, and audio book format at all your favorite on-line retailers. And don't forget many independent bookstores can order books for you and have them shipped to your home or for curbside pickup.
For more information on All We Buried, click on the link here to visit the home page.