The Firefly Warriors Club by Susan Count
Welcome to the latest stop on the Firefly Warriors Club Great Escapes Virtual Blog Tour! To visit all the stops along the way, click the link here.
---
Review & Author Interview
Click the link here to enter the Rafflecopter Giveaway!
---
Susan Count, Author of The Firefly Warriors Club
Susan Count writes for the joy and entertainment of young readers.
She is a best-selling, award-winning author of the Dream Horse Adventures Series.
Susan confesses to being overly fond of brownies, and horseback riding on forest trails.
The Firefly Warriors Club was written for her three grandboys who wanted an adventure of their own.
What's a fairy grandmother to do, but wave her magic pen and create.
To learn more about Susan, click on her name or photo or any of the following links: Facebook, Twitter, Instagram, Pinterest.
---
About The Firefly Warriors Club
The Firefly Warriors Club (Texas Boys Adventures)

Middle-Grade Story – Age Level: 9 – 12
1st in Series
Publisher: Hastings Creations Group (October 13, 2020)
Paperback: 200 pages
ISBN-10 : 099708832X
ISBN-13: 978-0997088328
Print Length: 148 pages
Digital ASIN: B089M1XJXW

They chase a light and then it chases them.
When a mysterious light entices twelve-year-old Davy and his bothersome cousin, Anderson, into the woods, they discover the forest is alive with wonder. Firefly magic dazzles the boys, and they vow to save the insects from destruction.
Then a fire rages in the forest. Despite the cousins' creative efforts to help the firefighters, the situation for the fireflies plummets from grim to dire. As the blaze consumes the fireflies' habitat, the young warriors despair.
They enlist the support of the neighboring farms to protect and save the habitat of the magical treasures. If only there was—even one left.
To buy the book, click the following link: Amazon
---
The Interview with Susan Count
How did you come to write for middle-grade readers?
I didn't decide to write for middle grade and go. I wrote the first story in my natural voice and then figured out it was most suited to middle-grade. I've tried my hand at picture books and chapter books for younger readers without success. They may look easy, but they are far from it.
The Firefly Warriors Club combines magic and environmentalism, what inspired you to focus on those two things for a middle-grade novel?
One evening, as we walked a path at the edge of the woods, the bushes came alive with flashing lights. We were astounded at the numbers and mesmerized with delight. When we shared our experience, we were dismayed to learn that many people have never seen even a single firefly. The world is a magical place full of glory.
This is listed as the first in a series, will we see more of the dynamic duo from The Firefly Warriors Club?
I love to plot with my grandboys. We are working on a story where they get off a train in the Montana wilderness when it stops for a repair. Did you guess it left them behind? There're wolves, and bears, and a snowstorm. So exciting.
How does this novel compare to your work in the Dream Horse Adventure Series?
A day at a horse show book table is a delightful day. But I kept getting asked if I had any stories for boys. And then my grand boys started in. What's a fairy grandmother to do but take up her magic pen and create. The Firefly Warriors Club is not about horses, but it still has a scene where they ride horses to save a herd of cows.
You are a horseperson too! Tell us about your horses!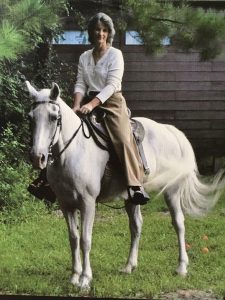 I'm owned by two horses and blessed that one of them allows me to ride him. He seems to enjoy being out of the forest trails as much as I do. And when he's done, he bites the stirrup.
He is a gaited Rocky Mountain Horse, and he makes my heart smile with his antics. He's into everything, including the hummingbird feeder. A cup of coffee is not safe from him, and when he decides he wants a bath, he knocks on the deck with his hoof.
Watching my equine treasures graze in the pasture is calming and inspires adventure stories. When I'm not writing, you can find me riding and singing for joy on the forest trails.
Inspiring young readers is so important, what can parents do to help their kids fall in love with books?
All I can tell you is what I did with my children and grandchildren. Before my babies could even sit up, they were in my lap looking at cloth and board books. They learned to equate reading with undivided attention and nurturing love. Today they are all avid readers.
What are you reading now?
Would you believe The Magic Treehouse Series? What a knock it out of the ballpark premise. Kids find a tree house full of books that can transport them in time and around the world. And The Action Bible. Actually, it's being read to me and I'm super impressed.
---
My Thoughts on The Warrior Firefly Club
Susan Count has done an excellent job of weaving environmental issues into an action story. In addition to providing a fun read for Middle Grade readers, The Firefly Warriors Club also shows collaboration, empathy, and respect for others.
The two cousins feel like real boys. Davy, the protagonist is twelve, and Anderson, his obnoxious—but ultimately helpful cousin—is ten. They get into scrapes, get lost in the forest, and don't always do what they are told, but despite their flaws, come together to do something good for the world they live in.
I also loved the character of their grandfather. He's part grumpy old man, part cheerleader, and part salt-of-the earth farmer, who looks out for his own community just as the boys look out for the fireflies.
Rounding out the most important characters is Anderson's dog, Chester. Every kid should have a dog, and Anderson and Davy are no exception, plus, Chester plays an important role in events.
This book is a solid read for boys, but girls will enjoy it too. There's a lot of interesting science mixed into the action and it's great to see male characters working together for the greater good.
---
Visit all the stops on the tour!
October 15 – I'm All About Books -SPOTLIGHT
October 15 – Author Elena Taylor's Blog – REVIEW, AUTHOR INTERVIEW
October 16 – Brooke Blogs – SPOTLIGHT
October 16 – A Wytch's Book Review Blog – REVIEW
October 17 – Miss W Book Reviews – REVIEW  
October 17 – Literary Gold – SPOTLIGHT
October 18 – I Read Kid's Books – REVIEW
October 18 – Sylv.net  – SPOTLIGHT
October 19 – Reading, Writing & Stitch-Metic – SPOTLIGHT
October 19 – Christy's Cozy Corners – REVIEW
October 20 – Mysteries with Character – AUTHOR INTERVIEW
October 20 – Ruff Drafts – SPOTLIGHT
October 21 – Celticlady's Reviews – SPOTLIGHT
October 21 – StoreyBook Reviews – SPOTLIGHT
October 22 – Socrates Book Reviews – SPOTLIGHT
October 22 – Here's How It Happened – REVIEW
October 23 – View from the Birdhouse – SPOTLIGHT
October 24 – Jemima Pett, Author – REVIEW
---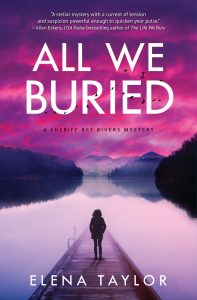 Elena Taylor is the author of All We Buried, available now in print, e-book, and audio book format at all your favorite on-line retailers. And don't forget many independent bookstores can order books for you and have them shipped to your home or for curbside pickup.
For more information on All We Buried, click on the link here to visit the home page.