You served in the United States Navy during both Operation Enduring Freedom and Operation Iraqi Freedom and now you practice law. That's a complex history to bring to your debut novel. How do your real life experiences influence your fiction?
Well, I don't write about lawyers!
More seriously, though, my experience in the military and as a veteran has heavily influenced the subject matter of what I write, but my life has been very different from that of Camille, the main character in Little Falls.
Unlike me, Camille was deployed and saw combat as an Army medic. During my stint in the Navy, I worked intelligence and was never deployed. However, the idea of Camille first struck me when I was sitting in a physical therapy clinic on the Army base where I worked.
It was during the first couple of years after Iraq and some of the guys were coming back literally shredded and we were hearing about a huge spike in suicides and mental health issues. But no one was talking about the women who were coming back.
Ever since then, I've been very focused on the women who are veterans and how their lives as vets—especially those who are combat vets—are so different from male veterans and female civilians.
Tell us about the town of Little Falls, Washington. I'd love to know how your friend Special Agent Luke Thomas inspired it! And tell us about Loomis
Luke and I used to work together (he's a recovering lawyer who made the smart choice to go FBI). His family has some land up in the Okanogan that they lease to a rancher.
Several years back I joined up with some friends to buy beef from their tenant and one December a few days before Christmas, I volunteered to make the annual drive out to the butcher's in Tonasket.
By then, I was already toying with the idea of Camille's story, but had not been able to figure out where the story should be set.
Camille is not an urbanite by any stretch of the imagination. Instead, I had this image in my head of Camille in a beater truck by the side of the road with a mountain on one side and this gorgeous rolling plain on the other.
And as I was driving north up the highway in the first flurries of what turned out to be a massive snow storm, I realized I had found Camille's home.
Loomis is a tiny town up in the northwestern part of Okanogan County. It has a post office and a small church and a few houses and not much else. It's really the perfect place for someone who wants to surround herself with the hills instead of people.
None of us expected to launch books during a pandemic, but it's a special challenge to launch a debut novel during this time. How are you adapting to the changes brought about by restrictions, homeschooling, social distancing, and so many author events moving online?
A special challenge, indeed!
In some ways it worked out well for me. I'm a lawyer by day and I have two little kids, so making it to an in-person reading or book signing would be really difficult for me.
The online experience has been pretty good, frankly. I've done a few interviews, one of which was on the radio in California, and lined up a couple of blog tours.
It also forced me to figure out how to use Twitter!
Mom, Veteran, Writer, Attorney, Bourbon Drinker . . . discuss.
Ha! We've covered the vet, writer, and attorney statuses above.
As for being a mom, I have two girls, both of whom are still quite young. People are usually a little surprised when I tell them how young my kids are because Sophie is very much a teenager. That's when they ask if I was as much of a rebel as Sophie is!
It's funny because much of Camille and Sophie's relationship is drawn from my research about how veterans with PTSD sometimes have a difficult time bonding with and relating to their kids and domestic life.
And another part of their relationship draws on my experience of my mom remarrying when I was nine because in a lot of ways it felt like an abandonment even though she did not remotely abandon me. (Hi, Mom!)
And the rest of their relationship draws on my abject terror about becoming a mother. I was pregnant while I was writing the first draft of Little Falls and I was just terrified that I was going to complete screw up this poor kid because I very much still think like a sailor and have a bit of an authoritarian streak.
I'm pretty sure she's not too maladjusted at this stage, but we'll see what she's like when she's 15….
Oh, and bourbon. My mom is from Kentucky. It's kinda required to like bourbon.
What would you most like civilians to know about the service men and women struggling with PTSD?
That PTSD does not come in one or even 49 flavors.
And, there are a lot of people in the military and veterans who have PTSD for multiple reasons, not just because of one firefight or one bombing or one dirt bag officer or chief who didn't stand up for their sailors.
Unfortunately, we still have hazing and sexual assault in the military. We still have commands that treat women and men who stick up for them like dirt. We still have senior personnel who belittle servicemembers for trying to get help for their mental distress.
Don't get me wrong, there are a lot of good people in the military who care and who are pushing the ball forward. But all you need to do is read about Vanessa Guillen to know that we've got a ways to go.
What are you working on now that Little Falls has launched??
I'm working on the next part of Camille's story.
It's tentatively title PERSECUTION and picks up her thread a few months after Little Falls ends.
I'm excited about it because I'm tackling some of the issues around sexual assault and the role of women in civilian society that I didn't have space for in Little Falls and that really shapes who Camille is and also who Sophie is, frankly.
Final words of wisdom:
Keep dreaming. Keep writing. Keep querying. It can be painful, but it's totally worth it.
---
Great to have you on my blog—can't wait to read Little Falls!
---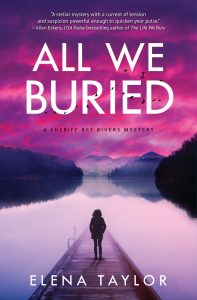 Elena Taylor is the author of All We Buried, available now in print, e-book, and audio book format at all your favorite on-line retailers. And don't forget many independent bookstores can order books for you and have them shipped to your home or for curbside pickup.
For more information on All We Buried, click on the link here to visit the home page.
Bourbon distillery image by Ann Boulais on Pixabay.
Header photo by JamesWilson2891 on Pixabay.