Joel Shulkin launches a medical thriller, Adverse Effects, as his debut novel. Learn more about Joel and his exciting debut!
---
Love to read and support debut authors? Click the link here to learn about this domestic suspense debut from Erin Ruddy!
---
Joel Shulkin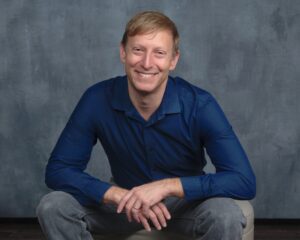 Joel Shulkin, MD, is a developmental-behavioral pediatrician and United States Air Force veteran with a master's in public health.
Having been lucky enough to be mentored by the legendary Michael Palmer, his short stories have appeared in various print and online journals, and he has won several national and local writing awards for fiction and poetry.
He lives in Florida with his wife and twin daughters.
To learn more about Joel, click on his name, photo, or any of the following links: Twitter, Facebook, and Instagram
---
Adverse Effects by Joel Shulkin
Determined to help her amnesiac patients recover their lives, Boston psychiatrist Cristina Silva is achieving near-miraculous results by prescribing Recognate, a revolutionary new memory-recovery drug now in trials. She understands her patients' suffering better than most, because she's lost her memories, too.
Desperate to become herself again, she pops the same experimental drug she prescribes to her patients. And, like them, she remembers a little more each day.
Until one of her patients, a successful accountant, jumps from an eight-story window to his death. And as Cristina's memories return, with them come violent visions and an incessant voice in her head. Maybe the drug isn't safe after all. But discontinuing it would mean forgetting everything she's recalled and losing herself.
Then an enigmatic, possibly dangerous man appears at Cristina's bus stop. He seems to know more about her life than she does and says she holds a secret that puts her life in danger. Perilously balanced between an unknown past and a terrifying future, if she wants to survive, Cristina must stay on the medication and unlock those memories before it's too late—even if the adverse effects of the drug could destroy her.
---
Joel Shulkin: The Interview
What inspired this particular story?
While doing my fellowship in Boston, I used to ride the bus into work.
One day, the bus was empty and I chose a seat near the heater in the middle. At the next stop, a lone man boarded and sat…directly behind me. I found it odd and disturbing, and then considered how much creepier it would be if I were a woman, and even creepier if he suddenly whispered, "I know who you are."
I was also studying for my MPH at Harvard at the same time and taking a course on Global Human Rights and Ethics, which included a discussion on drug testing in Third World countries. By the time I told my wife, who is Brazilian, about it, we had formed the rough plot of a Brazilian doctor who'd managed to use an experimental drug (previously tested in developing countries) to recover her lost memories–only, according to the man on the bus, they weren't her memories.
You are a developmental-behavioral pediatrician, can you tell us a little bit about what that means?
A developmental-behavioral pediatrician evaluates, counsels, and provides treatment for children with developmental delays or disorders such as autism, ADHD, or learning disorders, as well as for behavioral challenges related to developmental or other medical conditions (e.g. genetic disorders, chronic illness, etc.).
There is overlap with many other specialties including Psychology, Psychiatry, and Neurology, but the DBP often integrates these disciplines with an understanding of general pediatrics in order to consider how all these aspects affect a child's developmental and behavior and, in turn, how medical conditions may present in children with developmental disorders.
Most of my time is spent diagnosing, directing to therapeutic services, and monitoring development over time; but I also have a segment of my caseload for whom I prescribe psychotropic medications.
Another major role of the DBP is advocacy for these children and their families at local, state, and national/international levels.
How long were you in the US Air Force? How did your years in the service impact your writing life and career?
I served 6 years Active Duty in the USAF (3 in residency, and 3 overseas in Germany).
From a professional standpoint, I learned to understand community pediatrics–how to use limited resources and the realities of diagnosing and treating children with complex developmental disorders away from "The Ivory Towers" of major teaching hospitals.
I also learned how the military system works, including its successes and shortcomings. While I didn't do much writing during my AD time, I made my first attempt at a novel during my "year off" between separating from the military and returning to DBP fellowship; this is also when I started reading books on writing and taking courses to learn how to be a successful author.
My third full medical thriller novel, HEROIC MEASURES, which is currently with beta readers, draws on my military experience to look at what would happen if an attempt to create a Super-Soldier went horribly wrong. You can find a short synopsis on my website. (Click on the link here).
What are you working on now?
A sequel to Adverse Effects will launch in 2021. In addition to editing HEROIC MEASURES, I am currently working on a fourth medical thriller about a woman with an incurable, degenerative illness who suddenly starts recovering for no clear reason, making her the target of a several groups who want to know the reason–including one willing to kill to get it.
---
Congratulations on your debut, Joel! Sounds like a terrific book. I'd love to have you visit us again next year with your second novel.
---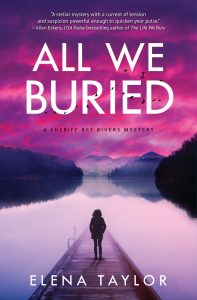 Elena Taylor is the author of All We Buried, available now in print, e-book, and audio book format at all your favorite on-line retailers. And don't forget many independent bookstores can order books for you and have them shipped to your home or for curbside pickup.
For more information on All We Buried, click on the link here to visit the home page.
Header Photo by qimono on Pixabay.