Laura Childs, New York Times bestselling author, launches Haunted Hibiscus, the 22nd of her Tea Shop Mysteries
Author Interview with Laura Childs + Book & Author Info + Rafflecopter Giveaway
Haunted Hibiscus by Laura Childs
Tea maven Theodosia Browning brews up trouble in the latest Tea Shop Mystery from New York Times bestselling author Laura Childs.
It is the week before Halloween and Theodosia Browning, proprietor of the Indigo Tea Shop, and her tea sommelier, Drayton, are ghosting through the dusk of a cool Charleston evening on their way to the old Bouchard Mansion. Known as the Gray Ghost, this dilapidated place was recently bequeathed to the Heritage Society, and tonight heralds the grand opening of their literary and historical themed haunted house.
Though Timothy Neville, the patriarch of the Heritage Society, is not thrilled with the fund-raising idea, it is the perfect venue for his grandniece, Willow French, to sign copies of her new book, Carolina Crimes & Creepers.
But amid a parade of characters dressed as Edgar Allan Poe, Lady Macbeth, and the Headless Horseman, Willow's body is suddenly tossed from the third-floor tower room and left to dangle at the end of a rope. Police come screaming in and Theodosia's boyfriend, Detective Pete Riley, is sent to Willow's apartment to investigate. But minutes later, he is shot and wounded by a shadowy intruder.
Timothy begs Theodosia to investigate, and shaken by Riley's assault, she readily agrees. Now, she questions members of the Heritage Society and a man who claims the mansion is rightfully his, as well as Willow's book publisher and her fiancé, all while hosting a Sherlock Holmes tea and catering several others.
But the Gray Ghost holds many secrets, as do several other key suspects, while this murder mystery plays out on the eve of Halloween.
INCLUDES DELICIOUS RECIPES AND TEA TIME TIPS!
Haunted Hibiscus (A Tea Shop Mystery)

Cozy Mystery
22nd in Series
Publisher: Berkley (March 2, 2021)
Hardcover: 336 pages
ISBN-10: 0451489691
ISBN-13: 978-0451489692
Kindle ASIN: B089S6MFBH
---
Laura Childs: The Interview
What should readers know about the Tea Shop Mysteries before they read Haunted Hibiscus?
All my Tea Shop Mysteries are written as stand-alone novels. It's not necessary to read the previous book (or books) in the series to figure out what's going on.
As the plot unfolds you'll readily see that I've included key information and back story that helps draw you in and familiarizes you with my main characters, their relationships with each other, and their unique personalities. Also, the books aren't about tea per se, they're mysteries that offer real-life crime stories mingled with human drama.
The Tea Shop Mysteries are set in Charleston, SC. What makes that (beautiful!) city a good place for a cozy series?
Charleston is a 350-year-old city that's the plu-perfect setting for a cozy.
There are historic Victorian, Italianate, and Queen Anne-style mansions, as well as cute cottages and Charleston single homes. Walk down any street and you'll see horse-drawn jitneys, statuary, antique street lamps, and lovely gardens. Then we have the hidden walkways and alleys, most too narrow for cars, all with a legend that includes dueling or murder.
Okay, now throw in haunted graveyards, historic buildings, a French Quarter, ancient oaks dripping with Spanish moss, and that magnificent harbor. The surrounding low-country is lush with magnolias, palmettos, and palm trees—and there's even a tea plantation. Are you getting the picture? Isn't it delicious?
Tell us about the old Bouchard Mansion, the scene of the crime in Haunted Hibiscus.
The Bouchard Mansion is a composite of various Charleston mansions I've visited while doing research. But this mansion, besides serving as a "literary-themed haunted house," offers a few surprises.
There are twisty staircases, hidden rooms, and a spooky attic with a turret room.
The big reveal happens when Theodosia and Drayton, my two main characters, go exploring its sub-basement. That's when they stumble upon several grizzly clues and discover it was once a funeral home!
Give us a taste of the recipes we will find in Haunted Hibiscus.
This book is chock-a-block full of recipes.
There's Charleston Apple Pudding, Chai-Flavored Cupcakes, Pumpkin Soup, Crab and Avocado Tea Sandwiches, Southern Peach Crisp, Haunted Hibiscus Cooler, and several more.
I think that when you read a passage in a book and it mentions a food or recipe, your taste buds get curious – so of course I want to include it. There's also something deliciously fun and interactive about reading a story, then buzzing into your kitchen to whip up those very same scones and tea sandwiches.
Your cozies are paced like thrillers—thrillzies! Tell us about how that style came about.
I didn't want to write a traditional sweet cozy like everyone else. So I took my amateur sleuth, who always gives her all in trying to solve murder mysteries, and ratcheted up the action.
In other words, I follow the thriller rule of thumb—an exciting murder in the first chapter, three major disasters that serve as turning points, a darkest-before-the-dawn chapter, and a huge, twisty ending.
Some of my books have included double murders, exploding floats, smash-and-grab robberies, chases through graveyards, stabbings, hangings, hauntings, strangulations, food truck chases, shootings, bombs, fires, and killer drones.
In one book my main character is chased through a swamp, ends up in a burning building, jumps into the water, and is attacked by an alligator. And that's all in a few pages!
You write multiple series, tell us a little bit about the Scrapbook Mysteries and the Cackleberry Club Mysteries.
The Scrapbook Mysteries are somewhat edgy books that take place in New Orleans. My main character, Carmela, is the proprietor of a scrapbooking shop in the French Quarter and is always getting into trouble with her BFF, Ava, who owns the Juju Voodoo Shop. Mardi Gras, haunted cemeteries, bayous, and New Orleans food is generally involved.
The Cackleberry Club Mysteries, set in the Midwest, are a tale of three forty-plus women who run a cozy café called the Cackleberry Club.
Eggs are the morning specialty here (Eggs in Purgatory, Slumbering Volcanoes, Eggs Over Uneasy),  with murder mysteries on the side. I include lots of action, humor, and a dash of spirituality.
What are you working on now?
The writing never stops, thank goodness. So I'm just putting the finishing touches on A Dark and Stormy Tea, noodling ideas around for The Lemon Curd Killer, and filling in the outline for Cadmium Red Dead (a Scrapbook Mystery).
I'm also working on two stand-alone thrillers.
Any final "Words of Wisdom" for aspiring writers?
If you want to be a writer, you also have to be a reader. I mean read anything and everything you can get your sticky little hands on, no matter the genre.
After a while, you'll begin to see a few tricks that authors use. How they jumpstart a plot in chapter one. Break their novel into three or four distinct acts. And how they build suspense.
What I do—and I still do this—is read a book first for fun. Then, the second time through, I rip it apart.
I try to analyze the book's internal architecture—see how the author made it all work. Sometimes I even outline a book to figure out how the author built their story. Do this a few times and a little lightbulb will wink on over your head. You'll sit back, smile to yourself, and say, "Ah, that's how they did it. I think I can do that too."
Laura Childs—Author Pet Corner!
Lotus is our 3-year-old Chinese Shar-Pei and the love of our lives.
When we rescued Lotus she was underweight, had two ear infections, and a broken tooth. But that's all in her past.
Now Lotus is a healthy, sweet-natured girl who loves to play chase, hurdle over furniture, and guards her toys zealously – especially Pudgy Penguin and Turtle.
---
Laura Childs is the New York Times bestselling author of the Tea Shop Mysteries
, Scrapbook Mysteries
, and Cackleberry Club Mysteries
. In her previous life she was CEO/Creative Director of her own marketing firm and authored several screenplays. She is married to a professor of Chinese art history, loves to travel, rides horses, enjoys fundraising for various non-profits, and has two Chinese Shar-Pei dogs.
Laura specializes in cozy mysteries that have the pace of a thriller (a thrillzy!) Her three series are:
The Tea Shop Mysteries 
– set in the historic district of Charleston and featuring Theodosia Browning, owner of the Indigo Tea Shop. Theodosia is a savvy entrepreneur, and pet mom to service dog Earl Grey. She's also an intelligent, focused amateur sleuth who doesn't rely on coincidences or inept police work to solve crimes. This charming series is highly atmospheric and rife with the history and mystery that is Charleston.
The Scrapbooking Mysteries
 – a slightly edgier series that take place in New Orleans. The main character, Carmela, owns Memory Mine scrapbooking shop in the French Quarter and is forever getting into trouble with her friend, Ava, who owns the Juju Voodoo shop. New Orleans' spooky above-ground cemeteries, jazz clubs, bayous, and Mardi Gras madness make their presence known here!
The Cackleberry Club Mysteries
 – set in Kindred, a fictional town in the Midwest. In a rehabbed Spur station, Suzanne, Toni, and Petra, three semi-desperate, forty-plus women have launched the Cackleberry Club. Eggs are the morning specialty here and this cozy cafe even offers a book nook and yarn shop. Business is good but murder could lead to the cafe's undoing! This series offers recipes, knitting, cake decorating, and a dash of spirituality.
To learn more about Laura Childs, click on her name, photo, or find her on Facebook
---
Visit all the stops along the Great Escapes Virtual Book Tour for Laura Childs!
March 1 – I'm All About Books – SPOTLIGHT
March 1 – The Editing Pen – REVIEW
March 1 – #BRVL Book Review Virginia Lee Blog – SPOTLIGHT
March 2 – My Reading Journeys – REVIEW
March 2 – Reading, Writing & Stitch-Metic – SPOTLIGHT
March 3 – Escape With Dollycas Into A Good Book – REVIEW
March 3 – The Avid Reader – REVIEW
March 3 – Socrates Book Reviews – SPOTLIGHT
March 3 – Island Confidential – SPOTLIGHT
March 4 – Ascroft, eh? – AUTHOR INTERVIEW
March 4 – Maureen's Musings – SPOTLIGHT
March 5 – Author Elena Taylor's Blog – AUTHOR INTERVIEW
March 5 – I Read What You Write – GUEST POST
March 5 – The Book's the Thing – REVIEW
March 6 – FUONLYKNEW – SPOTLIGHT
March 6 – Sapphyria's Book Reviews – SPOTLIGHT
March 7 – Cozy Up With Kathy – REVIEW
March 7 – Brooke Blogs – SPOTLIGHT
March 8 – Baroness' Book Trove – REVIEW
March 8 – Celticlady's Reviews – SPOTLIGHT
March 8 – Christy's Cozy Corners – REVIEW
March 9 – Ruff Drafts – SPOTLIGHT
March 9 – Brianne's Book Reviews – REVIEW
March 10 – Laura's Interests – REVIEW
March 10 – Reading Authors Network – SPOTLIGHT
March 11 – Literary Gold – SPOTLIGHT
March 11 – ebook addicts – SPOTLIGHT
March 11 – MJB Reviewers – SPOTLIGHT
March 12 – Books a Plenty Book Reviews – REVIEW
March 12 – View from the Birdhouse – SPOTLIGHT
March 12 – Novels Alive – REVIEW
March 13 – Here's How It Happened – SPOTLIGHT
March 13 – Paranormal and Romantic Suspense Reviews – SPOTLIGHT
March 14 – The Book Diva's Reads – GUEST POST
March 14 – StoreyBook Reviews – SPOTLIGHT
---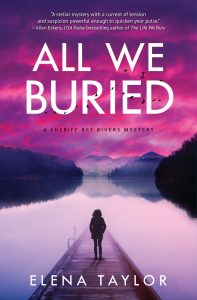 Elena Taylor is the author of All We Buried, available now in print, e-book, and audio book format at all your favorite on-line retailers. And don't forget many independent bookstores can order books for you and have them shipped to your home or for curbside pickup.
For more information on All We Buried, click on the link here to visit the home page.
Charleston photo from markjhemmings9 on Pixabay.