August Norman launches his second Caitlin Bergman novel, Sins of the Mother. Out on September 8 and available in e-book, audiobook, and hardback from all your favorite online and real world outlets.
---
Sins of the Mother by August Norman: The Book
August Norman returns with the second thrilling Caitlin Bergman novel, perfect for fans of Julia Keller, Tess Gerritsen, and Michael Koryta.
Caitlin went in search of her mother…but what she found may set the world on fire.
Caitlin Bergman's mother is dead. That's what the award-winning journalist has told everyone for the past forty years. Easier to lie than explain how Maya abandoned her only daughter before dropping off the map forever.
But when a rural sheriff invites Caitlin to the woods of coastal Oregon to identify her mother's remains, Caitlin drops everything to face the woman she's spent a lifetime hating. Unfortunately, the body–abandoned on the land of a reclusive cult, the Daughters of God–was left faceless. Instead, Caitlin finds the diary of a woman obsessed with the end of the world, one that hints the cult's spiritual leader knows the identity of Caitlin's real father. She's not the only one looking for clues in her mother's writing. Johnny Larsen, a violent white supremacist whose family runs the county, thinks the Daughters of God kidnapped his teen-aged daughter–and will do anything to get her back.
At the top of a hill, an army of women wait for the end of days. In the town below, the Larsens plot to purify their county. Caught in the middle, Caitlin must decide which is more important–learning the truth about her past, or saving Mama Maya's chosen daughters from the end of the world.
---
August Norman: The Interview
Readers first met Caitlin Bergman in Come and Get Me. How has your protagonist changed between the first book and the new one?
Unlike the first book, where a visit to her college triggered past trauma, Sins of the Mother finds Caitlin back in her hometown of Los Angeles two years later, hard at work as the award-winning investigative journalist she's always been.
Though still single and not ashamed to end the day with a cocktail or joint, she's grown emotionally, staying in regular touch with her therapist and past friends, and even easing into the idea of becoming a role model for Lakshmi Anjale, a young journalist eager to follow in Caitlin's footsteps.
While the ever-changing landscape of her career in print journalism is a source of stress, she finds herself thrown off-balance by a call out of nowhere asking her to come to coastal Oregon to identify a body, believed to belong to her birth mother.
Rather than triggering past trauma, Caitlin is straight-up excited to close a chapter of her life that's kept an angry fire burning inside since her childhood.
---
Can Sins of the Mother be read as a standalone? or should readers start with Come and Get Me?
Sins of the Mother definitely stands alone.
While the book involves a battle between a white supremacist group and an end-of-the-world cult, it's ultimately a story about family with a more universal theme than Come and Get Me's look at trauma recovery.
That said, Sins of the Mother continues threads that were mentioned in Come and Get Me, such as Caitlin's idealization of her adoptive father, Matthew Bergman, a mostly single LAPD officer, as well as her birth mother's career as an adult film star.
Of course, depending on when readers are finding this interview, the ebook version of Come and Get Me will be discounted to only $1.99 until September 12, 2020. Obviously, this means readers should buy ten copies of each book and read until memorized.
I have a baby now and apparently they need clothes at some point.
---
Certainly, being a man and writing a realistic female character is its own challenge, and something I take seriously.
---
Mystery Scene Magazine describes Caitlin as a "strong, complex, and capable woman who kicks a** and takes names." How did you decide to write a female protagonist? What were the challenges of "getting her right?"
Caitlin began life as a character in a screenplay as the foil to a hard-boiled, ex-cop searching for redemption; the honest journalist with a few bad habits but a strict moral compass.
As I'd written that screenplay in the heyday of independent film, the character was meant to be a chance for one of my best friends to move out of girl-next-door guest stars to something with real depth and range, a break-out lead role that a talented actor could mine for gold.
Once I'd novelized that screenplay, me and everyone who read the manuscript knew that she was the character who should move into the future. Certainly, being a man and writing a realistic female character is its own challenge, and something I take seriously.
While Come and Get Me was my attempt to empathize and express my helpless rage on the behalf of victims of sexual assault on college campuses, I knew I would never claim any authority or ownership on the subject. I made sure to vet that manuscript through not only my therapist, but also over 25 beta readers before a publisher ever saw a draft.
Of those 25, 20 were women. Of those women, at least two were in their 70s, 60s, 50s, 40s, 30s, and 20s, and included people of color and all sexual orientations. That process, plus the effort to keep Caitlin speaking like my friend, rather than speaking for the entire female experience, helps me stay on track.
Sins of the Mother is far less traumatic, though I still made sure to consult mental health professionals on the effects of growing up in a cult, as well as hours of extensive research, and the eyes of my trusted beta readers. Through this process, I feel like Caitlin stays grounded, and while not always likeable, she's believable, honest, and able to tackle the worst in us all.
---
You have become a new father! How has fatherhood impacted your writing?
At the same time my wife and I were family planning (as much as anyone really can), I was sketching out the story of Sins of the Mother. This look at the families we're born into versus the families we choose reminded me of how much we're made of the people who love us, and especially those who withhold their love.
Therefore, the story touches on all sorts of families, including the obvious models of adoptive parent relationships and mentorship, but also the twisted world of cults.
Ultimately, I believe that the best families are founded on supportive love, and hopefully my son will see the benefits of that exploration.
So far, he doesn't care for the act of writing and seems to think it detracts from our time together. Maybe I shouldn't have sung Harry Chapin's Cats in the Cradle to him so often while he was in the womb.
---
What does Sins of the Mother add to the crime fiction genre?
I like to think Caitlin Bergman, and particularly how she reacts in Sins of the Mother, brings a realistic hero to the modern crime thriller.
Though she officially lives in a series now, and series readers have certain expectations, I strive to see her change and be changed by the events in each book. No real person saves the day every time, and even if they do, their trials charge a toll to the body, mind, and soul.
Hopefully readers will laugh and cry along with Caitlin's adventures, seeing themselves in her, at both their best and lowest moments, regardless of gender, race, politics, or location.
---
"Don't waste time telling yourself why people will reject your work."
---
What are you working on now?
Beyond keeping the boy alive and undented, I have several projects in the works—from the next Caitlin Bergman novel, an exploration of the failings of our mental health system, to a stand-alone suspense thriller.
Final Words of Wisdom
Don't waste time telling yourself why people will reject your work. Anything can be improved once you've typed THE END, so force yourself to get to that last page. People can't reject, or even publish, what they never get to read.
From self-published indies to traditionally published best-sellers, there is no author who gets to sit back and just write. Embrace the world of publicity if you want to reach readers, even if that means dipping into your own pocket. No one else is dreaming your dreams.
---
Want to read more about August? Check out my interview for his debut novel, Come and Get Me. Click the link here.
---
August Norman: The Author
Originally from central Indiana, thriller and mystery author August Norman has called Los Angeles home for two decades, writing for and/or appearing in movies, television, stage productions, web series, and even, commercial advertising.
A lover and champion of crime fiction, August is an active member of the Mystery Writers of America, the International Thriller Writers, and Sisters In Crime (National and LA), and regularly attends the Santa Barbara Writer's Conference.
Don't miss his first novel, Come and Get Me, available at all your favorite outlets in ebook, audiobook, and hardback. Click the link here for more information.
To learn more about August, click on any of the following links:  Facebook, Twitter, Instagram, and Goodreads
---
Thanks for hanging out with us August Norman! Great to see you back with book two. Looking forward to your next venture!
---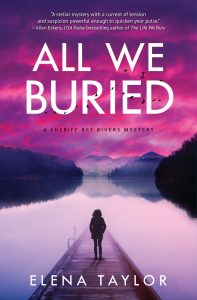 Elena Taylor is the author of All We Buried, available now in print, e-book, and audio book format at all your favorite on-line retailers. And don't forget many independent bookstores can order books for you and have them shipped to your home or for curbside pickup.
For more information on All We Buried, click on the link here to visit the home page.
Header photo by DonWhite84 on Pixabay. Click here for more information.