Debbie De Louise launches her latest Cobble Cove Mystery. Visit all her stops along the way by clicking the link here!
Book Blast
 Sneaky's Summer Mystery: A Cobble Cove Story
---
The Book

Sneaky's Summer Mystery: A Cobble Cove Story
Cozy Mystery
Publisher: Solstice Publishing (August 5, 2020)
Print Length: 42 pages
Digital ASIN: B08FCJCJW7
Cobble Cove is in the midst of an August heatwave. It's the worst time for the air conditioner at the Cobble Cove library to break down. Alicia has no choice but to close the library and bring Sneaky, the library cat, home with her.
After scheduling the air conditioner service with Rudy Gibbs, a technician from Hapnabber's Repair Shop, she is surprised to learn that John knew Rudy when they were teenagers.
When Rudy turns up dead after working on the AC at the library and Alicia learns of it during a barbecue she and John host with Gilly and Ramsay, Sneaky and Kittykai must once again protect their favorite ladies when they conduct their own investigation into the murder.
---
Debbie De Louise: The Author
Debbie De Louise is an award-winning author and a reference librarian at a public library on Long Island. She is a member of Sisters-in-Crime, International Thriller Writers, Long Island Authors Group, and the Cat Writers' Association.
She's the author of eight novels including the four books of her Cobble Cove cozy mystery series and two short eBooks based on the books. She lives on Long Island with her husband, daughter, and three cats.
---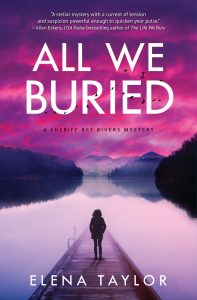 Elena Taylor is the author of All We Buried, available now in print, e-book, and audio book format at all your favorite on-line retailers. And don't forget many independent bookstores can order books for you and have them shipped to your home or for curbside pickup.
For more information on All We Buried, click on the link here to visit the home page.