Allison Brook launches her latest Haunted Library Mystery. Click the link here to check out all the stops on her Great Escapes Virtual Book Tour.
I love libraries, and I can't imagine anything more wonderful that setting a mystery in one. Especially one with its very own ghost and a cat named Smokey Joe!
Click here to enter the Rafflecopter Giveaway!
---
Checked Out for Murder: A Haunted Library Mystery

Cozy Mystery
4th in Series
Publisher: Crooked Lane Books (September 8, 2020)
Hardcover: 320 pages
ISBN-10: 164385447X
ISBN-13: 978-1643854472
Digital ASIN: B082738ZNV
---
Carrie Singleton and Evelyn the ghost sleuth the slayings of a starlet and a star-crossed psychic in Agatha Award nominee Allison Brook's fourth Haunted Library mystery.
Daphne Marriott strolls into Clover Ridge and informs librarian Carrie Singleton that she's a psychic. But had she foreseen what fate awaited her, Daphne would have steered clear of the quaint Connecticut town. Evelyn, the library ghost, tells Carrie that there's more to Daphne than she lets on.
---
Love your mysteries cozy? Don't miss my interview with Cathy Ace, click the link here.
---
The mysterious woman grew up in Clover Ridge with her no-good dad, who apparently met his end at the hands of Daphne's brother, Billy. Still, Daphne proves a welcome distraction when Carrie's overbearing mother hits town. Mom's much younger husband, Tom, is in a movie that's lensing locally, and she's there to keep an eye on him: Tom's costar, sultry Ilana Reingold, is also his ex-fiancée, and there's no denying the chemistry is still there. Soon after mingling with the moviemakers at a meet-and-greet, Daphne is found dead.
Carrie and Evelyn investigate, assisted by bushy-tailed library cat Smoky Joe. But the suspect list could overflow the library shelves. Has Billy killed another relative? Is their long-missing mother involved? Or Daphne's mean ex-husband? Carrie's sure she knows who committed the crime, but can she bind together the clues before the culprit Dewey-decimates the town?
To buy the book, click on any of the following links:   Amazon – B&N – Kobo – IndieBound
---
Allison Brook aka Marilyn Levinson
A former Spanish teacher, Allison Brook writes mysteries, romantic suspense, and novels for kids. Her books have received many accolades.
As Allison Brook she writes the Haunted Library series.
Death Overdue, the first in the series, was an Agatha nominee for Best Contemporary Novel in 2018.
Other mysteries include the Golden Age of Mystery Book Club series and the Twin Lakes series.
To learn more about Marilyn, click on her name, photo or any of the following links: Amazon, Facebook, Goodreads, Twitter, Pinterest, BookBub (Allison Brook), BookBub (Marilyn Levinson), and Instagram
---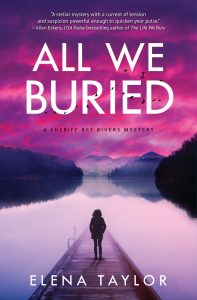 Elena Taylor is the author of All We Buried, available now in print, e-book, and audio book format at all your favorite on-line retailers. And don't forget many independent bookstores can order books for you and have them shipped to your home or for curbside pickup.
For more information on All We Buried, click on the link here to visit the home page.