I'm thrilled to Spotlight Master of Illusion by mystery author Nupur Tustin on her Great Escapes Virtual Blog Tour. Click the link here to check out all Nupur's tour stops.
---
Wondering about other Great Escapes Virtual Blog Tours? Don't miss recent posts for mystery authors Cathy Ace and Cathy Perkins.
Click on their names to learn more. 
---
Master of Illusion
Master of Illusion: A Celine Skye Psychic Mystery

Cozy Mystery/Psychic Mystery
1st in Series
Publisher: Foiled Plots Press (July 28, 2020)
Paperback: 292 pages
ISBN-10: 099824306X
ISBN-13: 978-0998243061
Digital ASIN: B08BTFMTJS

When death arrives in Paso Robles, so do clues to an infamous art heist in Boston. . .

For seven years, psychic Celine Skye has led a life free of visions in quiet Paso Robles. But now the visions are back. Along with a dubious customer from Boston.

Celine has always been able to sense death. But not even she can foresee her employer Dirck's murder. Finding his corpse in the wine bar he owns is bad enough.

Grappling with the suspicion that Dirck's death could be connected with the Gardner Museum heist is even worse.

As Celine struggles to make sense of the psychic clues she receives, there's just one question in her mind: What exactly did Dirck know about the Gardner Museum heist to get himself killed?
To buy the book, click on any of the following links: Amazon, Nook, Apple, and Kobo
---
The Author
A former journalist, Nupur Tustin misuses a Ph.D. in Communication and an M.A. in English to paint intrigue. She also orchestrates mayhem in composer Joseph Haydn's Europe.
To learn more about Nupur, click on her name, photo, or any of the following links: Blog, Facebook, Goodreads, and BookBub
---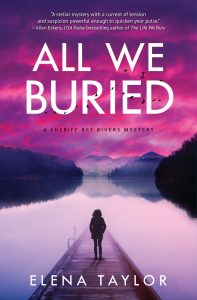 Elena Taylor is the author of All We Buried, available now in print, e-book, and audio book format at all your favorite on-line retailers. And don't forget many independent bookstores can order books for you and have them shipped to your home or for curbside pickup.
For more information on All We Buried, click on the link here to visit the home page.