Tea & Treachery — Great Escapes Virtual Book Tour
Welcome to the Great Escapes Virtual Book Tour for the newly released Tea and Treachery by Vicki Delany
Visit all the stops along the tour to learn about Vicki Delany and her most recent release.
Character Interview: Tea & Treachery
Click the link here to enter the Rafflecopter Giveaway!
---
Vicki Delany: The Author
Vicki Delany is one of Canada's most prolific and varied crime writers and a national bestseller in the U.S. She has written more than thirty-five books: clever cozies to Gothic thrillers to gritty police procedurals, to historical fiction and novellas for adult literacy.
She is currently writing four cozy mystery series: the Tea by the Sea mysteries for Kensington, the Sherlock Holmes Bookshop series for Crooked Lane Books, the Year Round Christmas mysteries for Penguin Random House, and the Lighthouse Library series (as Eva Gates) for Crooked Lane.
Vicki is a past president of the Crime Writers of Canada and co-founder and organizer of the Women Killing It Crime Writing Festival. She is the 2019 recipient of the Derrick Murdoch award for contributions to Canadian crime writing. Vicki lives in Prince Edward County, Ontario.
To learn more about Vicki, click on her name or photo or any of the following links: Twitter, Facebook, and Instagram
---
Tea & Treachery by Vicki Delany
In this charming new cozy mystery series from nationally bestselling author, Vicki Delany, a New York City expat-turned-Cape Cod tea shop owner must solve the murder of a local real estate developer to help her feisty grandmother out of a jam . . .
As the proud proprietor and head pastry chef of Tea by the Sea, a traditional English tearoom on the picturesque bluffs of Cape Cod, Roberts has her hands full, often literally. But nothing keeps her busier than steering her sassy grandmother, Rose, away from trouble. Rose operates the grand old Victorian B & B adjacent to Lily's tea shop . . . for now. An aggressive real estate developer, Jack Ford, is pushing hard to rezone nearby land, with an eye toward building a sprawling golf resort, which would drive Rose and Lily out of business.
Tempers are already steaming, but things really get sticky when Ford is found dead at the foot of Rose's property and the police think she had something to do with his dramatic demise. Lily can't let her grandmother get burned by a false murder charge. So she starts her own investigation and discovers Ford's been brewing bad blood all over town, from his jilted lover to his trophy wife to his shady business partners. Now, it's down to Lily to stir up some clues, sift through the suspects, and uncover the real killer before Rose is left holding the tea bag.
Cozy Mystery
1st in Series
Publisher: Kensington (July 28, 2020)
Hardcover: 304 pages
ISBN-10: 1496725069
ISBN-13: 978-1496725066
Digital ASIN: B07ZPKGT3R
---
Character Interview
By Lily Roberts from Tea & Treachery by Vicki Delany
What is the title of your most recent adventure?
Tea and Treachery:  A Tea by the Sea Mystery
What is your full name? Do you like the name your author gave you? Or would you give yourself something different?
I'm Lily Roberts. I love my name.  My grandmother is named Rose and all the women in our family have flower names. I love that association with my family's history.
How did you get involved in the current investigation? Is it your first? Or one of many? 
This is the first time such a thing has happened around here and I certainly hope it will be the last.  My grandmother, Rose, had a verbal altercation with a property developer looking to buy the land next door, and next thing we knew, the man was found dead at the bottom of the bluffs at Rose's B&B overlooking Cape Cod Bay
---
"Sidekick? I have no sidekick."
---
Describe your favorite sidekick or tell us why you are a lone wolf.
Sidekick? I have no sidekick. I don't want anything to do with this. I'm busy enough running my tea room and cooking the breakfasts in my grandmother's B&B. Unfortunately, for me, my best friend Bernie and Rose herself seem to think they need to be involved. And  that means I'm dragged along after them.
Where does your adventure take place?
The town of North Augusta on Cape Cod. My grandmother owns Victoria-on-Sea, a huge Victorian house she runs as a B&B and I own and bake at Tea by the Sea, a traditional afternoon tea room.
---
"Baking is my happy place."
---
What is your most defining characteristic?
I bake. I bake a lot. Baking is my happy place.
Rate your story: Cozy, cozy with a touch of romance, cozy with a little extra action, private eye, action-packed, leave-the-lights-on-all-night, other.
We are a cozy, with maybe a hint of romance.  And recipes too.
What does your author have in store for you next?
Murder in a Tea Cup will be my second adventure.
---
What a pleasure to meet you Lily Roberts! I love Cape Cod, next time I'm out your way I'll be sure to stop and join you for tea!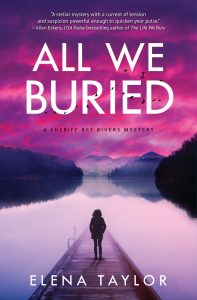 Elena Taylor is the author of All We Buried, available now in print, e-book, and audio book format at all your favorite on-line retailers. And don't forget many independent bookstores can order books for you and have them shipped to your home or for curbside pickup.
For more information on All We Buried, click on the link here to visit the home page.