Lucy Lakestone is today's guest blogger as part of her Great Escapes Virtual Book Tour! You can find all her tour stops by clicking the link here.
Thrilled to have Lucy here today to chat about some of my favorite things, adventure, travel, mysteries . . . and cocktails in exciting locales!
Click the link here to enter the Rafflecopter Giveaway!
---
Love a little food and drink with your mysteries?
Click the link here to read about Catherine Bruns culinary mystery series!
---
Lucy Lakestone: The Author
Lucy Lakestone is an award-winning author who lives on Florida's east central coast, among the towns that serve as an inspiration for the hot romances of her Bohemia Beach Series and the jumping-off point for the Bohemia Bartenders Mysteries.
She's been a journalist, photographer, editor and video producer but prefers living in her imagination, where the moon is full and the cocktails are divine.
---
The Book: Risky Whisky
Risky Whiskey (Bohemia Bartenders Mysteries)

Cozy Mystery
1st in Series
Publisher: Velvet Petal Press (July 21, 2020)
Print Length: 250 pages
Digital ASIN: B088Q9NW98
Stirring up trouble in New Orleans …

Eager to shake up her drinks and her life, mixologist Pepper Revelle jumps at an invitation to join the elite Bohemia Bartenders. Leader Neil thinks she'll be the perfect advance gal for his team at a colorful cocktail convention in her hometown of New Orleans, but the job turns out to be more bananas than a drunk monkey.

Setting up the key tasting for their distiller client, she and Neil discover their whiskey has gone dangerously bad. But how? And was this shocking poisoning more than an accident?

As Pepper and Neil try to figure out what happened, keep the drinks flowing and help distiller Dash Reynolds survive the weekend, they find themselves the target of increasingly scary attacks. Maybe it's the danger, or maybe it's the drinks, but Pepper also can't help an inconvenient attraction to cocktail nerd Neil as they stir up trouble and try to figure out who's out to get them — before they're sliced and squeezed like a lemon twist in a Sazerac.

Risky Whiskey is the first book in the Bohemia Bartenders Mysteries, funny whodunits with a dash of romance set in a convivial collective of cocktail lovers, eccentrics and mixologists. These cozy culinary comedies contain a hint of heat, a splash of cursing and shots of laughter, served over hand-carved ice.
---

World of Mixologists Creates Movable Feast for Culinary Mysteries
by Lucy Lakestone
Cozy mysteries seem to have a lot of rules, though there are disagreements on the finer points. One of them, though, is pretty solid: The mysteries in a series should take place in the same cozy setting.
But what if that setting changes in every book?
If it does — what an adventure! The truth is, the mixologists and other characters in Risky Whiskey, the first book in the Bohemia Bartenders Mysteries, resemble a traveling circus in some ways. They travel to different events to ply their trade, from conventions to festivals, but in true cozy fashion, there are many characters in common in each book. They almost create a setting just by being together in one place.
I've learned from my own travels in the cocktail world that, as in almost any convention culture, one does really end up seeing the same people over and over again at different events.
Maybe the Bohemia Bartenders Mysteries push the cozy definition in other ways. There's a little cursing and a little heat. Think about it: Would you call Janet Evanovich's Stephanie Plum series cozy mysteries? Despite having a little cursing and heat, they fit the definition in every other way (and I'm a huge fan).
---
"The important thing is, the familiar characters are fun to follow from book to book."
---
The important thing is, the familiar characters are fun to follow from book to book. You're always going to get the outgoing Pepper Revelle, who's perpetually ready to rush into a zany situation no matter her penchant for comedic disaster, and nerdy Neil, head of the bartender team, her opposite in every way. Maybe that's why she likes him so much.
Their three fellow bartenders help make the magic happen as they mix craft cocktails for high-energy events. And there are characters from distillers to celebrities that you'll see in multiple books.
Changing the settings provides both challenge and reward for a writer. I love getting deep into a setting, because details can yield fascinating plot opportunities. Reinventing the lime wheel with every book, however, means extra research and care. Good thing I love research!
New Orleans yielded Pepper's backstory; she grew up there and survived Hurricane Katrina. It's where she learned to love cocktail culture. And in book two, Wrecked by Rum, Fort Lauderdale offers a wonderful resort setting as well as a fictional Polynesian restaurant inspired by the real Mai-Kai, where denizens of the tiki culture still make frequent pilgrimages for delicious drinks and a floor show that's been around since the 1950s.
---
"… even though the mixologists will travel from New Orleans … to Fort Lauderdale … they'll end up in their own (fictional) Florida town, Bohemia Beach, for book three…"
---
But even though the mixologists will travel from New Orleans in Risky Whiskey to Fort Lauderdale in Wrecked by Rum, they'll end up in their own (fictional) Florida town, Bohemia Beach, for book three, Vexed by Vodka. And readers will get a better look at Pepper's bar, her Aunt Celestine, and their adorable Cavapoo dog, Astra, who pops in and out of the series. I foresee more visits to Bohemia Beach in between more exotic trips. Does that make the series a cozy within a cozy?
Perhaps.
In these tough times, when travel is not easy or safe and conventions are on hold, it's fun to travel in my imagination with my characters and enjoy the virtual fun of being with other people — fun that I hope we will all experience again soon. My books are set in the "before time" or possibly an alternate universe where we are all safe and happy. But I'll gladly drink a toast to getting on the road with my cocktail-loving friends again.
Cheers!
---
I love to travel when I read! Thank you for spending time with us on your blog tour.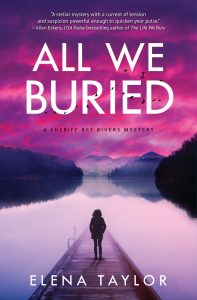 Elena Taylor is the author of All We Buried, available now in print, e-book, and audio book format at all your favorite on-line retailers. And don't forget many independent bookstores can order books for you and have them shipped to your home or for curbside pickup.
For more information on All We Buried, click on the link here to visit the home page.