A Locked-Room Mystery for 2020!
A "locked-room" mystery is one set in an isolated location with a set number of characters providing the suspects for a murder investigation.
Agatha Christie was a genius at this subgenre, and debut novelist Tessa Wegert brings it into the 21st Century.
Curious about other mystery subgenres? Read my interview with Mary Angela and her Academic Cozy Series by clicking the link here.
---
The Author
Tessa Wegert is a freelance writer whose work has appeared in Forbes, The Huffington Post, Adweek, and The Economist.
She grew up in Quebec near the border of Vermont and now lives with her family in Connecticut.
Tessa writes mysteries set in Upstate New York while studying martial arts and dance.
To learn more about Tessa, click on her name, photo or any of the following links: Facebook, Twitter, and Instagram.
---
The Book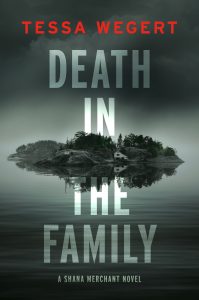 After barely escaping a serial killer, former NYPD detective Shana Merchant is looking for a fresh start in the Thousand Islands of Upstate New York.
But as a nor'easter bears down on the region, she and her fellow investigator receive a call about a strange occurrence on a private island, and Shana must unravel the mystery of a missing man before a killer strikes again.
---
The Interview
Describe your publishing journey:
Death in the Family was the fifth book I wrote but the first to be published.
It was also my first attempt at writing a mystery after years of focusing on thrillers and a lifetime of writing short stories and poems just for kicks.
It took about three and a half years for this book to go from concept to market, but a sequel is hot on its heels.
---
Congratulations on the second book as well!
---
What inspired you to write this novel?
I started writing Death in the Family after rereading Agatha Christie's And Then There Were None, which is one of my favorite novels.
I was a regular visitor to the Thousand Islands, and always thought it would be the perfect setting for a mystery.
---
The Thousand Islands is an archipelago of over 1800 islands that are stretched between the Canadian and US border.
---
Many of the islands in the area are privately owned, and each has its own unique charm and backstory.
Revisiting that Christie classic and my preoccupation with the Thousand Islands, its novelty, and its rich history as a playground for the wealthy during the Gilded Age, gave me the push I needed to get writing.
---
Agatha Christie's Famous Locked-Room Mystery, And Then There Were None, has been published under different names including: Ten Little Indians. It has been successfully adapted into stageplays, films, and television miniseries – including the most recent 2015 BBC One production.
---
What are you working on now?
I'm currently in the editing phase for the next book in the Shana Merchant series, which delves into Shana's past and her connection to the serial killer she's been hunting.
I'm also in the process of revising a thriller that I wrote several years ago.
---
Great to have you on my blog – I look forward to having you back for book two!