Crooked Lane launches debut Ian Pisarcik with Before Familiar Woods. A novel already garnering excellent reviews, including a starred review with Publisher's Weekly. Click the link here to read the full.
Not only do we have the same publisher and editor, but we both live in Washington State. I'm thrilled to host Ian on my blog this week.
Launching March 10!
Curious about other authors Crooked Lane has launched as debuts? Read my post about author Eliza Nellums by clicking the link here.
---
The Author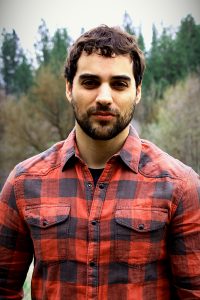 Ian Pisarcik was born and raised in rural New England.
His stories and poems have appeared in the Roanoke Review, Lullwater Review, Maine Review, and the Flyway Journal of Writing and Environment.
He currently lives in Washington State with his wife, newborn daughter, and Labrador retriever.
Before Familiar Woods is his first novel.
To learn more about Ian, click on his name, photo, or any of the following links: Twitter, Instagram, Goodreads, Facebook
---
The Book
"Outstanding…Pisarcik is a writer to watch."
—Publishers Weekly starred review
"Beautifully done and will certainly strike a chord with readers who appreciate the similar styles of Daniel Woodrell and David Joy." 
—Booklist
On the outskirts of a town in northern Vermont, two boys were found dead inside a tent covered in bruises and human bite marks.
Three years later, their fathers have disappeared.
---
The Interview
We are both Crooked Lane authors. How did you come to work with Crooked Lane Books?
My agent, Alec Shane, has a relationship with Crooked Lane Books (one of his other clients, Hank Early, has published three books through Crooked Lane), and fortunately Crooked Lane was interested in Before Familiar Woods.
I remember my first conversation with my editor, Jenny Chen. She gave me her take on Before Familiar Woods and also talked about a number of writers I really admire (people like Daniel Woodrell, Joe Wilkins, Brian Panowich, and Megan Abbott).
I knew right away that she was super smart and that she understood and appreciated what I was trying to do with Before Familiar Woods. I really lucked out as far as editors go. She's been tremendous to work with.
(Jenny is my editor too! She's amazing!)
---
Crooked Lane Launches Debut
---
The environment plays an important role in your novel, which is set in Vermont. Why did you decide on Vermont as the location for your book?
Environment is really important to me. I grew up in a rural town in northwest Connecticut that's known affectionately as "the Icebox."
It's an area that's remote, densely wooded and, for most of winter, brutally cold. I also had family that lived in a small town in Vermont and I spent a lot of time there growing up.
The fictional town in Before Familiar Woods is sort of a combination of these two towns.
I ultimately chose Vermont instead of Connecticut because it allowed me to create a little distance from my hometown.
---
Washington State is a terrific place to live if you're a writer.
---
You live in Washington State, are you impacted in any way by being a Pacific Northwest Author?
Washington State is a terrific place to live if you're a writer.
Spokane in particular has a number of literary events, including the annual "Get Lit! Festival," and there are a number of really impressive independent bookstores—most notably Wishing Tree Books and Auntie's Books.
There are a ton of writers living in the Pacific Northwest (including you!) and so I suppose the Pacific Northwest impacts me as a writer by being a constant source of inspiration and support.
It's a pretty amazing place to live.
---
What inspired you to write this novel?
All of my stories have started with an image that I can't shake.
In the case of Before Familiar Woods, the image was an old woman sitting on a porch with a deer rifle in her lap staring out at an empty gravel drive.
From there, I started asking questions. Who is this woman? Why is she holding a deer rifle? Who is she waiting for? After several drafts and many more wrong turns, the character's voice developed, and at that point the questions became deeper.
That's always the goal — the point where you're not so much actively coming up with a story as listening to one unfold.
---
"One of the facts I read that served as a spark for the draft is that the suicide rate for farmers is more than double that of war veterans."
---
What are you working on now?
I'm working on the first draft of a novel that will probably turn into something entirely different by the time it's done.
One of the facts I read that served as a spark for the draft is that the suicide rate for farmers is more than double that of war veterans.
It's a statistic that shocked me and one I wanted to explore in some way—even if it's not the main storyline.
Wow – that is a shocking statistic. I'm curious to see what you do with that in your next novel.
---
Words of wisdom for writers hoping to land an agent and/or publishing deal.
One of my favorite writers, Larry Brown, wrote five novels and ninety short stories before he had anything published.
I have novels stuffed in my desk that will never see the light of day.
Bottom line: There are no shortcuts. You've just got to keep writing and reading.
And as one of my favorite writers, Kent Haruf, was fond of saying: "You've got to believe in yourself despite the evidence."
---
Congratulations on having Crooked Lane launch your debut novel.
Looking forward to reading your work!
Header photo by jplenio on Pixabay. Click the link here for more information.