Call Me Elizabeth Lark by Melissa Colasanti, a novel of mystery and suspense, out now from Crooked Lane Books. Visit all the stops on the Partners in Crime Virtual Book Tour!
Guest Post + Author & Book Information + Rafflecopter Giveaway
Call Me Elizabeth Lark by Melissa Colasanti
Your daughter went missing twenty years ago. Now, she's finally back. You thought she had returned a few times in the past, and your husband tells you she's not the one, but you feel it in your bones. Now, what will you do to keep her home?
Twenty years ago, Myra Barkley's daughter disappeared from the rocky beach across from the family inn, off the Oregon coast. Ever since, Myra has waited at the front desk for her child to come home. One rainy afternoon, the miracle happens–her missing daughter, now twenty-eight years old with a child of her own, walks in the door.
Elizabeth Lark is on the run with her son. She's just killed her abusive husband and needs a place to hide. Against her better judgment, she heads to her hometown and stops at the Barkley Inn. When the innkeeper insists that Elizabeth is her long lost daughter, the opportunity for a new life, and more importantly, the safety of her child, is too much for Elizabeth to pass up. But she knows that she isn't the Barkleys's daughter, and the more deeply intertwined she becomes with the family, the harder it becomes to confess the truth.
Except the Barkley girl didn't just disappear on her own. As the news spreads across the small town that the Barkley girl has returned, Elizabeth suddenly comes into the limelight in a dangerous way, and the culprit behind the disappearance those twenty years ago is back to finish the job.
To purchase Call Me Elizabeth Lark, click on any of the following links: Amazon | Barnes & Noble | Goodreads
Genre: Domestic Suspense
Published by: Crooked Lane Books
Publication Date: March 9th 2021
Number of Pages:
ISBN: 1643856820 (ISBN13: 9781643856827)
Series: Call Me Elizabeth Lark is not a part of a series.
---
Guest Blog by Melissa Colasanti, author of Call Me Elizabeth Lark
How Authors Convey Tension and Emotion Through Setting
Thank you so much for inviting me to chat about Call Me Elizabeth Lark.
I spent a lot of time, while writing the book, considering how each of the three point-of-view characters' feelings about their past trauma would feed into and add tension to the narrative. Especially in a suspense novel, there's a tricky balance between plot and character, between twists and reveals, and because this book is about a missing child, I couldn't skip over the very real trauma these characters experienced.
For example, Elizabeth and her son Theo were held captive for a number of years. Myra and Herb lost a child; Gwen was supposed to be babysitting the night her sister disappeared off the beach.
So, I wanted to write both internal and external tension with the present-day issue—that Myra believes Elizabeth is her long-lost daughter, and that Elizabeth has brought her troubles along with her to the Barkley Inn.
I chose to set the book in the moody, almost elegiac setting I know as coastal Oregon in winter, when the tourists have gone home and the locals stay because they love it, and in the case of this novel, because the characters are in a holding pattern.
Myra, especially, is waiting for her daughter to come home. Life at the Barkley Inn is paused in this claustrophobic inn, where the rain and wind is stuffy as their emotions. And Elizabeth's life has paused in the remote mountainous cabin.
The two settings collide when Elizabeth and Theo walk in the door, shaky and cold, and Myra decides, unequivocally, that Elizabeth Lark is Charlotte Barkley. Also, with the dark, creepy atmosphere, I was able to add to the plot.
Authors can convey tension and emotion through setting in so many ways. I hope people will visit the Pacific Northwest and see just how much beauty is there during all the seasons. It truly has a special place in my heart, as well as my novels.
As a fellow Pacific Northwesterner, I totally agree! Thank you for joining us today.
---
Melissa Colasanti is a mother and an author. She has a BFA in fiction from Boise State University. Her writing has appeared in Lithub, Memoir Magazine, The Coffin Bell Journal and others.
She is the Stephen R. Kustra scholar in creative writing for 2019, and was awarded the Glenn Balch Award for fiction in 2020.
---
Visit all the stops on the Partners In Crime Virtual Book Tour!
---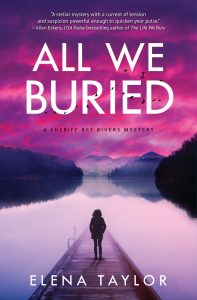 Elena Taylor is the author of All We Buried, available now in print, e-book, and audio book format at all your favorite on-line retailers. And don't forget many independent bookstores can order books for you and have them shipped to your home or for curbside pickup.
Amazon Kindle Monthly Deal! $1.99 May 1—31
For more information on All We Buried, click on the link here to visit the home page.
Foreword INDIE Award Finalist, Best Mystery 2020