Finding Tessa is the debut novel of suspense by ITW's Debut Author Program member Jaime Lynn Hendricks.
Author Interview + Author & Book Info
---
Finding Tessa
Jace and Tessa appear to be a young couple in love with nothing to hide. But looks can be deceiving.
When Jace Montgomery comes home late from entertaining clients, he discovers that his wife Tessa is missing. There's broken glass at the back door. Clumps of her hair. Blood. The cops in their small New Jersey town have him pegged as a suspect, especially after he explodes at a reporter during a press conference. Jace maintains his innocence despite the mounting evidence against him, but when a coworker he's accused of having an affair with also disappears and a search warrant turns up an illegal gun in Jace's home, all signs point to him as the culprit. What is he really hiding?
Meanwhile, Tessa finally feels safe, having set up her husband to take the fall for her disappearance—and someone close to him is helping her put him away. Breaking her lifelong pattern of bad men is only one hurdle she has to overcome. The other is outrunning her secret past while trying to stay alive, especially when those in her new life aren't who they appear to be.
Jace's lies don't add up and the authorities are closing in. Will Tessa's old life catch up to her and drag her back to a life of abuse before justice is served?
Finding Tessa is a smart domestic thriller where nothing can be taken at face value, where every twist reveals a deadlier secret than the one before. Fans of Gillian Flynn, Samantha Downing, and incisive, fresh psychological suspense won't want to miss it.
To purchase Finding Tessa, click on any of the following links: Amazon, IndieBound & Barnes & Noble
---
Finding Tessa: Author Interview with Jaime Lynn Hendricks
Tell us about your road to publication for Finding Tessa:
What a road it was! The book before Finding Tessa is the one that got me my agent, and while that one was on sub, I wrote this one. Book #1 didn't sell (ironically, that one will be my #2 book published!) so my agent put Finding Tessa on sub instead.
We got a lot of editor interest in the beginning, but they all came back with the same feedback: they didn't like the ending. So, I had to rewrite the last half, and when it went back on sub, it sold two weeks later.
What should readers know about Jace and Tessa?
They are both flawed, complicated, and determined. Whether that makes them good or bad, I'll wait for you to find out!
Tell us about where the book takes place:
Suburban NJ, in fictional Valley Lake. I modeled the town after the town I live in.
Domestic Thrillers and Psychological Suspense are very popular genres these days—I know I'm a big fan—how do you define those genres and what do you think makes them so compelling?
I define them as nail-biting, edge of your seat, and turning pages until your fingers set on fire.
I love when I'm reading a book and I HAVE TO know what happens and I can't put it down. When I have to put it down because life gets in the way, and I'm thinking about the characters and the setting and what happens, I know I've found a winner.
I think they're so compelling as a whole because it's usually a situation that any one of us could find ourselves in, with extra drama and flair, of course.
---
"I get an idea in my head and just start typing."
---
Tell us about your writing process:
I don't outline. Total pantser.
I get an idea in my head and just start typing.
I'll usually go about 10K words to see if something has legs, and if not, I trash it. I don't like to box my characters into an outline because I like to see how they react to the plot.
Sometimes they shock the hell out of me!
What are you working on now?
Ha, insert Devil face here.
My agent and my CPs know details, but otherwise I'm keeping a tight lip about this one!
Let's just say, I think anyone who's ever been to Thrillerfest will devour it. It's very heavy handed on the thriller industry and thriller writers. But all fiction, of course.
Words of Wisdom for Aspiring Writers:
Critique partners! You have to learn to take critique. It's one of the hardest things to get used to, but also the thing that will improve your writing the most.
Author Pet Corner!
This is Cosmo Martini Hendricks.
She's a rescue from North Shore Animal League, and their best guess is she's a mix of Cattle Dog and Border Collie, maybe some general terrier.
My husband and I adopted her when she was about 8 or 9 weeks old, and now she's pushing 12 years!
She's my best writing buddy, always in her bed next to my desk as I tap away.
Cosmo is adorable!!
---
Jaimie Lynn Hendricks, author of Finding Tessa
Jaime Lynn Hendricks has been writing stories since she was old enough to pick up a pencil.
She reads 2-3 suspense and thriller novels a week and reviews titles for Suspense Magazine when she's not busy cheering on the New York Rangers and the Miami Dolphins.
She lives in Colts Neck, NJ with her husband John and her cattle dog mix, Cosmo.
Finding Tessa is her first novel.
To learn more about Jaime, click on her name, photo, or any of the following links: Twitter, Instagram & Amazon Author Page
---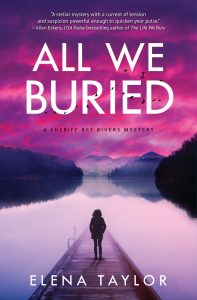 Elena Taylor is the author of All We Buried, available now in print, e-book, and audio book format at all your favorite on-line retailers. And don't forget many independent bookstores can order books for you and have them shipped to your home or for curbside pickup.
Amazon Kindle Monthly Deal, $1.99 May 1-31
For more information on All We Buried, click on the link here to visit the home page.
Foreword INDIE Award Finalist, Best Mystery 2020