Jessica Hamilton launches her debut novel What You Never Knew. I'm thrilled to introduce another International Thriller Writers Debut Program Author!
Author Interview with Jessica Hamilton + Book & Author Info
---
What You Never Knew by Jessica Hamilton
Told in alternating points of view between the living and the dead, Jessica Hamilton's debut novel will be perfect for fans of The Lovely Bones.
Idyllic Avril lsland, owned by the Bennett family, where their hundred-year-old cottage sat nestled in acres of forest. Forty-year-old June Bennett believed that the island had been sold after the summer of her father's disappearance when she was only twelve years old.
It's months after the shocking death of her older sister May in a fatal car accident, that June finds out that the cottage was never sold. Avril Island is still owned by the Bennett family and now it's hers.
Still reeling from the grief of losing her sister, June travels back to Avril lsland in search of answers. As she digs, she learns that the townspeople believe her father may in fact have been murdered rather than having abandoned his family in the dead of night, as she was led to believe by her mother.
And that's when she begins to notice strange things happening on the island–missing family possessions showing up, doors locking on their own, unexplained noises in the night, shadowy figures disappearing into the woods.
It takes June no time at all to realize that her childhood summers at Avril Island were not at all what they had seemed to be.
---
Jessica Hamilton: The Interview
What should readers know about June Bennett?
She is quite a damaged individual who has lived her life under the influence of other people, her mother, her older sister and her husband. She allowed her mother to tell her who she was, and her husband to determine what she did with her life and then relied on her older sister to tell her what to do next.
She rebelled against it throughout her life, but it only made things messier for her, never actually freeing her.
Only once she gets to Avril Island, alone, grief stricken and making some shocking discoveries, does she start to truly break away from those influences and make her own choices and find her own way.
Tell us about Avril Island:
Avril Island is an island in Lake Champlain, Vermont, which holds the Bennett family cottage. A cottage with five bedrooms that is over one hundred years old.
The inspiration for the setting was my own family cottage which is located in Muskoka, Canada.
Because of my American publisher though, I was encouraged to make the setting American.
My own family cottage was not on an island, but the details of the actual cottage were taken directly from it.
At the time of writing this novel I was losing my cottage, the place where I had spent every summer of my life, due to divisions that were occurring within my family. It was all very painful for me and so I used the writing of Avril Island as therapy and to record all of the visceral details of my own cottage so that I'd never forget them.
I treated Avril Island like a character in itself. She was the setting for wonderful childhood summers but at the same time, a setting for April's illicit affair and other shocking sins. When June returned, I wanted the island to be beautiful and a refuge for June while at the same time being creepy and unpredictable—a kind of mirror for June's childhood summers there.
What was your path to publication like?
It was a long one! What You Never Knew is the third full length novel that I've written and had submitted to publishers. The first two were not picked up.
Fortunately, I have a wonderful literary agent, Carolyn Forde, who refused to give up even though I thought I almost did a few times.
You have lived in several different countries. How did that experience help shape who you are as a writer?
It added inventory to my imagination. Seeing so many different landscapes, meeting so many different people from all over the world and having such a variety of experiences gave me so much substance to work with as a writer.
I've yet to work in the foreign locales in a novel but I plan to.
Tell us about your writing process:
When I get a story idea or a character that really sticks, I let it roll around in my mind for quite a while.
Eventually it starts to play out from start to finish, a bit like a movie, and the characters become familiar to me. Once I have a good grasp on the story and it won't leave me alone, I do a very messy brainstorm on paper which I then turn into a loose timeline of events on my large chalkboard wall.
After that, I do a more detailed outline on my computer and only after I've worked that out am I able to sit down and start writing the story. I do plan it all out but that doesn't mean I stick strictly to the novel plan. It often organically shifts as I write but I tend to stick to the main idea that I started from.
I write whenever I can, in between the rest of my life obligations. I've yet to master the early morning writing although I think I may have to in the near future.
What are you working on now?
I'm doing some revisions on a manuscript that I stepped away from a couple of years ago.
It's in the suspense genre and I feel I've learned so much in the editing of my debut novel that I'd like to try and apply fresh eyes to it and see how I can make it better.
I've plotted a new novel as well, also suspense, that I'm eager to get down to.
Words of Wisdom for Aspiring Writers
Learn to accept and use constructive criticism, get a thick skin and most importantly, don't give up. It's stock advice I know but I really do feel that if you can keep improving your writing with the help of others, use the rejections to get better rather than discouraging you, and keep at it, eventually you'll get published.
I used to say to people that I'd die trying to get a book deal and a lot of the time I thought I would, fortunately, it didn't come to that.
Jessica Hamilton—Author Pet Corner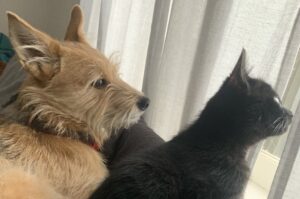 We have a three-year-old rescue dog from South Korea. Her name is Maisy and she's a mix of Terrier and Jindo. She loves chasing her tail and being as close to my husband as possible.
We also have an all-black, one year old rescue cat named Juniper, or June for short.
I was never really a cat person, but my daughter wanted one so badly she put together a power point presentation to state her case. We gave in eventually and I'm so happy that we did! I can't imagine our family without her.
Jessica Hamilton
Jessica Hamilton was born in Australia but grew up in Canada. She has lived and worked in the Czech Republic, Taiwan, India and Japan.
She studied writing at the Humber School for Writers as well as George Brown College. She lives in Ontario, Canada with her husband, son and daughter. What You Never Knew is her first novel.
To learn more about Jessica, click on her name, photo, or any of the following links: Instagram, Twitter, and Facebook
---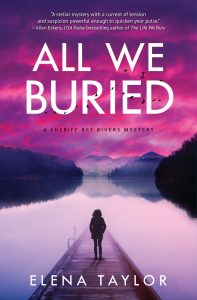 Elena Taylor is the author of All We Buried, available now in print, e-book, and audio book format at all your favorite on-line retailers. And don't forget many independent bookstores can order books for you and have them shipped to your home or for curbside pickup.
For more information on All We Buried, click on the link here to visit the home page.
Finalist: 2020 Best Mystery through the Foreword INDIE Awards