Three Missing Days by award winning, bestselling author Colleen Coble. Visit all the stops on the Partners In Crime Virtual Book Tour
Author Interview + Excerpt + Book & Author Info + Rafflecopter Giveaway
---
Three Missing Days by Colleen Coble
Book Three in the gripping romantic suspense series from USA TODAY bestselling author Colleen Coble.
A chilling murder.
Chief of Police Jane Hardy plunges into the investigation of a house fire that claimed the life of a local woman as well as one of the firefighters. It's clear the woman was murdered. But why? The unraveling of Jane's personal life only makes the answers in the case more difficult to find.
Her son's arrest.
Then Jane's fifteen-year-old son is accused of a horrific crime, and she has to decide whether or not she can trust her ex, Reid, in the attempt to prove Will's innocence—and whether she can trust Reid with her heart.
Her stolen memories.
Three days of Jane's past are missing from her memory, and that's not all that has been stolen from her. As she works to find the woman's murderer and clear her son's name, finding out what happened in those three days could change everything. It all started with one little lie. But the gripping truth is finally coming out.
Genre: Mystery, Suspense, Thriller
Published by: Thomas Nelson
Publication Date: April 6th 2021
Number of Pages: 352
ISBN: 0785228543 (ISBN13: 9780785228547)
Series: Pelican Harbor #3 || These books are Stand Alone Mysteries but are better if read as a series!
---
The Interview with Colleen Coble, Author of Three Missing Days
What should readers know about Jane Hardy?
Jane is small in stature but big in courage and heart! She reminds people of a young Reece Witherspoon. She's had to prove herself in a man's world as she took over the position of Chief of Police.
Her police dog is a golden named Parker, and my daughter's wonderful dog Parker was the inspiration for Jane's dog. We lost Parker suddenly two years ago and still miss him, but he lives on in this series.
Jane loves Roman history, and she lives in a French quarter upper condo in downtown Pelican Harbor.
Three Missing Days is the third book in the Pelican Harbor series. Can this be read as a standalone? Or should readers start with book one?
They really should be read in order because there's a major subplot that carries through all three books.
In One Little Lie, Jane finds out about a major lie she'd been told when she was a teenager that impacts the entire series.
The thread continues in Two Reasons to Run. In all three books, there are mysteries to solve and problems to deal with.
The Pelican Harbor series is set in Pelican Harbor, Alabama, tell us about the location:
It's in the vicinity of Gulf Shores, AL, one of our favorite vacation spots. It's on the Bon Secour Bay north of Gulf Shores and has a French flavor similar to Fairhope.
It's a small, quaint community I wish existed in reality instead of in my head!
You write romantic suspense, how does romance and suspense interact, in this book and the others in the series?
A man Jane hasn't seen in years reappears in her life, but he's tied in with the lie that changed Jane's life when she was a teenager.
The wounds go so deep that it takes all three books to unravel the knot and find happiness.
You also write standalones, how different is it to write a book you know is part of a series versus one that must contain everything you want to say about the characters?
With a series, I have to be aware of all the books coming and how they will relate to the first book. Is it a continued story as in the Pelican Harbor series or is it based around a community with different characters?
In both cases I have to keep track of community details and peripheral characters who may come in and out of the series.
What are you working on now?
I just finished A Stranger's Game set on Jekyll Island, Georgia. The place is steeped in history and I fell in love with it after a visit.
Torie's family owns the big, historic hotel on the island, though she hasn't been there in years. When her best friend supposedly drowns there, Torie knows it's murder because Lisbeth was terrified of the water.
Torie goes to Jekyll Island incognito to find out what really happened. But a stranger knows about her quest and is determined to stop her.
Final Words of Wisdom for Aspiring Writers:
Read, read, read. You learn to write by reading. You pick up structure, characterization, and setting. I'm always reading books on craft too. And attend at least one good writers conference a year where editors and agents are in attendance. The best one for novelists is the American Christian Fiction Writers one. Check out acfw.com.
Three Missing Days Author Pet Corner!
While we don't have pets now (we travel too much) here is our beloved Parker who was the inspiration for Jane's golden retriever.
What a beautiful dog! I'm so sorry for your loss, thank you for sharing him with us.
---
Excerpt from Three Missing Days
"I know what you did."
The muffled voice on her phone raised the hair on the back of Gail Briscoe's head, and she swiped the perspiration from her forehead with the back of her hand. "Look, I've reported these calls. Don't call me again."
She ended the call with a hard finger punch on the screen and stepped onto her front porch. The late-May Alabama air wrapped her in a blanket of heat and humidity, and she couldn't wait to wash it off. She should have left the light on before she went for her predawn run. The darkness pressing against her isolated home sent a shudder down her back, and she fumbled her way inside. Welcome light flooded the entry, and she locked the door and the dead bolt with a decisive click that lifted her confidence.
She stared at the number on the now-silent phone. The drugstore again. Though there weren't many pay phones around anymore, the old soda shop and drugstore still boasted a heavy black phone installed back in the sixties. The caller always used it, and so far, no one had seen who was making the calls. The pay phone was located off an alley behind the store by a Dumpster so it was out of sight.
The guy's accusation was getting old. Counting today, this made seven calls with the same message. Could he possibly know about the investigation? She rejected the thought before it had a chance to grow. It wasn't public knowledge, and it would be over soon. She clenched her hands and chewed on her bottom lip. She had to be vindicated.
But who could it be, and what did he want?
Leaving a trail of sweaty yoga shorts and a tee behind her, she marched to the bathroom and turned the spray to lukewarm before she stepped into the shower. The temperature shocked her overheated skin in a pleasant way, and within moments she was cooled down. She increased the temperature a bit and let the water sluice over her hair.
As she washed, she watched several long strands of brown hair swirl down the drain as she considered the caller's accusation. The police had promised to put a wiretap on her phone, but so far the guy hadn't stayed on the phone long enough for a trace to work. And it was Gail's own fault. She should have talked with him more to string out the time.
She dried off and wrapped her hair in a turban, then pulled on capris and a top. Her phone vibrated again. She snatched it up and glanced at the screen. Augusta Richards.
"I got another call, Detective. Same phone at the drugstore. Could you set up a camera there?"
"I hope I'm not calling too early, and I don't think that's necessary. The owner just told me that old pay phone is being removed later today. Maybe that will deter the guy. It's the only pay phone in town. He'll have to use something else if he calls again."
"He could get a burner phone."
"He might," the detective admitted. "What did he say?"
"The same thing—'I know what you did.'"
"Do you have any idea what it means?"
Gail flicked her gaze away to look out the window, where the first colors of the sunrise limned the trees. "Not a clue."
"Make sure you lock your doors and windows. You're all alone out there."
"Already locked. Thanks, Detective." Gail ended the call.
Ever since Nicole Pearson's body had been found a couple of months ago, no one needed to remind Gail she lived down a dirt road with no next-door neighbors. No one wanted to buy the neighboring place after such a lurid death, so the area remained secluded other than a couple of houses about a mile away and out closer to the main road.
She stood back from the window. It was still too dark to see. Was someone out there?
Pull back the reins on your imagination. But once the shudders started, they wouldn't stop. Her hands shaking, she left her bedroom and went to pour herself a cup of coffee with a generous splash of half-and-half from the fridge. She had a stack of lab orders to process, and she couldn't let her nerves derail her work.
The cups rattled as she snatched one from the cupboard. The coffee sloshed over the rim when she poured it, then she took a big gulp of coffee. It burned all the way down her throat, and tears stung her eyes as she sputtered. The heat settled her though, and she checked the locks again before she headed to her home office with her coffee.
No one could see in this tiny cubicle with no window, but she rubbed the back of her neck and shivered. She'd work for an hour, then go into the lab. The familiar ranges and numbers comforted her. She sipped her coffee and began to plow through the stack of papers. Her eyes kept getting heavy. Weird. Normally she woke raring to go every morning.
Maybe she needed more coffee. She stretched out her neck and back and picked up the empty coffee cup.
Gail touched the doorknob and cried out. She stuck her first two fingers in her mouth. What on earth?
The door radiated heat. She took a step back as she tried to puzzle out what was happening, but her brain couldn't process it at first. Then tendrils of smoke oozed from under the door in a deadly fog.
Fire. The house was on fire.
She spun back toward the desk, but there was nothing she could use to protect herself. There was no way of egress except through that door.
If she wanted to escape, she'd have to face the inferno on the other side.
She snatched a throw blanket from the chair and threw it over her head, then ran for the door before she lost her courage. When she yanked it open, a wall of flames greeted her, but she spied a pathway down the hall to her bedroom. Ducking her head, she screamed out a war cry and plowed through the flames.
In moments she was in the hall where the smoke wasn't so thick. She pulled in a deep breath as she ran for her bedroom. She felt the cool air as soon as she stepped inside and shut the door behind her. Too late she realized the window was open, and a figure stepped from the closet.
Something hard came down on her head, and darkness descended.
---
Colleen Coble, Author of Three Missing Days
Colleen Coble is a USA TODAY bestselling author and RITA finalist best known for her coastal romantic suspense novels, including The Inn at Ocean's Edge, Twilight at Blueberry Barrens, and the Lavender Tides, Sunset Cove, Hope Beach, and Rock Harbor series.
---
Three Missing Days Partners In Crime Virtual Book Tour!
Visit all the stops on the tour!
04/05 Review @ Book Reviews From an Avid Reader
04/05 Showcase @ Silvers Reviews
04/06 Review @ Media From the Heart
04/06 Showcase @ Im Into Books
04/07 Guest post @ Media From the Heart
04/07 Showcase @ Brooke Blogs
04/08 Showcase @ Quiet Fury Books
04/09 Showcase @ The Adventures of a Travelers Wife
04/10 Review @ Jane Pettit Reviews
04/11 Interview @ Author Elena Taylors Blog
04/11 Review @ Splashes of Joy
04/12 Showcase @ Books, Ramblings, and Tea
04/13 Showcase @ Reading A Page Turner
04/14 Interview @ A Blue Million Books
04/14 Review @ Avonna Loves Genres
04/15 Guest post @ The Book Divas Reads
04/15 Review @ Wall-to-wall Books
04/16 Review @ Jersey Girl Book Reviews
04/16 Showcase @ Celticladys Reviews
04/19 Guest post @ Novels Alive
04/19 Review @ Kritters Ramblings
04/20 Review @ Read Review Rejoice
04/21 Review @ The Book Review Crew
04/22 Showcase @ CMash Reads
04/24 Review @ One More Book To Read
04/26 Review/showcase @ Geaux Get Lit
04/27 Review @ The Bookwyrm
04/29 Review @ The World As I See It
04/30 Review @ Nesies Place
---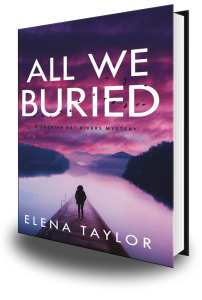 Elena Taylor is the author of All We Buried, available now in print, e-book, and audio book format at all your favorite on-line retailers. And don't forget many independent bookstores can order books for you and have them shipped to your home or for curbside pickup.
For more information on All We Buried, click on the link here to visit the home page.
Finalist: 2020 Best Mystery through the Foreword INDIE Awards