Nancy Herriman launches No Darkness As Like Death, the latest in her Mysteries of Old San Francisco Series.
Author Interview + Author & Book Info
---
No Darkness As Like Death by Nancy Herriman
Few in San Francisco are upset that Ambrose Shaw has been found dead at a local health institute—the prominent banker had recently turned to politics and rapidly made enemies.
But when Celia Davies learns his death is considered suspicious and that damning evidence implicates a friend, she must prove the woman's innocence.
Teaming up with Detective Nick Greaves, Celia discovers there's no shortage of suspects, including the victim's political opponents, his disaffected son, and even the dead man's fellow patients at the institute, whose founder promises miracle water cures but has been covering up thefts from his well-to-do clients.
The case is murky at best, forcing Celia and Nick to navigate an endless trail of false clues and dead ends to reach the cruel truth behind a perplexing murder . . .
To buy No Darkness As Like Death, click on the following links: Amazon and Barnes & Noble
---
The Interview with Nancy Herriman
No Darkness As Like Death is the fourth book in your Mysteries of Old San Francisco, can this be read as a standalone? Or should readers start with book one?
First of all, thank you, Elena, for having me on your blog again! (Thank you for being here!)
It's possible to read each book as a standalone even though they are part of a series and there are continuing characters.
I have heard from readers who've read the books out of sequence and not had trouble enjoying the story. I'd never discourage anyone from starting at book one, though.
What should readers know about Celia Davies and Detective Nick Greaves?
Celia is a nurse who came to America with her husband after the Crimean War, having been trained in the battlefield hospitals where Florence Nightingale got her start.
At the opening of the series, her husband is believed to have been killed in Mexico, but we soon learn that might not be the case. She has been using her nursing skills to run a free clinic for women, operating it out of the house her cousin—and ward—had inherited.
Her work with the women, who've come to trust her, embroils Celia in their lives and, on occasion, their troubles. In Book One, those troubles turn very serious when one of her patients is murdered.
Detective Nicholas Greaves is a veteran of the Civil War and carries scars, both mental and physical, from the fighting and from his sister's suicide.
Life may not be fair, but he views his career as an opportunity to rectify the pain he's endured and the losses he's suffered. Nick just wishes, though, that Celia Davies would stop getting tangled up in his cases.
What drew you to San Francisco in this time period?
A joint interest in both the city itself and the Victorian era in general.
In the mid to late 1800s, San Francisco was both a bit of the Wild West and a modern city, immigrants from all over the world streaming in to make their mark.
Filled with culture and crime, great wealth and terrible poverty, San Francisco makes for a fabulous backdrop to a mystery series.
The exact timeframe was dictated by my desire to explore the start of the organized anti-Chinese movement, which comes into play in No Comfort for the Lost.
You are also a singer, have you participated in online singing events? Or are you waiting for a return to public events? How has that part of your life been impacted by the pandemic?
I have been invited to participate in several singing events, but elected to not take part. I don't have the best setup in my house to record. So no singing for me in over a year, although I have one socially-distanced and safe event coming up (now that I'm getting vaccinated).
I've really missed the energy I draw from singing as well as all the people I usually sing with.
Your other series, the Bess Ellyott Mysteries are located in 16th Century England. How different is it to write a series that is much further back in time and set in another country?
Writing the Bess Ellyott books was more involved and more difficult than my San Francisco series.
Accessing that period in time, culturally and linguistically remote, presents a challenge that doesn't exist to the same extent in a 19th-century setting, which can easily be researched through newspapers and books of the time.
Uncovering the simplest details of Elizabethan daily life takes far longer. But one thing that never truly changes are people.
What are you working on now?
The next book in my San Francisco series, which should release in spring of 2022.
Final Words of Wisdom for Aspiring Writers
These are ones I still have to tell myself after many years of writing—the first draft does not have to be perfect. So…just write!
And read.
And don't give up, if writing is your dream. I spent 10 years working on novels before landing an agent and publishing my first book. Patience and practice will pay off.
Excellent advice! Thanks for visiting with us today!
---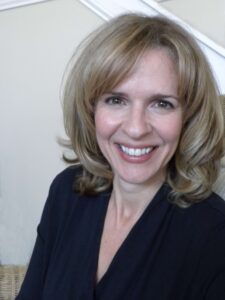 Nancy Herriman
Nancy Herriman retired from an engineering career to take up the pen. She hasn't looked back.
Her work has won the Daphne du Maurier award, and Publishers Weekly says her 'A Mystery of Old San Francisco' series "…brings 1867 San Francisco to vivid life."
Her most recent release is No Darkness as Like Death.
She is also the author of the Bess Ellyott Mystery series set in Tudor England.
When not writing, she enjoys singing, gabbing about writing, and eating dark chocolate. She currently lives in central Ohio.
To learn about Nancy, click on her name, photo, or any of the following links: Facebook & Twitter
---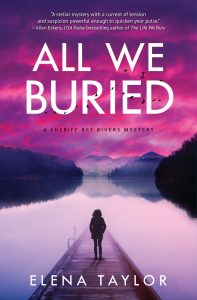 Elena Taylor is the author of All We Buried, available now in print, e-book, and audio book format at all your favorite on-line retailers. And don't forget many independent bookstores can order books for you and have them shipped to your home or for curbside pickup.
For more information on All We Buried, click on the link here to visit the home page.
Finalist: 2020 Best Mystery through the Foreword INDIE Awards