The Deadening by Kerry Peresta: Psychological Suspense—Visit all the stops on the Partners in Crime Book Tour!
Author Interview + Excerpt + Book & Author Info + Rafflecopter Giveaway
The Deadening by Kerry Peresta
OLIVIA CALLAHAN'S quiet, orderly life is shattered when she regains consciousness in a hospital and discovers she is paralyzed and cannot remember a thing. The fragmented voices she hears around her help her piece together that an apparent assault landed her in the hospital, but nobody knows who attacked her, or why.
Now, in spite of a brain injury that has rewired her personality, Olivia is on a mission to reclaim her life. As clarity surfaces, and she starts to understand who she was, she is shocked.
Could she really have been that person?
And if so, does she want her old life back?
Genre: Psychological Suspense
Published by: Level Best Books
Publication Date: 'February 21, 2021
Number of Pages: 353
ISBN: 1953789358 (ISBN13:9781953789358) (ASIN:B08SVKLMZ8)
Series: Olivia Callahan Suspense, 1
To buy The Deadening click on any of the following links: Amazon | Barnes & Noble | Goodreads
---
The Interview with Kerry Peresta—Author of The Deadening
Tell us about Olivia Callahan, the protagonist of your latest release, The Deadening.
Sure! Olivia is 38 years old, has auburn, curly hair, and is shy. She struggles with asserting herself, and seems destined to fade into the corners of her life. Olivia was raised by a confused—but earnest—mom who cannot seem to choose a spouse that is emotionally healthy. Her mother ends up with two divorces and a series of crises to manage as a result.
Olivia is left in the dust as her mother puts out fire after fire; which leaves Olivia wondering if she has any place in her parents' lives at all, as her mom is mostly concerned with making a living and wrestling with the fallout of two nasty divorces, and her dad is missing.
Olivia subsequently fall into a serious relationship with an older man early, and marries at age 17. Subliminally for Olivia, this man takes on the role of protector and savior. She marries him for all the wrong reasons, but is clueless as to the consequences of this behavior.
For twenty long, predictable years, Olivia is content to let Monty make all the decisions about every decision that affects the family's lives, and eventually this backfires and Monty, bored; wants nothing more to do with her. Will she finally realize that her passivity could cost her everything? One fateful night, it almost does.
What intrigues you about a person's identity, a central theme to The Deadening?
Good question! I feel everyone has a story to tell, and I love to pull these stories from people. In almost every case, traumatic or chaotic circumstances have led to an identity/purpose-driven journey. I find this fascinating. We may or may not reach our God-given potential due to how we respond to these crises, or circumstances over which we have no control. As the saying goes, when we stumble over obstacles, setbacks, or assaults, crimes…whatever life throws our way…we have the option to get bitter—or get better.
The journey can take many twists and turns, and it would be a shame not to explore these situations in order to perhaps help someone else find their way in life a bit easier. Many of the situations Olivia finds herself in—though highly dramatized in my story—are very relatable.
I can't tell you how many times my readers have said something like: I've done that! I've been there!
The Deadening is the first in a three-book series. How much do you know already about the next two books? What's it like to have to think so far ahead?
This is my first series. My other book, The Hunting, is a stand-alone novel. I took a deep breath when my editor suggested I write a series, but in actuality, I've found it is easier than starting from scratch because I already know these characters and settings. I know their history, their fears, their doubts. I know Olivia's children. All I'm doing now is continuing the story, and it's proving to be easier than I thought it would be.
We'll see what my editor says when I'm about halfway through Book Two, titled THE RISING. As to thinking that far ahead, I'm afraid that I'm not all the way out to Book Three yet! I plot out one book, then the next. It would be impossible for me to think all the way to the end game of the third book! But it's an interesting idea…
You have moved around a lot in the last several years, ultimately landing in Hilton Head Island, South Carolina. Tell us about your environment and the environment in The Deadening.
I try to treat the setting in a book as another character. I want to make sure I get details right; feel the way the protagonist would feel in the setting, and paint a three-dimensional picture the reader will see. My character's home is in Glyndon, MD; a quaint and historic small town twenty minutes from downtown Baltimore.
My husband and I lived in the area five years, and I know it well. Olivia's family routinely drove down the coast to Hilton Head Island for their annual vacation, as did my husband and I, so it was a slam-dunk to put these locations into the story. Every year in Hilton Head, I watch in amazement at the thousands that throng to our Island. Then, boom, by Labor Day, it is quiet again.
Many of your other publishing credits encompass humor, now that you're writing psychological suspense. How do those aspects of your writer's voice fit together?
I don't know if most are familiar with the fabulous author Sue Grafton, but this woman's unforgettable character, Kinsey Milhone, inspired me.
Ms. Grafton worked humor into everything, but it was a wry, interesting humor. A subtle undertone. This is my goal in my books. As Olivia morphs into her different self, she develops a dark humor. You'll see more of this in my next book. I could not write a book without throwing in some comic relief. Life can throw us so many curveballs…sometimes crisis after crisis…how could we survive if not for light-hearted perspective?
We'd be crushed.
What are you working on now?
Promotion, promotion, promotion!! Guest posts, interviews, ZOOM author panels, and in-person events.
In the midst of this craziness, I'm writing Book Two. Somehow, I must prioritize and give myself time to write. Book Two release date is March, 2022 which looms ever closer.
---
"The most important thing is to persevere."
---
Final words of wisdom for aspiring writers:
I would ask this question: how much do you want it? Would you write if you made no money? Would you write if it looked like only ten people even cared?
That's what it takes.
The rejection is insane, the long periods with no encouragement must be endured, and even though one's mind is pounded into bits of insecure, useless fluff, the writer must show up at writers' events with a smile, submit to agents/publishers with confidence, and most importantly, learn the rules of engagement.
Study the industry, how to submit properly, how to vet an agent before querying. Surround yourself with other writers who have a degree of success and learn from them. Use them. Writers are very supportive and fun and often jump at the opportunity to help an upcoming colleague. We've all been there.
The most important thing is to persevere. There will be a reward. And like labor and childbirth, the pain of the struggle is immediately forgotten.
Fabulous advice! Thank you for spending time with us today. Best of luck with your series!
Author Pet Corner!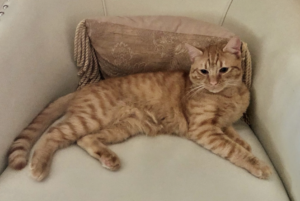 How cute are these babies?
---
Excerpt From
The Deadening
Prologue
The stiff bristles of the brush grew coppery as he scrubbed back and forth, back and forth. Wrinkling his nose at the smell, he groped for the mask he'd bought, looped it over his head, and snugged it into place.
He dipped the brush in the red-tinged solution in a blue, plastic bowl beside him on the floor, and continued scrubbing. Fifteen minutes later, he emptied the bowl down the toilet and shoved everything he'd used into a trash bag. He fought to staunch the bile creeping up his windpipe, but his throat constricted and he gagged. After retching into the sink, he turned on the faucet and splashed water on his face. Paused to take deep breaths. He could do this. He had to do this. He gripped the edge of the counter and stared out the bathroom window.
She'd not told anyone. Thank God for that. No one could know. No one would ever know. He'd make sure.
He walked to his garage, opened his car trunk, tossed in the latest trash bag. His hands felt icy. He rubbed them together, wiggled his fingers, and slammed the trunk shut.
Admittedly, her terror had excited him. Confusion. Dawning realization in her expression. His lips curved upward into a smile, then disintegrated. Reliving it didn't change anything. He needed to move forward.
He returned and studied the carpet. In spite of his efforts, the stain still needed work. He cursed, dropped to his knees, and pounded the dampness with a fist.
Through a veil of fatigue, he watched in horror as the kidney-shaped stain stood and pointed an accusatory finger at him. He blinked, hard. Was he hallucinating? How long had he been without sleep? He crabbed backwards, leaned against the wall, pulled his knees to his chest and squeezed his eyes shut. When he opened them some moments later, the blood-apparition had disappeared.
He groaned.
He stared at the ceiling until his brain spit out a solution.
The problem lay in the other room. That's how he looked at her now.
A problem to solve.
He rose from the floor and walked out.
---
Kerry Peresta: Author of The Deadening
Kerry Peresta's publishing credits include a popular newspaper and e-zine humor column, \"The Lighter Side,\" (2009 – 2011); and her debut novel, The Hunting, inspirational women's fiction, Pen-L Publishing, released in 2013. Before starting to write full-time, she spent twenty-five years in advertising as an account manager, creative director, and copywriter.
She is past chapter president of the Maryland Writers' Association and a current member and presenter of Hilton Head Island Writers' Network, and the Sisters in Crime organization. Recently, she worked as editor and contributor for Island Communications, a small, local publishing house.
Her magazine articles have been published in Local Life Magazine, The Bluffton Breeze, Lady Lowcountry, and Island Events Magazine. Kerry's next book, The Deadening, contemporary psychological suspense, releases Feb. 2021 with Level Best Books. Kerry has a bunch of wonderful grandkids who keep life interesting and remind her what life is all about. Kerry and her husband live in Hilton Head Island, SC.
---
Visit all the stops along the Partners In Crime Book Tour!
04/01 Review @ Book Reviews From an Avid Reader
04/02 Guest post @ Novels Alive
04/02 Showcase @ The Book Divas Reads
04/04 Interview @ Author Elena Taylors Blog
04/05 Guest post @ Books, Ramblings, and Tea
04/06 Review @ Margaret Yelton
04/07 Review @ nanasbookreviews
04/08 Review @ Wall-to-wall Books
04/12 Review @ Books and Zebras @ jypsylynn
04/14 Review @ Quirky Cats Fat Stacks
04/14 Showcase @ Celticladys Reviews
04/15 Interview/podcast @ Blogtalk radio
04/16 Guest post @ Nesies Place
04/17 Review @ Cheryls Book Nook
04/19 Interview @ BooksChatter
04/20 Showcase @ Im Into Books
04/21 Review @ Book Reviews by Nikki H. Rose
04/22 Review @ The World As I See It
04/23 Review @ Jersey Girl Book Reviews
04/25 Review @ rozierreadsandwine
04/26 Review @ The Book Review Crew
04/27 Review @ Spookys Maze Of Books
04/29 Review/showcase @ The Bookwyrm
---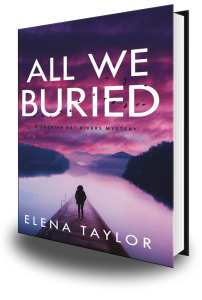 Elena Taylor is the author of All We Buried, available now in print, e-book, and audio book format at all your favorite on-line retailers. And don't forget many independent bookstores can order books for you and have them shipped to your home or for curbside pickup.
For more information on All We Buried, click on the link here to visit the home page.
Foreword INDIE Award Finalist, Best Mystery 2020