The Body in the Beaver Pond, the latest release by Cathy Perkins and first in the Keri Isles Event Planner Series!
Author Interview + Book & Author Info + Rafflecopter Giveaway
---
The Body in the Beaver Pond
Even an event planner doesn't plan on murder . . . 
Keri Isles desperately needs to sell the Christmas Tree farm her cheating, rotten ex convinced his buddy, the judge, to saddle her with in the divorce settlement.
Stuck in the Cascade Mountains, she's lost her Seattle-based job and local job prospects are as scarce as internet service. When she finds the arrogant professor in charge of the local archeology dig floating face down in her beaver pond, however, unloading the property becomes secondary to staying out of prison.
A savvy—and scheming—attorney may be able to keep her head above water, but the personal price of his retainer may be too high.
It's up to Keri to use her mad networking skills and deploy a team of archaeology students, a bad boy photographer, and assorted eccentric neighbors to find the killer and clear her name.
To purchase the book, click on any of the following links: Amazon, Nook , Kobo & iBooks
The Body in the Beaver Pond: A Keri Isles Event Planner Mystery

Cozy Mystery
1st in Series
Publisher: Red Mountain Publishing (May 15, 2021)
Number of Pages: 325
Digital ASIN : B08ZYWWSY4

---
Author Interview with Cathy Perkins
What should readers know about Keri Isles?
Keri's a survivor. She's fun, funny, and not afraid of hard work, but she's also not at all afraid to stand up for herself. Some of the snarky humor between Keri and her attorney, Richard, were the most fun scenes to write.
Tell us about the location for the novel:
The Cascade Mountains (just east of Seattle) have a number of small towns that used to be farming/ranching/mining towns.
Now they wither or, with varying degrees of enthusiasm, admit they're tourist towns.
After writing about the trio of real cities in eastern Washington for the Holly Price series, it was fun to create a fictional town for Keri.
Fictional Liberty Falls is a mashup of these small mountain towns.
Post-divorce, Keri's living in the circa-1950 caretaker's cottage of a Christmas tree farm, with questionable plumbing and a family of birds living in the wall. As much as she misses her life (and especially her job) in Seattle, she loves the property with its river, woods, and yes, a beaver pond.
What draws you to writing about small towns?
A small town can be a more manageable representation of any city, anywhere. The town itself and the limited number of businesses makes it easy to introduce readers to the location without getting bogged down in details.
The mix of people in a small town drives so many interesting conflicts. Old grudges, differences in world view between long time locals and newer residents, these provide an endless throve of plot ideas.
Now it's true a lot of your personal "business" is going to be talked about, but it's possible to be a mystery man, like the Photo-Man who lives across the river from Keri. He's a fun subplot to weave into the story as Keri tries to figure out who he is and what he does, besides annoy her by constantly taking her photo.
What wine would pair best with The Body in the Beaver Pond, and why?
Well, the author (ahem, that would be me) enjoys the fantastic Washington state wines, but Keri's on a beer budget. Having said that, Keri does appreciate the local craft breweries. She's more of an amber or lager drinker than an IPA fan, though.
You also write the Holly Price Mysteries, tell us about that series.
Holly Price is a CPA who bolted out of eastern Washington after graduating from college, headed to Seattle. She climbed the career ladder and works for a top-tier mergers and acquisition team until her father has a midlife brain fart and takes off for Sedona with his yoga instructor.
Since her mother doesn't have a CPA license, she ends up stranded personally and professionally by his desertion. Holly agrees to take a leave of absence and stage the family accounting practice for sale, but discovers in the first book—So About the Money—she likes working with and getting to know the clients.
The plots tend to revolve around a financial problem, to draw Holly into the conflict.
Don't worry! I'm not teaching Accounting 101 here. The relationship conflicts with her parents and her maybe not-so-former fiancé keep the stories light. And there might be a llama or pig or two…
What are you working on now?
I'm working on the second book for Keri—working title is Peril in the Pony Ring.
My editor for the Holly Price series is pestering me to write the next book there, so it's mostly plot outlined. No working title yet.
Words of wisdom for aspiring writers:
Read, read, read.
Read both in your genre to understand the expectations and across the spectrum of novels.
Take stories you especially loved and reread them for the structure, the way the author developed characters, whatever drew you so strongly to that story. Then keep writing, learning and growing.
---
Cathy Perkins, author of The Body in the Beaver Pond
Cathy Perkins's suspense writing lurks behind a financial day-job, where she learned firsthand the camouflage, hide-in-plain-sight skills employed by her villains.
A member of Sisters in Crime and International Thriller Writers, she has coordinated conferences, contests and debut author programs, and is a contributing editor for The Big Thrill.
When not writing, she can be found doing battle with the beavers over the pond height or setting off on another travel adventure.
Born and raised in South Carolina, she now lives in Washington with her husband, children, several dogs and the resident deer herd.
---
Visit all the Stops on The Body in the Beaver Pond Tour!
May 14 – Brooke Blogs – SPOTLIGHT
May 14 – #BRVL Book Review Virginia Lee Blog – SPOTLIGHT
May 15 – Celticlady's Reviews – SPOTLIGHT
May 15 – Author Elena Taylor's Blog – AUTHOR INTERVIEW
May 16 – Diane Reviews Books – SPOTLIGHT
May 16 – Socrates Book Reviews – SPOTLIGHT
May 17 – My Reading Journeys – REVIEW
May 18 – FUONLYKNEW – SPOTLIGHT
May 18 – Cozy Up With Kathy – SPOTLIGHT
May 19 – I'm All About Books – SPOTLIGHT
May 19 – Christy's Cozy Corners – GUEST POST, INDIVIDUAL GIVEAWAY
May 20 – Novels Alive – AUTHOR INTERVIEW
May 20 – Ruff Drafts – RECIPE POST
May 21 – View from the Birdhouse – SPOTLIGHT
May 21 – Sapphyria's Book Reviews – SPOTLIGHT
May 22 – Maureen's Musings – SPOTLIGHT
May 22 – Reading Is My SuperPower – REVIEW
May 23 – Literary Gold – SPOTLIGHT
May 23 – Laura's Interests – SPOTLIGHT
May 24 – Novels Alive – REVIEW
May 24 – Ascroft, eh? – CHARACTER INTERVIEW
May 25 – BookishKelly2020 – SPOTLIGHT  
May 25 – Escape With Dollycas Into A Good Book – SPOTLIGHT
---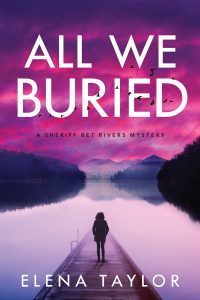 Elena Taylor is the author of All We Buried, available now in print, e-book, and audio book format at all your favorite on-line retailers. And don't forget many independent bookstores can order books for you and have them shipped to your home or for curbside pickup.
Amazon Kindle Deal! ebook $1.99 May 1—31
For more information on All We Buried, click on the link here to visit the home page.
Foreword INDIE Award Finalist, Best Mystery 2020