New Mexico features prominently in Arrowed, the latest book in Avery Daniels' Resort to Murder series.
Author Guest Post + Author & Book Info + Rafflecopter Giveaway
---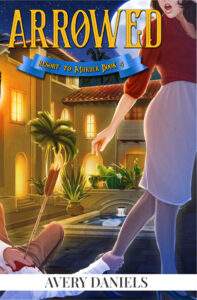 It all began when a dying man with an arrow in his chest grabs her ankle.
During a heatwave at a Santa Fe resort, Julienne has the resort owner pressuring her to solve the murder.
The victim is a high profile businessman who made enemies rather than friends, leaving Julienne with a roster of suspects.
She was supposed to be training the staff and spending quality time with Mason rather than investigating a murder.
The heat turns up when an old girlfriend of Mason's checks in and is determined to get back together.
Arrowed: Resort to Murder 4

Cozy Mystery
4th in Series
Publisher: Blazing Sword Publishing Ltd. (March 1, 2021)
Paperback: 266 pages
ISBN-10: 1735566314
ISBN-13: 978-1735566313
Digital ASIN: B08T8GBDBP

---
Santa Fe is an Arts Haven
by Avery Daniels
Each book in the Resort to Murder mystery series takes place in a luxury resort.
---
"Arrowed, the newly released fourth book, is set in a resort in Santa Fe, New Mexico."
---
 Arrowed, the newly released fourth book, is set in a resort in Santa Fe, New Mexico.  New Mexico, the 47th state, has perhaps one of the best state mottos: The Land of Enchantment.  That is magical.
Santa Fe, Albuquerque, and Taos have become home to many creative types, drawn by that enchantment. Santa Fe has even been designated a Unessco Creative City.
Tony Hillerman lived in Santa Fe and worked as a journalist before moving to Albuquerque. His love for New Mexico and its rich cultural diversity are evident in his writing.  If you've read any of his fiction works featuring Navajo tribal policemen, then you are aware of the wide open vistas and beautiful soaring buttes.  In his non-fiction book, The Spell of New Mexico, Hillerman collected several essays all extolling the magical and enchanting draw of New Mexico.
---
Tony Hillerman wrote almost twenty books about Chee & Leaphorn set in New Mexico
---
Of course, the famous artist Georgia O'Keefe was similarly drawn to the region.  She eventually moved full time to New Mexico and her works inspired by the state's beauty are some of her most famous pieces.  Initially she was around Taos, and then in and around Alcalde, and Abiquiu.
Artists have long extolled the light in New Mexico similar to Paris.  There is the dramatic lighting of sunsets, but also the everyday lighting that illuminates clouds and vistas with a little extra umph or nuance.
In my novel I have the romantic interest, Mason, who is a professional photographer visiting Abiquiu to photograph its amazing Plaza Blanca.
Plaza Blanca is breath-taking white limestone rock formation with 60-foot-high obelisks and towering spires.  There are other rock formations in the area as well that Mason is inspired to photograph.  This was perfect for Mason to be consumed with this photography gig, since Georgia O'Keefe herself had her ranch studio out in the area.
It is no surprise that Santa Fe is an artist's haven, and a great place to purchase art.  The downtown square is often the location of high quality art festivals.  The July Folk Art Market features folk art from around fifty-two (that's right, 52) different countries!
Also in July is the Contemporary Hispanic Market and also the Traditional Spanish Market.  These are celebrations of Hispanic culture that includes dance, music, and yes—food.
Additionally there is the newer Santa Fe Art Week with over one hundred events featuring the city's museums, art galleries, and various attractions.  I can't forget the Santa Fe Indian Market, a large art market dedicated to Native American art and the largest such event in the world.
I have a cherished piece of art from this market and got to chat with the artist about the story behind the piece.  As if that weren't enough, Santa Fe has a world famous opera!
Thus, Santa Fe was ideal for Mason's artistic soul.
But the main character of Arrowed, Julienne, has a thirst for travel and experiencing the world's cultures, which made this ideal for her as well.  Without leaving the states, she got to immerse herself in traditional and contemporary culture of both Hispanic and Native American cultures.  It will be a challenge to find other such culturally and artistically rich cities for the next Resort to Murder novels.
But, I am looking forward to the search.
Dear reader, do you know of a city in the states that combines rich ethnic cultural identity along with a plethora of creative expression?  Please share, you never know—it may be the next location for a novel in the series!
Definitely makes me want to spend more time in this beautiful state! Thank you for guest blogging with me.
---
Avery Daniels
Avery Daniels was born and raised in Colorado, graduated from college with a degree in business administration and has worked in fortune 500 companies and Department of Defense her entire life.
Her most eventful job was apartment management for 352 units.
She still resides in Colorado with two brother black cats as her spirited companions.
She volunteers for a cat shelter, enjoys scrapbooking and card making, photography, and painting in watercolor and acrylic. She inherited a love for reading from her mother and grandmother and grew up talking about books at the dinner table.
To learn more about Avery, click on her name, photo, or any of the following links: Facebook, Twitter, Goodreads, BookBub & Newsletter
---
Visit all the stops along the Great Escapes Virtual Book Tour!
March 18 – Reading Is My SuperPower – REVIEW
March 18 – #BRVL Book Review Virginia Lee Blog – SPOTLIGHT
March 19 – My Journey Back the Journey Back – CHARACTER GUEST POST
March 19 – Celticlady's Reviews – SPOTLIGHT
March 20 – My Reading Journeys – REVIEW
March 20 – I'm All About Books – SPOTLIGHT
March 20 – The Book's the Thing – GUEST POST
March 21 – I Read What You Write – AUTHOR INTERVIEW
March 22 – Maureen's Musings -SPOTLIGHT
March 22 – Author Elena Taylor's Blog – GUEST POST
March 23 – Sapphyria's Book Reviews – SPOTLIGHT
March 23 – Wickedly Romance – CHARACTER GUEST POST
March 24 – Literary Gold – REVIEW
March 24 – Christa Reads and Writes – GUEST POST
March 25 – Bea's Book Nook – REVIEW
March 25 – Christy's Cozy Corners – AUTHOR INTERVIEW
March 26 – Mystery Thrillers and Romantic Suspense Reviews – SPOTLIGHT WITH RECIPE
March 27 – Ruff Drafts – SPOTLIGHT
March 28 – Brooke Blogs – SPOTLIGHT
March 29 – Novels Alive – GUEST POST
March 30 – Escape With Dollycas Into A Good Book – AUTHOR INTERVIEW
March 31 – Books a Plenty Book Reviews – REVIEW, CHARACTER GUEST POST
---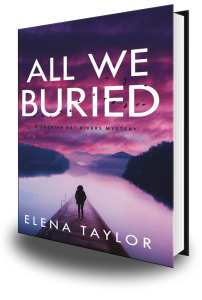 Elena Taylor is the author of All We Buried, available now in print, e-book, and audio book format at all your favorite on-line retailers. And don't forget many independent bookstores can order books for you and have them shipped to your home or for curbside pickup.
For more information on All We Buried, click on the link here to visit the home page.
Finalist: Foreword INDIE Award, Best Mystery 2020
Santa Fe photo on Pixabay