Sid Meltzer joins me today as a guest blogger talking about research and his latest novel, Unwitting Accomplice.
Guest Post + Book & Author Info + Rafflecopter Giveaway
---
Unwitting Accomplice by Sid Meltzer
How can a homicide be prevented when it's still only in some stranger's head?
Kim Barbieri, a tough, street-smart New York City crime reporter unfazed by male egos and mangled bodies, is sent an anonymous note with a sinister message:
I intend to commit a murder
She doesn't know who the killer is.
She doesn't know who his victim will be.
She doesn't know where, when and how he will strike.
But there is one thing she does know: If she doesn't learn to think like a killer, someone's going to get away with murder.
Genre: Thriller
Published by: Rogue Phoenix Press
Publication Date: December 7, 2020
Number of Pages: 313
ISBN: 978-1-62420-579-8
Series: A Kim Barbieri Thriller
To buy the book, click on either of the following links: Amazon | Barnes & Noble
---
Separating Fact From Fiction: Not a Good Idea
by Sid Meltzer
There's a hard truth about writing fiction.
While it is mostly a product of the writer's imagination, fiction can also require mastery of subject matter he or she knows next to nothing about. Like courtship rituals in Victorian England, if the book is about romance among the aristocracy during the nineteenth century. Or the different military tactics of American and Confederate armies, if it's a novel set during the Civil War. Or everyday life in a Muslim theocracy, if he or she's never been within a thousand miles of Saudi Arabia.
In my case, for Unwitting Accomplice, I found myself biting off a heckuva lot more than I could chew as I fleshed out the book. The deeper I got into my characters, and into the plot, the more I had to get up to speed on not just a single topic—but a whole slew of them, including criminal law, the effect of poisons on the body, human anatomy, the definitions (plural) of death, weapons such as handguns and vehicles, police forensics, and autopsy procedures with murder victims.
Did you know that arteries bleed out faster than veins? I didn't. Did you know that the amount of poison needed to kill a victim depends on how big he is? I didn't. That when a car hits a victim, pieces of the victim stick to the bumper? I didn't. Or that whether a perp is charged with murder or manslaughter could depend on what he was thinking at the time? I didn't.
But I do now.
This information is all black-and-white, fortunately. Facts and science, with no "alternative" facts or science to consider. And fortunately, I found the right textbooks, and a lot of online material, to help me get a good grasp on them.
That was not the case, however, with the whole subject of mental illnesses. What kinds there are, what symptoms they cause, and what they mean for the people who have them.
What I found was that mental illnesses were, in many cases, all in the eyes of the beholder—the psychologist or psychiatrist examining the patient. The differences between psychopath and sociopath, and between neurosis and psychosis, are imprecise, because they lie on a spectrum with no clear line separating them.
Likewise for schizophrenia, narcissism, paranoia, depression and a thousand other mental illnesses.
Mastering all these highly technical subjects was a lot more challenging than I'd expected—that I can tell you. Nevertheless, I persisted.
After learning them, the next challenge was to figure out how to make all it all understandable to average readers—without confusing them, and without boring them to tears. That meant breaking down complex legal and medical terms into bite-size pieces anyone can understand.
It also forced me to think about how to best present these facts. Do I describe them in the third person, sort of like a teacher would do? Or do I explain them via a dialog with my two main characters, the reporter and the corporate exec? Either way, by making these complex subjects understandable to them, I would hopefully make it understandable to the reader. That was the goal.
The answer, I found, was to have experts—doctors and lawyers—discuss the topics with my two characters using precise, accurate, factual terminology, and the characters playing them right back using simpler words that were easier to grasp for the layman.
Here's one example, a bit of dialogue about murder vs. manslaughter between the killer and a lawyer friend of his:
"Guy who killed his neighbor's kid for throwing rocks at his house, over in Canarsie?" I ask. "Why was he only charged with manslaughter? He shot the kid on purpose."
"Indeed he did," Cherie explains. "But it wasn't premeditated. He didn't plan on taking the child's life. He was caught up in the moment. He was enraged and lost control."
"The boy's still dead," Helen says. "The neighbor meant to kill him, didn't he? He didn't grab a gun to have a little target practice."
"Killed, yes. Murdered, no," Cherie replies, pausing to gather her thoughts. Law school was a long time ago. "Before the night in question, he bore no ill will toward the child. He had no reason to. The victim was just another kid in a neighborhood full of them, who had never even met the shooter before. No deliberate intent, in my language. He didn't think about hurting the boy until a few seconds before he killed him."
The bottom line is, separating fact from fiction may not be a good idea for any novelist. No writer wants to make a mistake, and allow it to creep into a book before it's published. Because if there's one thing that's certain, some sharp-eyed reader will spot it, and let the author know about it.
And that's a fact.
---
Sid Meltzer
Sid Meltzer took a couple of worthwhile detours on his way to becoming a crime fiction writer.
He started out as a NYS Supreme Court Probation Officer, a job that helped him see things from a criminal's point of view— and let him peer into their minds' many dark alleys.
Working with ethically-challenged rascals prepared him well for the caliber of people he met in his next career— advertising. That is where he learned how to craft stories that draw readers in and keep them engaged.
Unwitting Accomplice is his debut novel.
---
Visit all the Stops on the Tour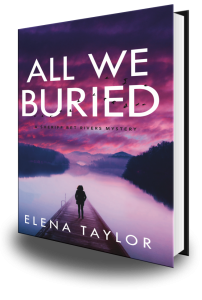 Elena Taylor is the author of All We Buried, available now in print, e-book, and audio book format at all your favorite on-line retailers. And don't forget many independent bookstores can order books for you and have them shipped to your home or for curbside pickup.
For more information on All We Buried, click on the link here to visit the home page.