Harlequin Intrigue presents Pursuit of the Truth by K.D. Richards. Thrilled to have ITW Debut Author K.D. Richards on my blog to talk about writing and her novel, Pursuit of the Truth.
---
Want to know my thoughts on Pursuit of the Truth? Read my review by clicking the link here.
---
Pursuit of the Truth out now from Harlequin Intrigue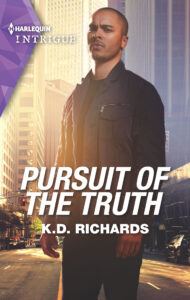 Pursuit of the Truth (West Investigations)

Romantic Suspense
1st in Series
Publisher: Harlequin Intrigue (January 26, 2021)
Mass Market Paperback: 256 pages
ISBN-10: 1335401539
ISBN-13: 978-1335401533
Digital ASIN: B08CSRDVWK

His skills can keep her safe
Her secrets could get them killed…
Security expert Ryan West's worst fears come to life when hotel CEO Nadia Shelton is pushed in front of a taxi and nearly killed.
Someone will do whatever it takes to find the brother Nadia thought was dead, and the only way Ryan can protect her as they uncover the truth is to stay strictly professional. But the sparks igniting between them are nearly impossible to ignore.
From Harlequin Intrigue: Seek thrills. Solve crimes. Justice served.
To purchase the book, click any of the following links: Amazon – Kobo – Harlequin – B&N
---
K.D. Richards' Thoughts on the Pursuit of the Truth, Harlequin Intrigue, and the Road to Publication
What was your path to publication with Pursuit of the Truth?
Like a lot of first time authors this wasn't the first book I wrote. I have several unfinished and a couple finished manuscripts that will never see the light of day. This novel was the first I felt confident enough to submit to anyone, and having read several Intrigue books I thought it would be a good fit for the line. I really didn't expect an offer since it was my first time submitting so I was very pleasantly surprised.
The second book in the series comes out in December. What can you tell us about that novel?
The second book in the West series, Missing at Christmas, focuses on Shawn West, another of the West brothers, and Addy Williams, a lawyer searching for her missing sister in a small town a couple hours outside of Manhattan.
Shawn is in town investigating a fraud case and is surprised to run into Addy, his former girlfriend and the one who got away.  You can expect another gripping mystery and heart pounding romance!
How has your experience as a lawyer impacted your writing?
Well, my heroine in the second book is a corporate attorney which I have some experience with, but my plots aren't legal plots per se. In some ways it is really helpful and in others it can be a hindrance. There are things I don't have to research about the law and police procedure and that saves time when plotting.
On the other hand, lots of legal procedure is dull and boring and it's not always easy to make it exciting.
You grew up outside Washington DC but now live in Toronto. What's it like being an ex-pat?
I really love Toronto. The music and culture is great. I prefer living in or near cities. I grew up steps outside DC, lived in Manhattan for several years, and now Toronto.
I rarely think of myself as an expat. Pre-pandemic, I made regular trips back to DC so I have the best of both worlds.
What are you working on now?
I am finishing the manuscript for the third West Investigations series. This one will be Gideon's story. Gideon, is a secondary character in Pursuit of the Truth, but there was something about him. He's the strong silent type, but I knew he had a story to tell, and boy does he!
Final words of wisdom for aspiring writers:
Keep writing. Find your writing people and build your support system. This is not an easy career path but if you have a story to tell don't let anyone tell you it's not good enough.
Great advice! Thanks for hanging out with us today, I look forward to having you back on with the launch of book 2!
---
K. D. Richards is the pseudonym for Kia Dennis.
Kia was born and raised in the Maryland suburbs just outside of Washington, D.C. A writer since a young age, after college she earned a law degree and worked as an attorney and legal instructor for fifteen years but never stopped writing fiction.
She currently lives in the Toronto area with her husband and two sons. Sign up for her newsletter at kdrichardsbooks.com and follow her on Twitter @kiadwrites
To learn more about KD, click on her name, photo, or any of the following links: Facebook, Instagram, Amazon & Goodreads
---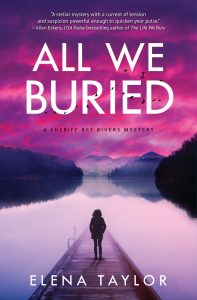 Elena Taylor is the author of All We Buried, available now in print, e-book, and audio book format at all your favorite on-line retailers. And don't forget many independent bookstores can order books for you and have them shipped to your home or for curbside pickup.
For more information on All We Buried, click on the link here to visit the home page.