Her Every Move by Kelly Irvin—Visit all the stops on the Partners in Crime Virtual Book Tour!
Author Interview + Her Every Move & Author Info + Excerpt + Rafflecopter Giveaway
---
Her Every Move
He's a cop trying to stop a serial bomber. And she'll stop at nothing to clear her own name.
When a deadly bomb goes off during a climate change debate, librarian and event coordinator Jackie Santoro becomes the prime suspect.
Her motive, according to Detective Avery Wick: to avenge the suicide of her prominent father, who was accused of crimes by a city councilman attending the event.
Though Avery has doubts about Jackie's guilt, he can't exonerate her even after an extremist group takes responsibility for the bombing and continues to attack San Antonio's treasured public spaces.
As Jackie tries to hold her shattered family together, she has no choice but to proceed with plans for the Caterina Ball, the library system's biggest annual fundraiser. But she also fears the event provides the perfect opportunity for the bomber to strike again.
Despite their mistrust, Jackie and Avery join forces to unmask the truth—before the death toll mounts even higher.
Genre: Suspense
Published by: Thomas Nelson
Publication Date: February 9, 2021
Number of Pages: 352
ISBN: 0785231900 (ISBN13: 9780785231905)
---
Her Every Move: The Interview
Her
Every Move
is set in San Antonio, a town I like very much. What made you set the novel there? How does the city impact the events of the story?
San Antonio is my adopted hometown. I've lived here for about 30 years. The city makes a great locale for novels because of its rich cultural heritage and beautiful downtown.
It has many iconic structures that I love to use in my fiction. It also impacts on the story because I'm careful to reflect the demographics of San Antonio in terms of the Latino population, which accounts for more than 50 percent of the folks living here.
I frequently use popular tourist attractions as backdrops for my stories. In this instance, my heroine, a librarian, works at the iconic "enchilada red" Central Library designed by Mexican architect Ricardo Legorreta. San Antonio residents will immediately recognize it. The library is filled with gorgeous art and vibrant colors so I enjoyed incorporating those into the story.
Romantic suspense is a dynamic subgenre for crime fiction. In your opinion, how do romance and suspense work together to create a more compelling story? What is it about that combination that appeals to you? 
Readers of romantic suspense want to care about their characters on a deeper level, I think. A thriller or suspense novel that doesn't delve deep into character development is less satisfying for me. I enjoy seeing how characters who love each other grow closer as they fight to survive.
If crime stories have a series of big action scenes without much in the way of character development, I'm not likely to keep reading.
I read tons of mystery, suspense, romantic suspense, and crime fiction. These are my favorite genre/subgenres so that's what I've always wanted to write.
I was first published in Amish romances and continue to write them. They're a joy to write. I'm blessed to have the opportunity to do both.
How did you know that was the right tone for this story?
I'm not positive I know what you mean by tone, but I'm trying to create a fast-paced story that has depth and feeling. I think of the old Victoria Holt stories that have so much atmosphere, and I'd like to emulate that. I try to be careful not to appear to glamorize violence while reflecting the world in which we live. My characters struggle with the same challenges we all do.
That's exactly what I was asking. Thank you!
You have several books and series that focus on the Amish. What drew you to write about that community, and what prompted you to shift gears for this one? 
My first agent encouraged me to try Amish romances. I did some research and found aspects of their beliefs and the way they live fascinating.
My first novel centered on their deep-seated belief in forgiveness, regardless of the transgression. They are devout Christians, but that doesn't mean they don't struggle with many of the same issues that mainstream Christians do. I enjoy writing about the challenges of living a simple, if extremely hard, life in the midst of a world that has completely different values.
I don't write sweet romances, which are very popular and enjoyable. I need a meatier story for my characters in order to be able to write an entire novel. My first two books were romantic suspense, then I switched to Amish.
About two years ago, HarperCollins Christian Publishing agreed to collaborate with me on two stand-alone romantic suspense novels. It was a dream come true. Since then I've signed another three-book contract and this is the second book in that contract.
In much of your work, you write about God and spiritual matters. How does your own relationship with God and your faith impact your writing? 
My faith strongly informs my writing. This is my way of sharing my faith with others without getting in their face about it. LOL. Like many people, I often struggle with my faith. Oftentimes I'm working out my own struggles in these stories. Searching for answers to questions that most of us have.
You credit working as a journalist for six years in the border towns of Laredo and El Paso as providing fodder for your creative work. Tell us something about those experiences and the lasting impression it had on you.
Just living and working in these communities gave me insight into border issues relating to immigration, gangs, drug and gun smuggling, crime in general, and how the judicial and law enforcement systems work.
I also experienced the beautiful cultural aspects of border communities, their history, language, food, and customs. Much of that carries over to living in San Antonio as well, a larger urban community that is a smorgasbord of cultures.
What are you working on now?
I'm writing the third book in my second romantic suspense contract. It doesn't have a name yet, but it's set in San Antonio's historic art district La Villita, a popular tourist attraction. My heroine owns a shop there.
The story actually focuses on two murders ten years apart. It's been a challenge to bring them together in a way that makes sense, but I'm having lots of fun with it.
Final words of wisdom for aspiring writers:
As far as words of wisdom: Stick your behind in the chair and write. If your dream is to be a published writer, don't let anything stand in your way. Join writing organizations, join a critique group, and attend writing conferences. Hone your craft. Take it seriously. Treat it like a job. 
Thank you for dropping by today to chat about Her Every Move and your other writing!
Pet Corner: Tell us about your pets!

I do have two cats, Jasmine and Angel. They're black cats and sisters from the same litter.
We adopted them after our vet sent us to see a woman who had picked up the momma cat and her entire litter from a parking lot. She had the mother spayed and got the kittens vaccinated so they could be adopted.
We've had them for about thirteen years. I can't believe their seniors now, like my husband and me.
Adorable! They look a lot like my cats, who are half brother and sister. Thank you for sharing them and Her Every Move with us.
---
Excerpt of Her Every Move
A steady stream of patrons stood and edged toward the center aisle. A low murmur swelled to the sound of hundreds of people all talking at once. Soon they'd be in front of Jackie, impeding her progress from the parking garage and on the narrow, one-way downtown streets of San Antonio.
 "Great job, Jackie. Looks like your boss was wrong." Sandoval's constituent services director, Tony Guerra, sauntered up the aisle toward her. "Climate change opponents can coexist amicably in the same space. And so can city manager and city council staff."
"Thanks, but it took a whole host of partners to make this happen. And it's not over yet." Jackie stuck her hand on the door lever that would release her to the Tobin's massive lobby.
 She liked Tony, which was a good thing since he'd asked Estrella to marry him. However, he wore his political ambitions like an obnoxious neon-pink tie.
 "I have to go. I want to make sure there are no last-minute snags with the reception. Then it's back to fine-tuning the altars for the Catrina Ball. It's only a week away, and I'm behind because of the debate."
 "You never let up, do you? Are we still on for the Spurs game tomorrow—"
 A powerful force knocked Jackie from her feet.
 Her skull banged on the hardwood floor.
 Sharp projectiles pelted her face in a painful ping-ping.
 What's happening?
 Estrella? Tony? Bella?
 Muffled screams and even her own moaning seemed strangely distant. "Estrella? Tony? Bella?"
 If they answered, Jackie couldn't hear them. She dragged herself onto her hands and knees. Glass and sharp metal pierced both. She forced open burning eyes.
 Heavy black smoke shrouded the hall. Metal and debris like deadly confetti showered her. She raised her arm to her forehead to protect her face from the remnants of folding chairs and electronics.
 Warm blood dripped from her nose. The acrid taste of smoke and fear collected in her mouth. Her stomach heaved. Her pulse pounded so hard dizziness threatened to overcome her.
 No, no, no. Do not pass out. People need help.
 Shrieking alarms bellowed.
 Water, like torrential rain, poured from above. Rain, inside? Her ricocheting thoughts made no sense. Jackie shook her head. Neither the smoke nor the clanging in her brain subsided.
 Sprinkler system.
 The smoke had triggered the sprinklers.
 Where there's smoke there's fire. The old cliché ran circles in her mind like a children's nursery rhyme.
 Estrella's mama and papa would never forgive Jackie if something happened to their sweet daughter. Mercedes and Mateo always saw Jackie as the instigator of trouble. And they were usually right.
 Ignoring pain and panic, she crawled forward. Sharp metal bit into her skin. Where were her shoes?
 Finally she encountered a warm, writhing body. "Tony?"
 "What happened?" He struggled to sit up. Blood poured from an open wound on his scalp, his nose, and a cut on his lip. "I have to get to Estrella and Diego."
 He might have yelled, but Jackie could barely make out the words. She leaned back on her haunches. "You're hurt. Does anything feel broken?"
 "No, but I can't hear anything." He wiped at his face. Blood streaked his once crisply starched white shirt. "Why can't I hear?"
 "It'll pass. We have to get everyone out."
 With a groan, Tony leaned over and vomited on the floor. He wiped his mouth with his sleeve. "Okay, let's go."
 "Everyone out. If you can walk on your own, evacuate." One of the contract security guards hired for the debate loomed over them. "The bomb squad is on the way. Go, go."
 "We're fine. We'll help get the others out."
 "Negative. Get out, there could be more bombs."
 Bombs.
---
Kelly Irvin: Author of Her Every Move 
Bestseller Kelly Irvin is the author of 19 books, including romantic suspense and Amish romance.
Publishers Weekly called Closer Than She Knows "a briskly written thriller."
The Library Journal said of her novel Tell Her No Lies, "a complex web with enough twists and turns to keep even the most savvy romantic suspense readers guessing until the end."
The two-time ACFW Carol Award finalist worked as a newspaper reporter for six years on the Texas-Mexico border. Those experiences fuel her romantic suspense novels set in Texas. A retired public relations professional, Kelly now writes fiction full-time.
She lives with her husband professional photographer Tim Irvin in San Antonio. They have two children, three grandchildren, and two ornery cats.
---
Visit all the Stops Along the Her Every Move Virtual Book Tour!
02/08 Showcase @ The Book Divas Reads
02/09 Review @ @ rozierreadsandwine
02/09 Review @ Book Reviews From an Avid Reader
02/09 Review @ Novels Alive
02/10 Guest Post @ Quiet Fury Books
02/11 Review @ Books and Zebras @ jypsylynn
02/12 Showcase @ Archaeolibrarian – I Dig Good Books!
02/13 Showcase @ Brooke Blogs
02/14 Review @ @ geauxgetlit
02/15 Interview @ BooksChatter
02/15 Review @ Read Review Rejoice
02/16 Review @ The Review Crew
02/17 Showcase @ nanasbookreviews
02/18 Guest post @ Novels Alive
02/19 Showcase @ CMash Reads
02/21 Interview @ Author Elena Taylors Blog
02/22 Review @ Quirky Cats Fat Stacks
02/22 Showcase @ Im Into Books
02/23 Review @ Books of My Heart
02/24 Review/showcase @ Avonna Loves Genres
02/24 Showcase @ 411 on Books, Authors, and Publishing News
02/25 Interview @ Reading A Page Turner
02/25 Review @ Adventures Of A Travelers Wife
02/26 Review @ Margaret Yelton – FB & GR
02/27 Review @ Splashes of Joy
03/01 Review @ Jersey Girl Book Reviews
03/02 Review @ Nesies Place
03/03 Review @ Lynchburg Mama
03/03 Showcase @ Celticladys Reviews
03/04 Review @ A Room Without Books is Empty
03/05 Review @ Spookys Maze Of Books
---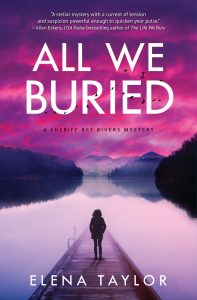 Elena Taylor is the author of All We Buried, available now in print, e-book, and audio book format at all your favorite on-line retailers. And don't forget many independent bookstores can order books for you and have them shipped to your home or for curbside pickup.
For more information on All We Buried, click on the link here to visit the home page.