Fatal Intent is the debut novel by author Tammy Euliano. I'm thrilled to have Tammy join us here on my blog!
Author Interview + Book & Author Info + Author Pet Corner!
---
About Fatal Intent
End-of-life care—or assisted death
When her elderly patients start dying at home days after minor surgery, anesthesiologist Dr. Kate Downey wants to know why. The surgeon, not so much. "Old people die, that's what they do," is his response. When Kate presses, surgeon Charles Ricken places the blame squarely on her shoulders.
Kate is currently on probation, and the chief of staff sides with the surgeon, leaving Kate to prove her innocence and save her own career. With her husband in a prolonged coma, it's all she has left.
Aided by her eccentric Great Aunt Irm, a precocious medical student, and the lawyer son of a victim, Kate launches her own unorthodox investigation of these unexpected deaths. As she comes closer to exposing the culprit's identity, she faces professional intimidation, threats to her life, a home invasion, and, tragically, the suspicious death of someone close to her.
The stakes escalate to the breaking point when Kate, under violent duress, is forced to choose which of her loved ones to save—and which must be sacrificed.
Perfect for fans of Kathy Reichs and Tess Gerritsen
To purchase the book click on any of the following links: Amazon & IndieBound
---
Fatal Intent: Author Interview
You are a practicing anesthesiologist writing about an anesthesiologist. What was it like writing a fictional character who does your job?
It was an interesting combination of fun and challenging. From the mythical realm of write-what-you-know, it made sense for the protagonist in my debut to share my career, or a version of it. I didn't want to glorify the job, but neither did I want to white-wash it so much it became unrealistic.
By adding a medical student to whom she explained medical things, it became reasonable for her to use normal English and avoid some "doctor-ese" but it would lose all verisimilitude (such a cool word) if her dialog with colleagues didn't contain doctor words.
It made for a terrific and (mostly) enjoyable challenge.
How much are you bothered by inaccuracies in medical thrillers and how much are you willing to suspend disbelief for the sake of enjoying a good story?
Unfortunately, they bother me quite a lot, which is part of why I'm so careful in my own writing, laboring over the right words to satisfy all manner of readers. It is also why I offer to help other writers get the medical details right. On the contrary, regarding non-medical fields, I'm quite good at suspending disbelief, as long as no pretense is made that facts are being presented.
Steve Berry writes historical fiction, but always includes at the end an accounting of fact and fiction. It makes him trustworthy in my mind.
Tell us about your path to publication for your debut novel.
Fatal Intent began 5+ years ago as my first attempt to write fiction. After many stops and starts and courses and conventions and pitchfests and rejections, I attended Bouchercon in St. Petersburg in 2018.
There, I moderated a panel on medical topics in fiction through which I met Pat Gussin, a fellow physician and author, but also a publisher of thrillers. A year later, I asked if I could send her my novel, then called DO NO HARM. A few months later they offered me a contract and here we are.
I'm so fortunate to have found an amazing publishing house with terrific, supportive people for my debut.
What have you wanted to be asked about your debut novel, but no one has?
Where did the idea for Aunt Irm come from?
I based this character on a favorite relative of my early-career mentor. Dr. Gravenstein was a model physician and teacher whose Aunt Irm was important in his orphaned childhood in Germany during World War II. He planted the seed that set me on this encore career as an author, so I borrowed Aunt Irm as a bit-part character, except she stole the show.
My readers and I have fallen in love with her—her maternal instincts despite being childless, her loyalty and compassion, her mixed up English idioms.
---
"I love how, well, short they are."
---
You also write short stories, how does that process differ from a novel?
Quite a bit different, honestly. I love how, well, short they are.
It's possible to go start-to-finish in a single sitting, plus several more sittings to realize it's not nearly so clear as I first thought. They're a great respite from long-form writing, especially when I'm in the editing phase and I need a creativity break.
Jenny Milchman once told me you should always be using your creative brain, and short stories let me do that without ending up in the rabbit hole of a novel. It's also fun trying out different genres in short form.
What are you working on now?
The sequel to Fatal Intent in which Kate Downey, Aunt Irm and Christian face another series of challenging circumstances is due asap.
I'm also working on another series.
Pre-covid I wrote about a bioengineered virus that destroyed the fertility of humans and other primates. Sort of Children of Men-ish, minus the soul-crushing fate of mankind that PD James described. Anyway, I LOVE the themes, the characters and the challenging topics raised, but have yet to interest an agent or publisher.
Final Words of Wisdom for Aspiring Writers.
Go to at least one in-person writing class/conference. I met my writer buddies at a Margie Lawson Immersion five years ago. We video-chat at least once a month and meet up for a week once a year to write and talk and compare notes.
In the intervening 5 years, nearly all of us has published at least one book! Attending a conference in your genre allows you to meet all the wonderful writers at and above your level. It's how I was able to meet the authors who wrote all the incredible blurbs for Fatal Intent.
Author Pet Corner!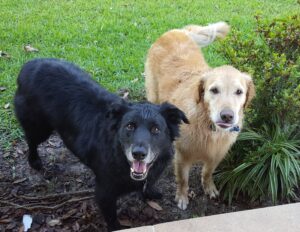 Kodiak (Kody) is a black fur ball of a rescue dog whose parentage is suspect but likely includes an Australian Shepherd and a Sheltie somewhere along the line. He is 11 and the cuddliest (and demanding of cuddling) little guy in the world. His staring contests are legendary, and he is an amazing spooner for naps…I mean brief writing breaks that last no more than 10 minutes (in dog-years).
Acadia (Cadi) is an 8-year-old golden retriever who thinks she's a lapdog. Her favorite game is a novel version of fetch in which I throw the ball with the ChuckIt (one of man's greatest inventions, btw), she chases it at full speed, returns, ears-flapping, with it in her mouth, then proceeds to hide the ball somewhere under a bush or behind a tree for me to find and throw again. Should I fail to notice it is no longer in her mouth, there is much whining (from her, not me – at least mostly) until I go on the Easter Egg hunt.
Except sometimes Kody takes pity on me, finds the ball and brings it to me with his Cadi-is-such-a-blonde look.
When I have to work at the hospital, the dogs are picked up in a bus for playtime at Doggie Daycare.
---
About Tammy Euliano, Author of Fatal Intent
By day, Tammy Euliano, MD is a Professor of Anesthesiology and Obstetrics & Gynecology at the University of Florida where she cares for patients, teaches medical students and residents, performs research, and invents cool stuff. She's been honored with numerous teaching awards, more than 100,000 views of her YouTube teaching videos, and was featured in a calendar of women inventors (copies available wherever you buy your out-of-date planners).
By night, she plays games with her family (now remotely), plays tennis (badly), cuddles her dogs, reads, and writes medical thrillers. In her writing, she is intrigued by ethically blurry topics and enjoys positioning characters on all sides of a debate, each with a well-reasoned position…or humor…or dogs.
Vacations are for exploring our amazing world. She has dragged her family of five to all the major US national parks, Alaska, Hawaii, Canada, Costa Rica, the Caribbean, the Galapagos, the Mediterranean, Europe and New Zealand. Trips are spent soaking up the history and culture while also experiencing nature, often in extreme fashion.
To learn more about Tammy, click on her name, photo, or any of the following links: Facebook & Goodreads
---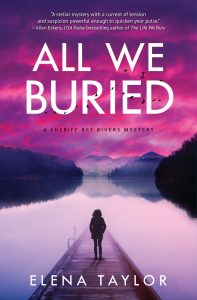 Elena Taylor is the author of All We Buried, available now in print, e-book, and audio book format at all your favorite on-line retailers. And don't forget many independent bookstores can order books for you and have them shipped to your home or for curbside pickup.
For more information on All We Buried, click on the link here to visit the home page.