Lynn Cahoon launches a new cozy mystery series with One Poison Pie
Author Interview + Book & Author Info + Rafflecopter Giveaway
---
One Poison Pie (Kitchen Witch Mysteries) by Lynn Cahoon
Cozy Mystery
1st in Series
Publisher: Kensington (January 26, 2021)
Mass Market Paperback: 272 pages
ISBN-10: 1496730313
ISBN-13: 978-1496730312
Digital ASIN: B087YNC1B6
In the first in New York Times bestselling author Lynn Cahoon's Kitchen Witch series, Mia Malone is starting over in Magic Springs, Idaho—where murder is on the menu . . .
What's a kitchen witch to do when her almost-fiancé leaves her suddenly single and unemployed? For Mia Malone, the answer's simple: move to her grandmother's quirky Idaho hometown, where magic is an open secret and witches and warlocks are (mostly) welcome. With a new gourmet dinner delivery business—and a touch of magic in her recipes—Mia's hopes are high. Even when her ex's little sister, Christina, arrives looking for a place to stay, Mia takes it in stride.
But her first catering job takes a distasteful turn when her client's body is found, stabbed and stuffed under the head table. Mia's shocked to learn that she's a suspect—and even more so when she realizes she's next on a killer's list. With Christina, along with Mia's meddling grandma, in the mix, she'll have to find out which of the town's eccentric residents has an appetite for murder…before this fresh start comes to a sticky end. . . .
Includes Recipes!
To purchase the book click on any of the following links: – Amazon – B&N – Kobo – Google Play 
---
Interview with Lynn Cahoon
You write multiple series, what prompted the idea for your latest, the Kitchen Witch Mysteries?
Mia and the gang actually were written after the Tourist Trap started. I held on to the book and when my publisher asked about another 'print' first book, my agent and I brought up the Kitchen Witch series, which they took.
I love magic books. I'm a big fan of cozy witch stories (Charmed or the Good Witch, for example) so I wanted to write a witch story where the magic is part of the cozy fun.
What should we know about One Poison Pie?
The book is first and foremost, a cozy.
Magic Springs is a community that the local coven has called home for years, but there are witch and normal residents. Most of the town folk know there are witches around, but they are treated like part of the community, not something separate.
I love having an inclusive community where diversity is seen as a good thing, and not something to separate people.
And, like all my cozies, the book is about food. 😊
Describe Magic Springs for us:
Magic Springs is a suburb of Sun Valley. I haven't been in the area recently, but I know it's grown a lot in the last years with an influx of new residents from the south. Magic Springs is written from a vision of the area when I was growing up, so I'm sure now, the area looks more like Southern California with snow.
The things that no one can change is the Sawtooth mountains that surround the area making the skiing, amazing. In the books, the mountains are called the Magics, but I think that's a descriptor for both the fictional and real-life range.
It's an area that takes my breath away, both in the snowy winter and the green summer months.
Tempt us with hints about the recipes we're going to find in One Poison Pie:
I thought about doing my favorite no-bake cookies, but my editor prevailed and we did a pie recipe. I like recipes that can be made totally homemade, or quicker, using modern items like pre-made pie crust. Everyone should be able to bake.
Tell us about your writing process, how do you keep all your series, characters, and storylines straight?
I write only one series at a time, which helps. I goal to write 2000 words a day and tend to write after I get 'home' from work. (With the pandemic, I'm mostly WFH right now.) I goal for at least 10K a week, and with my current schedule, to meet deadlines, I have to write that much. I like going over that because every little bit helps to eat the elephant.
I've been editing other series this month so I tend to make a lot of notes AND look up items from prior books. Like last names. I should make bibles for each series, but details like making a bible isn't fun. And I forget to update the systems I do have. So I try not to 'should' myself when my current system is working.
I also get deep into the world while I'm writing. (Which is why I try to only write one book at a time.) I think about the physical movements of my characters. What they would see, feel, who they'd be with… It lets me take mini vacations to visit my favorite places.
What do you do to recharge?
I love reading, watching GOOD movies and shows, and walking my dogs.
I'm intrigued with the Marvel Universe and how the movies fit together. I want to watch the entire series by the world order rather than release. I'm also watching The Stand (and reading it which is messing with my pandemic mind) and the second season of Discovery of Witches. I've loved the Virgin River series and need to read the books – which I have on my to be read shelf.
I like guilty pleasure TV like Dallas Cowboys Cheerleaders, Making the Team. There's something about watching people reach for the dream. Top Chef and Project Runway are top on my list too. And I'll re-watch these while I'm working on planning. While I walk on the treadmill I watch Star Trek Discovery because I've never seen these before.
I also love visiting the beach, but since we are 13 hours away, that tends to be a limited visit. I chat with my BFF probably once a week at least.
What are you working on now?
Currently, I'm writing a Farm to Fork mystery so I'm back in Idaho, but in the southwestern region where farmland and small towns are plentiful. (Even though the popularity of the area is changing that quickly.)
Killer Comfort Food just released earlier this month. And the one I'm writing today, will release January 2022.
Final words of wisdom for aspiring writers:
Write a book. Not four chapters. A book.
Finish the first book. Edit it. Put it away and write a second book. Edit. Repeat.
If you want to be an author and make a livable wage, treat your writing time less like an artist creating a masterpiece and more like an honest 8-hour shift where you do the best you can.
Tomorrow you'll write better. And the next day. If you put in the time. There's always something new to learn. Keep writing. Keep learning. Treat it as a business.
Author Pet Corner
Meet Lynn's four legged family members!
Dexter – Our boss of the family. Or at least he thinks so. He's a two-year-old Keeshond who likes cheese, long walks with his family, and sleeping on his mother's pillows.
Quinn – Dexter's sister from the same little. She's the smart one. She is more careful about what she eats, but she loves to distraction her family as well as any strangers. She loves walking and sleeping on the poof pillow. She also thinks she's a forty-pound lap dog.
Thor – He's a rescued feral cat who's way too tall according to the vet. He loves sitting on the desk and managing Lynn's writing although he has a bad habit of sitting on the desk phone and keyboard. He also loves boxes.
Great advice! Adorable pets. Wonderful to have you visit with us. Best of luck with all your projects!
---
Lynn Cahoon is the author of the NYT and USA Today best-selling Tourist Trap cozy mystery series. She also pens the Cat Latimer series, the Farm to Fork series, and the Kitchen Witch series.
Small town setting, big time fun with a bit of murder to keep it interesting. Romance novels are published under the pen name, Lynn Collins. She lives in a small river town like Mark Twain with her husband and three fur kids.
To learn more about Lynn, click on her name, photo or any of the following links: Goodreads, Twitter, Facebook & Amazon
---
Visit all the stops along the tour!
February 1 – #BRVL Book Review Virginia Lee Blog – SPOTLIGHT
February 1 – Escape With Dollycas Into A Good Book – SPOTLIGHT
February 2 – Literary Gold – REVIEW
February 2 – Maureen's Musings – SPOTLIGHT
February 3 – Brooke Blogs – SPOTLIGHT, EXCERPT
February 3 – The Book's the Thing – REVIEW
February 4 – Celticlady's Reviews – SPOTLIGHT
February 4 – Books a Plenty Book Reviews – REVIEW, CHARACTER GUEST POST
February 5 – I'm All About Books – SPOTLIGHT
February 5 – Mochas, Mysteries and Meows – CHARACTER INTERVIEW
February 5 –  Novels Alive – GUEST POST
February 6 – Christy's Cozy Corners – GUEST POST
February 6 – Laura's Interests – REVIEW, EXCERPT
February 7 – Moonlight Rendezvous – REVIEW  
February 7 – Sapphyria's Book Reviews – REVIEW 
February 8 – Ruff Drafts – SPOTLIGHT
February 8 – Author Elena Taylor's Blog – AUTHOR INTERVIEW
February 9 – FUONLYKNEW – SPOTLIGHT
February 9 – Novels Alive – REVIEW
February 10 – Wickedly Romance – REVIEW, EXCERPT
February 10 – Eskimo Princess Book Reviews -SPOTLIGHT
February 11 – The Avid Reader – REVIEW  
February 11 – I Read What You Write – REVIEW, RECIPE
February 12 – Cozy Up WIth Kathy – REVIEW, AUTHOR INTERVIEW
February 12 – Kaisy Daisy's Corner – SPOTLIGHT
February 13 – Nadaness In Motion – REVIEW  
February 13 – Carla Loves To Read – REVIEW, CHARACTER GUEST POST
February 14 – Christa Reads and Writes – SPOTLIGHT
February 14 – Paranormal and Romantic Suspense Reviews – SPOTLIGHT, EXCERPT
February 15 – Melina's Book Blog – REVIEW
February 15 – Socrates Book Reviews – SPOTLIGHT
---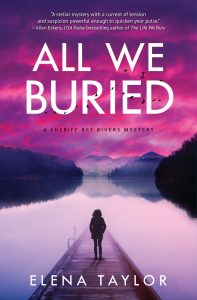 Elena Taylor is the author of All We Buried, available now in print, e-book, and audio book format at all your favorite on-line retailers. And don't forget many independent bookstores can order books for you and have them shipped to your home or for curbside pickup.
For more information on All We Buried, click on the link here to visit the home page.