---
A Side of Murder (A Cape Cod Foodie Mystery)
Cozy Mystery
1st in Series
Publisher: Berkley (February 23, 2021)
Mass Market Paperback: 320 pages
ISBN-10: 0593199146
ISBN-13: 978-0593199145
Digital ASIN: B087PL9HHF
A Side of Murder
Beautiful Cape Cod, Massachusetts, is known for seafood, sand, surf, and, now…murder.
Samantha Barnes was always a foodie. And when the CIA (that's the Culinary Institute of America) came calling, she happily traded in Cape Cod for the Big Apple. But then the rising young chef's clash with another chef (her ex!) boils over and goes viral. So when Sam inherits a house on the Cape and lands a job writing restaurant reviews, it seems like the perfect pairing. What could go wrong? Well, as it turns out, a lot.
The dilapidated house comes with an enormous puppy. Her new boss is, well, bossy. And the town's harbormaster is none other than her first love. Nonetheless, Sam's looking forward to reviewing the Bayview Grill—and indeed the seafood chowder is divine. But the body in the pond outside the eatery was not on the menu. Sam is certain this is murder. But as she begins to stir the pot, is she creating a recipe for her own untimely demise?
Amy Pershing author of A Side of Murder
Amy Pershing is a lifelong mystery lover and wordsmith. She was an editor, a restaurant reviewer, and a journalist before leading employee communications at a global bank. A few years ago (with the final college tuition bill paid), she waved goodbye to Wall Street to write full time (and spend more time sailing on the Cape!). A Side of Murder, the first of the Cape Cod Foodie mysteries, is her debut novel.
---
Visit all the blog stops!
Reading, Writing & Stitch-Metic
Mystery Thrillers and Romantic Suspense Reviews
Escape With Dollycas Into A Good Book
---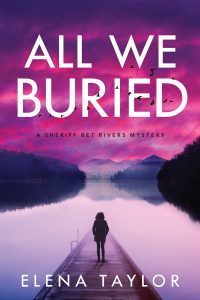 Elena Taylor is the author of All We Buried, available now in print, e-book, and audio book format at all your favorite on-line retailers. And don't forget many independent bookstores can order books for you and have them shipped to your home or for curbside pickup.
Amazon Kindle Book Deal! $1.99 January 1-31.
For more information on All We Buried, click on the link here to visit the home page.