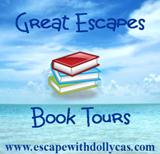 Mystery Bones Murders is the latest novel by author Karen Randau and the first in her Frankie Shep Suspense Novellas. Learn all about the novella, the author, and the other stops along her Great Escapes Virtual Book Tour!
Author Interview + Book & Author Interview + Rafflecopter Giveaway
---
Mystery Bones Murders
Frankie Shep is still mourning the deaths of her husband and young son when she finds a bone in the far corner of her Wyoming cattle ranch.
Excited to think she may have discovered an ancient Native American village, she takes the bone to a lifelong friend who is now a forensic anthropologist on contract with her county.
After a cursory inspection, he turns a blood-chilling stare at Frankie. The bone isn't ancient. Worse, the victim could be the remains of Frankie's mother. She disappeared from her own bed more than a decade ago.
And now her retired father is missing.
As Frankie digs deeper, she discovers the terrifying truth that a serial killer is using her land to bury his victims, all members of her family and inner circle.
And now he's watching her.
Mystery Bones Murders is a story of love, heart-wrenching deception, and finding redemption.
Mystery Bones Murders (Frankie Shep Suspense Novellas)

Mystery – Thriller
1st in Series
Independently Published (November 30, 2020)
Print length: 131 pages
ASIN: B08PDGPJT6

To buy the book, click on the link: Amazon
---
Mystery Bones Murders: Karen Randau—Author Interview
Tell us about Frankie Shep, the protagonist in Mystery Bones Murder.
Frankie is a spunky red head who is dyslexic and blames herself for the deaths of her husband and young son five years ago. Having isolated herself on her ranch, she is closest to her animals: a two-year-old German Shepherd, an American paint horse, and a pet cow with a calf.
After Frankie's mother disappeared from her bed when Frankie was in college, Frankie started having nightmares about being kidnapped. She is obsessed with checking the window locks. As her father lost his gumption after his wife disappeared, he taught Frankie how to run the ranch. He retired two years ago, and she's worried that she hasn't seen him for six months.
Now 35, Frankie succeeds with the help of her ranch hand, Cole. He has been like a brother to her since she was young, and his wife, a Peruvian named Isabella, is Frankie's best friend—her only friend, really, except for her animals. As the story begins, Frankie realizes she's lonely and needs to get herself back into living life.
Mystery Bones Murder is set in Wyoming. That's a departure from your previous Rim Country Mysteries set in Arizona. How does geography play a role in the new book? What prompted you to make the shift?
I got the idea to write a book set is Wyoming when I vacationed there several years ago. I was captivated by the beauty of the mountains, the sunsets, and the many ranches I saw while driving through the state. I knew a little about ranching from when I lived in Colorado with my farmer grandparents and tried to bring that part of the country to life for my readers, as I did with Arizona in my Rim Country Mysteries.
What drew you to write about a serial killer?
Originally, I was writing this story as part of a set of novellas by several different authors. Our theme was serial killers. All the novellas are now sold alone rather than part of the set. When I wrote Mystery Bones Murders, I wanted to give it a down home feel with a cast of characters no one would suspect of killing anyone.
Tell us about the Rim Country Mystery Series:
There are four books in the Rim Country Mystery Series: Deadly Deceit (2016), Deadly Inheritance (2017), Deadly Choices (2018), and Deadly Payload (2019).
In Deadly Deceit, Rita lives the kind of life we all want—happy family, nice house, good friends… until a confused young man blows away her husband and thirteen other people during movie previews and popcorn in the local theater.
Now alone and stalked by a mysterious man on a Harley, she begins to question everything she thought she knew about her thirty-year marriage. And about herself. She teams up with the detective investigating the shooting and uncovers thirty years of deceit that began when her husband served in the first Gulf war.
In Deadly Inheritance, Rita finds love again and honeymoons in Scotland, where she and her new husband find all kinds of trouble.
Deadly Choices brings Rita's vegetarian hippy artist mother to their small mountain town in Arizona. Rita takes Willow camping, and an elderly woman stumbles into their site with an arrow in her chest.
Mother and daughter team up with Rita's detective husband to investigate.
Deadly Payload begins with dead birds falling from the sky, killed by a mysterious pathogen someone put into the town's water supply. There is no cure, and Rita's husband and son are critically ill, leaving her to solve the mystery and thwart a much larger attack. Deadly Payload was a finalist in the Beverly Hills Book Awards and the Book Excellence Awards.
Tell us about the Tawnee Mountain Series:
There are seven novellas by seven different authors in the Tawnee Mountain Mystery Series. We all took the characters from our own series to a posh resort in New Jersey.
In my story, Deadly Reception, Rita's daughter is getting married to a man from New Jersey. When Rita and her husband arrive in their room, they find a decapitated body in their closet. Things explode into high gear when the victim's head shows up at the golf equipment shack.
A good look at his social media makes Rita wonder if a wife murdered her husband as revenge for infidelity. Or did a secret admirer decide to liberate the wife from her scoundrel husband?
Your background is in nonprofits, how has your work in international relief impacted you as a writer?
My many years of working for an international nonprofit focused on social justice taught me a lot about life, people, and justice. I've traveled to several developing nations and seen people overcoming the kinds of hardships people in the U.S. rarely if ever face.
I've been in war zones, witnessed starvation caused by famine, had my heart broken by children with preventable diseases because of extreme poverty, and been angered by the way many of the world's women are treated as property rather than marriage partners.
I've seen how hard women have to work for their families to survive, and I've seen great joy despite debilitating poverty. I've incorporated what I've learned about the human spirit into my writing. My protagonists are strong, resilient women who would sacrifice anything for their loved ones. They find joy in little things.
In Deadly Deceit, I bring some of what I learned about women in developing countries into the story.
What are you working on now?
I'm writing Book 2 in the Frankie Shep thriller series of novellas. It's a winter survival story. Frankie is on her way to speak to other ranchers about environmental protection (something else I learned while working for that non-profit). Her airplane crashes on a high peak of Colorado's Rocky Mountain National Park. She taps into the survival skills her father taught her after Frankie got lost in a blizzard as a child. (I learned a few survival skills when my son was a Boy Scout.)
But the question is, will those skills be enough to get the sole survivors (Frankie, a toddler girl, and a Pomeranian dog) out of arctic conditions and down to civilization? The more she travels downhill, the more she realizes her fellow passengers were victims of a mass murderer.
Final Words of Wisdom for Aspiring Writers:
Learn about the craft of writing and the business of publishing by attending workshops, going to conferences, and networking with authors, editors, and designers.
Read a lot and write every day, even if you can only manage a few hundred words—both will improve your writing skill.
When you think you're done with your manuscript, hire an editor and don't take their feedback personally. Decide if self-publishing or traditional publishing is right for you, and then doggedly pursue that path. Most important, never give up on your dreams.
Fabulous advice! Great to have you visit with us today, looking forward to having you back with your next book!
---
About the Author of Mystery Bones Murders
Karen Randau authors fast-paced stories with intricate plots, lots of action, and a dash of romance told from the point of view of a female amateur sleuth.
Mystery Bones Murders is her sixth book and the first book in a new series of novellas. She lives in the mountains of Arizona with her multi-generational family.
To learn more about Karen, click on her name, photo, or any of the following links: Facebook, Twitter, Goodreads & BookBub
---
---
Visit all the stops on the Mystery Bones Murders tour!
January 18 – I'm All About Books – SPOTLIGHT
January 19 – Author Elena Taylor's Blog – AUTHOR INTERVIEW
January 20 – StoreyBook Reviews – REVIEW, GUEST POST
January 21 – Celticlady's Reviews – SPOTLIGHT, EXCERPT
January 22 – Brooke Blogs – SPOTLIGHT
January 23 – Cassidy's Bookshelves – REVIEW, CHARACTER GUEST POST
January 24 – Literary Gold – SPOTLIGHT, EXCERPT
January 25 – Maureen's Musings – SPOTLIGHT
January 26 – Escape With Dollycas Into A Good Book – REVIEW, GUEST POST
January 27 – The Pulp and Mystery Shelf – AUTHOR INTERVIEW
January 28 – MJB Reviewers – SPOTLIGHT
January 29 – I Read What You Write – CHARACTER GUEST POST
January 29 – Ruff Drafts – SPOTLIGHT
January 30 – FUONLYKNEW – SPOTLIGHT
January 31 – Sapphyria's Book Reviews – SPOTLIGHT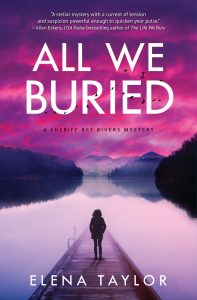 Elena Taylor is the author of All We Buried, available now in print, e-book, and audio book format at all your favorite on-line retailers. And don't forget many independent bookstores can order books for you and have them shipped to your home or for curbside pickup.
For more information on All We Buried, click on the link here to visit the home page.
Kindle Ebook Deal $1.99 through January 31