Medical Thriller, Unnatural by Deven Greene,  launches this week.
Author Interview + Book & Author Info
---
Medical Thriller: Unnatural by Deven Greene
Dr. Erica Rosen is perplexed when she sees a young Chinese girl with blue eyes in her San Francisco pediatrics clinic. The girl's mother, Ting, is secretive, and Erica suspects she has entered the country illegally.
Later, Erica encounters Ting's son and discovers he has an unusual mutation. Erica learns that Ting's children underwent embryonic stem cell gene editing as part of a secret Chinese government-run program.
The Chinese government wants to murder Ting's son to prevent others from learning about his unusual mutation and the secret gene-editing program.
At Ting's urging, Erica heads to China to expose the program and rescue the infant Ting was forced to leave behind, all while attempting to evade the watchful eye of the Chinese government.
---
Medical Thriller Author Deven Greene
Fiction writer Deven Greene lives in the San Francisco Bay area. Ever since childhood, the author has been interested in science. After working as a biochemist, Deven went back to school and became a pathologist.
When writing fiction, the author usually incorporates elements of medicine or science. Deven has penned several short stories. Unnatural, Erica Rosen MD Trilogy Book 1 is the first novel the author has published. The two sequels are in the works.
To learn more about Deven, click on her name or the following links: Facebook & Instagram
---
What is a Medical Thriller? V
illains use medical knowledge for their own evil purposes, often releasing epidemics or manipulating science.
---
The Interview
Tell us about your road to publication:
Rather than a smooth road, it was more like a difficult, rocky trail. I sent queries to a number of agents, most of whom rejected my project or didn't bother to respond. A few wanted more to read, but never got back to me. After a while, I decided to look for a publisher directly. It didn't take too long before I was offered a contract with an independent publisher, Black Rose Writing.
I showed the contract to an attorney, tweaked it a bit, and signed it.
Elena says, Smart to use an attorney!
What would you like readers to know about Unnatural?
Unnatural is a thriller about a secret government facility where human embryonic gene editing is performed. Once the plot started to form in my mind, I realized the secret facility would need to be located in a scientifically advanced country with a strong authoritarian government. That narrowed the choice down to Russia and China. I chose China, reasoning the presence of a blue-eyed Chinese girl would raise questions.
As there is an international agreement forbidding gene editing in viable human embryos, I didn't believe there actually was such a program. However, shortly after I finished the first draft of my novel, a Chinese scientist announced he had performed the first human embryonic gene editing experiments leading to live-born infants. Needless to say, after doing a lot of swearing to myself, I had to make a few adjustments to my book.
You also write short stories. How does your process differ between writing those and writing a novel?
Composing a short story requires much less planning than writing a full-length novel. The plot for short stories is simpler, and I don't need to do as much research. Fewer characters and scenes are introduced, so the number of descriptions is limited.
I draft novels at my home PC which has a large monitor, enabling me to have reference materials open on my screen desktop as I write.
When I travel (something I haven't done for a while due to the pandemic), I bring my laptop. Due to the small screen size, I use that computer only for editing or short story writing, as I generally don't need anything other than my work in progress to be displayed.
How has your background as a biochemist and pathologist impacted your writing?
Most of my writing incorporates my knowledge in these areas. That was certainly the case when I wrote Unnatural. I find it both fun and challenging to use my scientific and medical background in developing my story lines.
What has been the most surprising part of the publication process up to the launch of your first book?
The need to use social media to promote my novel is perhaps the biggest surprise. I've only started using Facebook and Instagram recently. Twitter is something I haven't tackled yet.
What are you working on now?
I am finalizing the sequel to Unnatural which will be published in October, 2021. Called Unwitting, it is book 2 of the Erica Rosen Trilogy. I am also working on the final novel in the series, but don't have a title for that one yet.
Final words of wisdom for aspiring authors:
Other than encouraging you not to give up, I would recommend you get input from as many readers as you can (other than your spouse or your mother), and edit your work as much as you can tolerate.
---
Thanks for hanging out with us today! Looking forward to having you back to talk about book 2.
---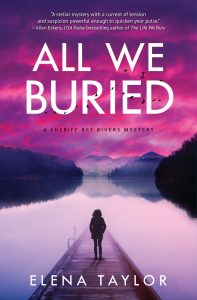 Elena Taylor is the author of All We Buried, available now in print, e-book, and audio book format at all your favorite on-line retailers. And don't forget many independent bookstores can order books for you and have them shipped to your home or for curbside pickup.
For more information on All We Buried, click on the link here to visit the home page.
Amazon Kindle E-book Deal! $1.99 through January 31.
Header photo by Shameersrk on Pixabay