Priscilla Paton brings back her dynamic duo—Erik Jansson and Deb Metzger—in her latest Twin Cities Mystery, Should Grace Fail, launching December 8. I'm thrilled to chat with her dueling protagonists. Read further for the full interview!
---
Love mysteries that pack a punch? Read my interview with August Norman on his latest Caitlin Bergman novel!
---
Priscilla Paton: The Author
Priscilla Paton writes mysteries set in the greater Minneapolis/St. Paul area.
Priscilla grew up on a dairy farm in Maine. She received a B.A. from Bowdoin College, a Ph.D. in English Literature from Boston College, was a college professor and taught in Kansas, Texas, Florida, Ohio, and Minnesota. She has previously published a children's book, Howard and the Sitter Surprise, and a book on Robert Frost and Andrew Wyeth, Abandoned New England.
She married into the Midwest and lives with her husband in Northfield, Minnesota. When not writing, she participates in community advocacy and literacy programs, takes photos of birds, and contemplates (fictional) murder.
To learn more about Priscilla, click on her name, photo, or any of the following links: Facebook, Twitter, LinkedIn, and Goodreads
---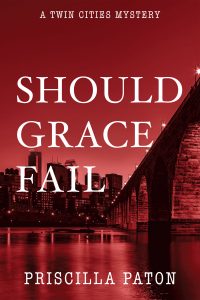 Should Grace Fail by Priscilla Paton
When a man who saves lives has his own brutally taken, Greater Metro Detectives Erik Jansson and Deb Metzger have their strengths pushed to the limit. The murdered man rescued trafficked teen addicts from a vindictive crime boss, but he was also an alcoholic who left the police force under suspicion.
Is his murderer a drug dealer, a pimp, a corrupt police colleague, all of the above? Or could the killer be a victim who lashed out at her savior?
In the mix is the imperious matriarch of a hotel chain who is blind to incidents on her properties. The best friend of the dead man yearns to help but shows up in the wrong place at the wrong time with his therapy dogs. And a biracial eighteen-year-old pianist, haunted by drug abuse, finds herself protecting a charming sweetheart from the draw of crime.
To solve the case, blunt Deb has to ingratiate herself with the hotel matriarch while resisting her attraction to the woman's foxy assistant. Reserved Erik needs to earn the trust of a wrongfully accused teen. The detectives are pushed over a riverbank, pushed off a golf course, and pushed into a tiger enclosure. If they don't catch the killer, the best friend and the young pianist are as good as dead. Erik and Deb, working with and against each other, must move fast before helping others proves fatal.
To buy the book, click on the following links: Amazon and Barnes & Noble
---
Character Interview
Hi, Erik, Thanks for chatting with us today. My readers would love to know a little bit more about your background. Tell us something about yourself:
Erik: "Thank you for your interest, Elena. I'm Erik Jansson—yes, that's a Scandinavian name—a homicide detective with Greater-Metro Investigative Unit, G-Met, which serves the Minneapolis/St. Paul region. G-Met is, well, called the bastard offspring of Minnesota's Bureau of Criminal Apprehension, the BCA. The BCA was made famous by a fictional detective who thinks he can get away with shooting people. At G-met, we're about not shooting people (most of the time), but about headwork, legwork, and unusual strategies. Now you're an experienced interviewer, and I'd like hear about your techniques—"
Deb: "Partner, you haven't said a thing about yourself except you're a Swedish/Norwegian porridge. Typical. Or introduced me. I'm his partner, Detective Deb Metzger. We stick together like gum to a shoe. I'm lesbian and 6'2" in boots. Erik here is 6'2" in shoes, his legwork is running marathons, and I bet he's charming you with his smile. Be careful there. He looks like a straight arrow but is more of a curve ball. With me, what you see is what you get." 
Hi, Deb, Great to have you here as well. What else should readers know about you?
Deb: "I focus on crimes against women and children, which too often includes murder. Heartbreaking cases. In our latest, someone is trafficking disadvantaged young women, and these women have serious trust issues with the law. It's a devil to connect with one girl in this case. I also have to get on the right side of a stubborn old rich woman. You have to build trust, and, um, I'm working on that."
Erik: "Tact helps."
Deb: "Did I ask for advice? BTW, I grew up in Iowa, as did Erik, so we're grounded. A lot of ground in Iowa. If we get hungry during this interview, he's probably got snacks squirreled away—one of those skinny people who eats all the time. We're both fit. He does activities where you need bug-spray—hiking, kayaking. I like civilized stuff—golf, swimming, tennis. Now our boss, 'Almost Allwise' Ibeling says—"
Erik: Deb, I'm sorry to interrupt, but we're on a schedule.
The two of you have teamed up before, what are the strengths and weaknesses you each bring to the team?
Deb: "I have to admit, Erik can get around people who think they're too smart to be caught, like arrogant CEO's and streetwise con artists, because he's a schemer himself. He's good looking so women open up to him, but they might play him, too. He's physically quick, and so far, knock on wood, we've both survived potentially fatal situations. I suppose I should say he's thoughtful when you don't expect it and dotes on his little boy."
Erik: "Deb's a relentless advocate for the underdog, for the marginalized. She has insight into abusers and their destructiveness. She has to deal with parents' grief. She's also a spiky blonde Xena warrior princess. And she's funny, even when she doesn't mean to be."
Deb: "Ha ha."
This latest investigation has you looking into the death of one of your own. Did that have an impact on your feelings about the case?
Deb: "I'll take this one, Partner, cover your ears. You see, Elena, Erik's not one for 'feeling' talk, but finding the body of a former policeman hit him hard. I think the guy looked a little like Erik's dad, and the guy was in the act of rescuing a girl when he was killed. A reminder that it can be fatal to get in a criminal's way, as we do all the time. Me—I saw the dead man through the filter of his angry daughter. He'd been a violent alcoholic when he was on the force and virtually deserted her. I wish things were simply good or bad, but there are many sides to this dead man's story."
There's been a lot of turmoil in policing in the United States. What's it like to be a detective in the Twin Cities right now?
Deb: "Black Lives Matter."
Erik: "Yes, Black Lives Matter. Recent events involving police killing of—it's. . . I'll start again. I've been. . . demoralized is the word, by the atrocities. I thought we—the police—were better than that. I've been a whistle-blower on colleagues' bad behavior and found that was a terrible position, lose-lose. And, I'll admit it, I love Minneapolis and St. Paul, and to see what happened to the people, the places—"
Deb: "Don't take it all on yourself, Partner. As for me, I'm stuck on a committee to make structural changes. Committees, where hope turns crazy. I have to remind my partner here that we're fictional characters, hated by fictional enemies."
Erik: "Still, I should've been more aware. In our current case, which in a time warp occurs before 2020, one line of inquiry involves a biracial pianist and her seventeen-year-old Black cousin. I'm worried."
Deb: "Yeah, scary serious. But a big chunk of our fictional duty is to lighten things up for the reader, take on cases that, uh, cases that—"
Erik: "Go well with a glass of wine?"
Deb: "Right. Or a latte. With a brownie."
Your author has given both of you obstacles to overcome in your personal lives. Has she treated you fairly? How do you feel about the flaws she's worked into your characters?
Erik: "She could throw in more sex."
Deb: "Definitely, she could throw in more sex."
Erik: "Instead she goes into why we aren't getting sex. She implies my moodiness contributed to my divorce and impedes working well with others."
Deb: "By 'others,' Erik means me."
Erik: "The author has me take things to heart, which is good if it's concern for Ben, my son. Bad if it's resentment. Maybe I'm not as mature as I should be. She has me play petty tricks on a fellow officer, Drees."
Deb: "Drees is a tool. I like that the author lets me speak my mind. Except when she doesn't let me think first. I've put my foot in it. My ex-girlfriend said I had a chip on my shoulder the size of a concrete block. That's harsh. True, but harsh. I mean, because I'm an overly tall non-cisgender female, this author implies that I've had shit thrown at me. Okay, that's true, too. So—I say 'so' a lot—as an author, she's not too bad."
Erik: "I'd say still learning. We all are."
What do readers have to look forward to next? Will you two be back to solve another crime?
Deb: "I need to find a place to live (long story), but there's a housing crisis everywhere, homeless encampments. Eviction fears. Then there are properties people would kill for. Oops, I've said too much."
Erik: "I've been talking with several real estate agents, women, one a single parent, like me. I'm sensing deep jealousies, a hidden fatal attraction."
Deb: "You're hoping they'll have a cat fight over you."
Erik: "The possibilities remain open. Thanks, Elena. Our chief is buzzing us."
Deb: "Yup, thanks. Oh, is it true you're married, like, to a man? Darn. Well, you have my number."
Erik: "We're going, Deb."
Deb: "Yup, bye."
---
Erik and Deb! Thanks for visiting with us. And thank Priscilla Paton for me as well!