Tina Kashian joins us on her Great Escapes Virtual Blog Tour for her latest Kebab Kitchen Mystery, Mistletoe, Moussaka, and Murder. Click the link here to check out all of Tina's tour stops.
---
Wondering about other Great Escapes Virtual Blog Tours? Don't miss recent posts for mystery authors Vicki Delany and Nupur Tustin. Click on their names to visit the posts.
---

The Book: Mistletoe, Moussaka & Murder
Mistletoe, Moussaka, and Murder (A Kebab Kitchen Mystery)
Cozy Mystery
5th in Series
Publisher: Kensington (September 29, 2020)
Mass Market Paperback: 336 pages
ISBN-10: 1496726073
ISBN-13: 978-1496726070
Digital ASIN: B082WR6DMT
Not even her impending nuptials can keep Lucy Berberian, manager of her family-owned Kebab Kitchen, from the Jersey Shore's annual Polar Bear Plunge. But her dive into the icy ocean is especially chilling when she finds a fellow swimmer doing the dead man's float—for real . . .
Who would kill a man in cold blood during Ocean Crest, New Jersey's most popular winter event? When Lucy learns the victim is Deacon Spooner, the reception hall owner who turned up his nose—and his price—at her wedding plans, she can't help wondering who wouldn't kill the pompous caterer . . .
Perhaps the culprit is the wedding cake baker whose career Deacon nearly destroyed? Or the angry bride whose reception he ruined? With her maid of honor, Katie, busily planning Lucy's wedding without her, Lucy will have to get to the bottom of this cold-hearted business in time for Kebab Kitchen's mouthwatering Christmas celebration—and before her hometown's holiday spirit washes out to sea . . .
Recipes included!
---
Tina Kashian: The Author
Tina Kashian is an attorney and mechanical engineer whose love of reading for pleasure helped her get through years of academia. She is the author of the popular Kebab Kitchen Mediterranean cozy mystery series for Kensington Publishing.
Tina spent her childhood summers at the Jersey shore building sandcastles, boogie boarding, and riding the boardwalk Ferris wheel. She also grew up in the restaurant business, as her Armenian parents owned a restaurant for thirty years.
Tina still lives in New Jersey with her supportive husband and two daughters. Please visit her website at www.tinakashian.com to join her newsletter, receive delicious recipes, enter contests, and more!
To learn more about Tina, click on her name, photo, or any of the following links: Facebook, Twitter, Instagram, Bookbub, and Goodreads
---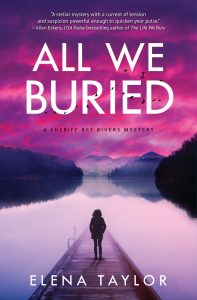 Elena Taylor is the author of All We Buried, available now in print, e-book, and audio book format at all your favorite on-line retailers. And don't forget many independent bookstores can order books for you and have them shipped to your home or for curbside pickup.
For more information on All We Buried, click on the link here to visit the home page.