Melissa Bourbon launches Murder in Devil's Cove—Great Escapes Virtual Book Tour
Welcome to the Great Escapes Virtual Book Tour for Melissa Bourbon's Murder in Devil's Cove
Visit all the stops along the way by clicking the link here.
Author Interview & Review
---
The Book: Murder in Devil's Cove by Melissa Bourbon
Murder in Devil's Cove: (A Book Magic Mystery)
Cozy Mystery
1st in Series
Publisher: Lake House Press (September 22, 2020)
Number of Pages: Approx 300
Digital ASIN: B088J48JY8
Two best-selling authors, one magical universe.
In the Book Magic Mystery Series, best-selling authors Melissa Bourbon and Wendy Lyn Watson bring you the story of cousins Pippin Lane Hawthorne and Cora Lane.
The cousins live on opposite coasts (Pippin in Devil's Cove, North Carolina, and Cora in Laurel Point, Oregon), but they share the family gift of bibliomancy: the ability to foresee the future and unravel the past with the help of the books we love.
Join Pippin and Cora as they use their otherworldly power to solve mysteries in their respective worlds.
---
Every book tells two stories—one written on the pages with pen and ink, and one woven into the paper, a story of the soul. The Lane women have the gift of bibliomancy. They can read both.
But Cassie Lane doesn't see this as a gift. For her, it is a curse because the book magic comes with a price–the Lane women die young and the men are lost to the sea. As soon as she's able, she leaves Laurel Point, Oregon, running from her past and her fate, ending up in the Outer Banks of North Carolina.
There she meets Leo Hawthorne and lives a perfect life with him in an old Sea Captain's house.
Perfect, that is, until an old book foretells the future, and the curse that has plagued the Lane women comes true for Cassie.
Twenty years later, Cassie and Leo's children, twins Pippin and Grey, are back in Devil's Cove. Long forgotten secrets surface and an old crime comes to light. Now Pippin must learn how to be a bibliomancer if she is to discover the truth about her father and continue his effort to stop the curse.
To buy the book, click the link: Amazon
---
Author Interview: Melissa Bourbon
How did you come to write the Book Magic Mysteries along with Wendy Lyn Watson and how does the collaborative process work?
Neither Wendy or I have done any sort of collaboration, so this is all new to us. She and I are close friends. We met after I first moved from California to North Texas and have been friends ever since. I've since moved to North Carolina, but for me, Wendy is one of those people that, no matter how much time has passed and no matter where life takes us, when we talk or see each other, we fall right back into the rhythm we had.
In North Texas, she and I lived one street over from one another. We walked, talked, and plotted our respective books together. One day—this was years ago—while we were out walking, Wendy shared with me an idea she had about a bibliomancy mystery series. I instantly loved the idea and couldn't wait for her to write it. In fact, if I am remembering things accurately, I pestered her about it quite a bit!But life got in the way.
---
"A few years passed and we revisited the concept of the series." —Melissa Bourbon
---
Wendy is a professor, so her day job and her other book contracts came first. The Book Magic Mysteries remained just a brilliant idea, but it was still on both of our minds and we couldn't let go of it. A few years passed and we revisited the concept of the series. Except instead of it being written only by Wendy, we came up with the idea of doing it together. Basically that means that we created the entire series arc/plot together.
We determined how each bit of key information will be revealed. We created an entire world around the Lane family. The series features Cora and Pippin, who live on opposite coasts. The Death books, written by Wendy, star Cora who lives in Laurel Point, Oregon. The Murder books, written by me, are set in Devil's Cove, North Carolina on the Outer Banks. Cora and Pippin are cousins and bibliomancers. There is a family curse and mysteries on each coast.
We are taking turns writing the books, so readers can expect to have 2 books a year in the series. The first, Murder in Devil's Cove, written by me, just released. Death at Cape Misery, book 2 written by Wendy, will come out on December 1st. From there, we alternate. Book 3, Murder at Sea Captain's Inn, will be out in early summer 2021. Each book stands on its own, but also reveals a bit about the bigger series story.
Wendy and I are both so excited about this series! I love, love, love it more than I can convey.
You also write as Winnie Archer. Do your personas have different writing styles? How do your series differ?
My Bread Shop Mysteries are written as Winnie Archer. These books are cozy mysteries, just like my Magical Dressmaking Mysteries. The Book Magic series has strong cozy elements. And my Lola Cruz series is a PI caper series. I write as Winnie Archer because that series is with a different publisher and they requested that new identity.
The style of my writing, even with my suspense mysteries, is very much the same. I love strong women, female friendships, and familial relationships. I adore small town settings. My style is easy to read and very accessible. That is true no matter what I'm writing!
Supporting the Latinx community is important to you, tell us about how your background impacted the Latinx characters in your books.
My husband is a first generation Mexican-American. We have 5 children who share his culture. From the moment I met him—and became part of his family—I've been immersed in the Mexican culture. As a couple, we've worked hard to bring that to our children through food, language, music, family, faith, and books.
When I first started writing, I wanted to create a character that would speak to my daughter (I have 4 boys and 1 girl). She's 20 now and finally interested in reading the Lola Cruz books! Like my husband and his siblings, Lola is a first generation Mexican-American. She's fully assimilated and lives an American life, yet her entire being is rooted in her family and culture, as well.
Creating a character (and all the supporting characters) that is authentic and real, and not stereotyped, was so important to me. My first editor for that book is Latina and she told me how much she loved Lola because she was a real person—not a cultural stereotype. That remains my favorite bit of praise!
The Lola series is (probably) finished, but I continue to bring a diverse cast of characters to all my book series. For me, that represents America and who we all are.
In addition to writing and raising five children, you are a dog lover. Tell us about your canine pals. Do they ever show up in your novels?
My pups!! Until about 8 years ago, we always had big dogs. Boxers. I loved them to pieces. When we lost one of our precious girls, we adopted a pug from a rescue. Bean was the last dog surrendered from a backyard breeder. He's a bit damaged, although he's come a long, long way. He's my little sidekick. He's a couch potato and the sweetest dog ever.
We lost our other boxer close to 2 years ago. I joined another pug rescue and a short while later, I, along with about 60 other people, got a message and picture about a little tan chug (chihuahua and pug mix). I was instantly in love.
We all had to fill out an application and write why we would be a good home for this pup. My writing experience served me well! I told about how we'd lost our sweet Jazzy and how Bean was lonely. I told about Bean's background, and ended by saying that Bean needed a friend.
We were the family chosen to adopt Dobby!   I was so nervous driving the 1 1/2 hours to pick him up. My husband was skeptical. "A little dog?!" He was less than thrilled. And we'd never had a tiny dog—Dobby is 11 pounds.
---
"…let me say, it was love at first sight for my husband!" —Melissa Bourbon
---
Well, let me say, it was love at first sight for my husband! Dobby and Bean are besties, and Dobby is such a character. We adore him!
They both keep me company while I write. As I'm writing this, they are curled up next to me. I love my pups.
Agatha, the brindle pug in the Bread Shop mysteries, is based off of Bean—although a little more spritely than he is.
In the Book Magic mysteries, I have a Vizsla that is modeled after a friend's dog. Hers is Finn (https://www.facebook.com/FinnChronicles), but I've made my book dog a female. He/she is a beauty!
With more than twenty novels under your belt, what do you know now, you wish you had known when you started out? And how has your writing process changed?
I am not really one to second-guess how things played out. I had offers from two agents with the Lola Cruz series. I sometimes wonder if I should have gone with the one I didn't sign with, but then my path would have been different and I wouldn't be where I am now.
Who knows what that other path would have looked like? I am so happy to be able to do what I love, to share my stories with my readers, and to live in the worlds of my book friends.
The biggest change in my actual writing process is that I no longer have to juggle writing with being a mom of young kids, and with teaching (former middle school English teacher). Now I get to write everyday. In some ways I actually work better under pressure, so it was an adjustment to not fritter my time away!
What are you working on now?
I'm just digging into the 7th Bread Shop book, tentatively titled The Ginger-Dead House. It's a holiday mystery! I'm loving it so far. After that, I'll be jumping right into Murder at Sea Captain's Inn, the next Book Magic Mystery.
Final words of wisdom from Melissa Bourbon:
Never give up! I wanted to quit so many times in the early years when I was discouraged, but I persevered, continued to learn and hone my craft (which I will always do), and here I am.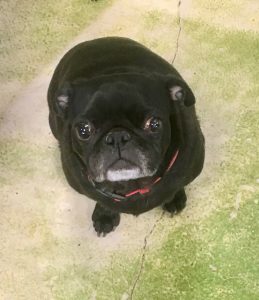 ---
My Thoughts on Murder in Devil's Cove by Melissa Bourbon
Murder in Devil's Cove is a fun, paranormal cozy with a great location and interesting characters.
Twins Pippin and Grey Hawthorne return to their family home after twenty years. The beautiful—but decrepit—house that "sported a combination of Cape Cod and old Southern Coastal architecture," calls to Pippin. She can imagine it returned to its former glory and turned into a successful Bed and Breakfast.
Located on the island of Devil's Cove, between the mainland of North Carolina and the barrier islands, the home is surrounded by water. Water that plays a pivotal role in their lives. Their mother, terrified of losing their father to the sea, died at a young age herself. Then their sea-faring father vanished, leaving the brother and sister with a tragic family story hanging over their heads.
It's that story that comes back to haunt them when they return to the island as adults. It's also a story that has not yet come to an end, as people connected to the long ago events begin to die in the present.
Pippin inherits her mother's curse (or is it a blessing?) of bibliomancy, the ability to foretell the future through a randomly chosen passage from a book. As she embraces her ability, she discovers why her mother didn't encourage reading, and what truly happened to their father twenty years ago.
Filled with quirky characters and atmospheric descriptions of the quaint town of Devil's Cove, Bourbon hits all the right notes for a cozy: amateur sleuthing, several possible suspects, bookstores, and a touch of romance.
Plus there's a dog. You just can't go wrong with a dog.
---
The Author: Melissa Bourbon
Melissa Bourbon is the national bestselling author of nineteen mystery books, including the brand new collaborative Book Magic mysteries, the Lola Cruz Mysteries, A Magical Dressmaking Mystery series, and the Bread Shop Mysteries, written as Winnie Archer.
She is a former middle school English teacher who gave up the classroom in order to live in her imagination full time. Melissa, a California native who has lived in Texas and Colorado, now calls the southeast home. She hikes, practices yoga, cooks, and is slowly but surely discovering all the great restaurants in the Carolinas.
Since four of her five amazing kids are living their lives, scattered throughout the country, her dogs, Bean, the pug, Dobby, the chug, and Jasper, a cattle dog/lab keep her company while she writes.
Melissa lives in North Carolina with her educator husband, Carlos, and their youngest son. She is beyond fortunate to be living the life of her dreams.
To learn more about Melissa, click on her name, photo, or any of the following links: Instagram, Facebook, and Book Warriors Facebook Group.
---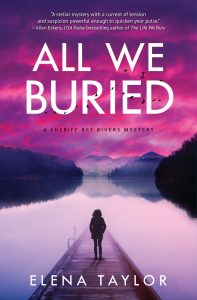 Elena Taylor is the author of All We Buried, available now in print, e-book, and audio book format at all your favorite on-line retailers. And don't forget many independent bookstores can order books for you and have them shipped to your home or for curbside pickup.
For more information on All We Buried, click on the link here to visit the home page.