Jokers Wild – Great Escapes Virtual Book Tour
Welcome to the Great Escapes Virtual Book Tour for Jokers Wild by Barbara Barrett
Visit all the stops on the tour by clicking the link here.
---
Author Interview: Jokers Wild
---
The Book: Jokers Wild
Jokers Wild (Mah Jongg Mystery Series)

Cozy Mystery
6th in Series
Publisher: Bowker (July 5, 2020)
Paperback: 232 pages
ISBN-10: 1948532220
ISBN-13: 978-1948532228
Digital ASIN: B0856RP32V

"The show must go on." That applies even to playwright Marianne Putnam, when the director of her one-act play, "Jokers Wild," fails to show for curtains up on opening night at the community theater in Serendipity Springs, Florida. When the director's wife begs Marianne to accompany her to their home to check on him, they find the man floating in his pool. Dead.
Though not known for his pleasant disposition—her relationship with him had been tense since nearly ramming into his car in a parking lot, but after all, he was the director—who would have wanted to murder him? Surely no one in the production crew, cast or the staff of the community center where the play was to be staged. Maybe it was the wife, who Marianne had overheard arguing with him. Or perhaps someone from his theater connections back in the Big Apple.
Since she was there when the body was discovered, Marianne is considered a suspect. That doesn't mean she can't help her three Mah Jongg friends—Syd, Micki and Kat—assist the sheriff with the investigation. But who's there to help her when her path crosses the murderer's.
---
The Interview with Barbara Barrett
Jokers Wild is book six in your series. Can readers jump in here? Or should they go back and read the first five?
I consider all the books in the Mah Jongg Mystery series to be stand-alone, readers can jump in at any point, so yes, readers can jump right into Book 6 without having read the first books in the series. However, I'm aware from talking to cozy mystery fans that many prefer to start at Book 1 when they discover a new author.
To offset this tendency, new readers of this series can obtain a free digital copy of the introduction, The Mistresses of Mah Jongg, by subscribing to my newsletter at https://subscribepage.com/BBCozies.
What drew you to mah jongg players as a vehicle for your amateur sleuths?
Prior to COVID, I played mah jongg twice a week with friends. It was my way to relax my brain and keep it fresh for writing. (For the last three months, I've been playing online with three friends, one who is vacationing in New York State, one who lives in Florida and one who is in California).
After publishing eleven contemporary romance novels and two novellas, I decided it was time to pursue my other writing interest, cozy mysteries. From researching the field and from my own reading experience, I knew most cozies these days focused on a particular niche, one that was both captivating and compelling to readers as well as something about which I felt knowledgeable to write.
I love the culinary mysteries, but I didn't feel that was my area of strength to write about. Also, there were few cozy mysteries using mah jongg as the niche, so the field was wide open.
You rotate which of your characters takes the lead in an investigation. How did that choice come about?
Since typically four people play the game of mah jongg together, I thought it would be an interesting approach to this series to make each of those players around the table a major protagonist. But I discovered in the first book that it was less confusing to me as well as my readers to stay mainly in one point of view in a book. I wanted to emphasize friendship and community in this series, and the approach of alternating who was the lead would do that.
I also wanted to write about women my age, i.e., eligible for retirement but not show them as "over the hill."
Each of my four lead characters represents a slightly different approach to retirement; two have been happily married for years, one is a divorcee and the other has never been married. I didn't entirely give up my interest in contemporary romance. There are two developing romances in the series, and I'm having fun with those.
Jokers Wild takes place during the production of a one-act play. Do you have a background in theater? Or did it just feel like a great set-up for murder?
I had major roles in two high school plays, which qualified me to be a member of the Thespian Society. But that was years ago. More recently, like Marianne in this story, I discovered one-act plays when I took a short-term class in our local Lifelong Learning program.
My one-act was the first time I wrote about these four characters, a sort of test for myself whether I could develop four unique characters. I really enjoyed that experience with one-acts, but I decided I wanted to devote my writing energies to novels instead.
So I left one-acts behind.
But several in that same class have gone on to see their plays produced and place in various playwriting contests. I feature those in this book. In the Acknowledgements, I thank both a former classmate as well as my instructor, whose prior experience on Broadway and in other venues was a great incentive to taking the class and an invaluable source of information when writing this book.
You also write romance, what do you find the most satisfying about cozy mysteries and romance novels? Does it get confusing writing in two genres? Or is it fun to go from one to the other?
What I find the most satisfying is developing complex characters and relationships. I'm able to do that both with the friendships in my cozies and in my romances. I already mentioned above how romance has crept into this cozy mystery series, so I haven't put them behind me entirely.
My writing energies are currently devoted to writing cozies. I started my first indie romance series, UnderWright Productions, a few years ago and have published the first three books. They also are stand-alone, so I could end there. But I planted the seeds for two more, which one of these days I hope to return to.
I am also in the process of regaining the rights to my two romance trilogies with a small press. These are being re-edited with new covers. I hope to release them sometime in 2022. However, a lot has changed and is still changing in the world of romance, so their re-editing will be important.
What are you working on now?
I am getting ready to publish the seventh book in the Mah Jongg Mystery series, The Charleston Challenge, which will come out in late September 2020. I am also writing the eighth book in the Mah Jongg Mystery series, The Dragon Lady Gets Her Due, which I hope to have out before Christmas 2020.
Although there will probably be at least a ninth book in this series, I am beginning to develop the concept for the next series. I don't want to say much more about it at this time except to hint that it will have some tie-in to one of my favorite TV networks, HGTV.
Final words of wisdom:
---
"No one can defeat your dreams except you."
---
Aspiring writers have probably heard this many times, but that's because it's so true: Be true to yourself, follow your own drummer although at times it may seem to be off the beaten path, and persist. No one can defeat your dreams except you.
---
About the Author
Barbara Barrett started reading mysteries when she was pregnant with her first child to keep her mind off things like her changing body and food cravings. When she'd devoured as many Agatha Christies as she could find, she branched out to English village cozies and Ellery Queen.
Later, to avoid a midlife crisis, she began writing fiction at night when she wasn't at her day job in human resources for Iowa State Government. After releasing eleven full-length romance novels and two novellas, she returned to the cozy mystery genre, using one of her retirement pastimes, the game of mah jongg, as her inspiration. Not only has it been a great social outlet, it has also helped keep her mind active when not writing.
Jokers Wild, the sixth book in her "Mah Jongg Mystery" series, features four friends who play mah jongg together and share otherwise in each other's lives. None of the four is based on an actual person. Each is an amalgamation of several mah jongg friends with a lot of Barbara's imagination thrown in for good measure. The four will continue to appear in future books in the series.
Barbara is a member of Sisters in Crime, Sinc-Iowa, Romance Writers of America and the SpacecoasT chapter of Romance Writers of America.
She is married to the man she met her senior year of college. They have two grown children and eight grandchildren.
Now retired, she is a resident of Florida, although she spends her summers in Iowa, her home state. She earned her B.A. degree in History from the University of Iowa and her Master's Degree in History from Drake University.
When not in front of her laptop creating her next story, she plays mah jongg, travels and enjoys lunches with friends.
To learn more about Barbara, click on her name, photo, or any of the following links: Facebook, Goodreads, Twitter, Newsletter Sign up.
---
Great to have you visit with us today! Looking forward to seeing where your work takes you next.
---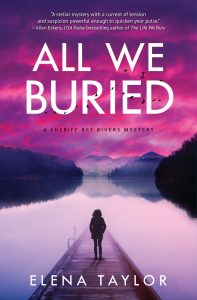 Elena Taylor is the author of All We Buried, available now in print, e-book, and audio book format at all your favorite on-line retailers. And don't forget many independent bookstores can order books for you and have them shipped to your home or for curbside pickup.
For more information on All We Buried, click on the link here to visit the home page.