Calling for the Money — Great Escapes Virtual Book Tour
Welcome to the Great Escapes Virtual Book Tour for the newly released Holly Price Mystery
Visit all the stops along the tour to learn about Cathy Perkins and her most recent release.
Character Interview + Review: Calling for the Money
---
Wondering about the virtual book tour for All We Buried? You can visit all the stops by going to my events page! Click the link here.
---
The Book: Calling for the Money
Holly Price has it all—or does she?
Holly worked her way to the top of her field. Now she has the job, the money, the whole package. Behind the scenes, however, she's wresting with a crushing workload, a backstabbing boss, a ruthless reporter, and the devastating worry she's made a massive life choice mistake.
Then a friend goes missing and a ruthless gang is … calling for the money.
Holly must confront her past, and define her future, if she wants to save both of them.
To buy the book click on the link for Amazon.
Calling for the Money (A Holly Price Mystery)
Cozy Mystery
5th in Series
Publisher: Red Mountain Publishing (June 25, 2020)
Number of Pages ~280
ASIN: B088KV7GLL
---
The Interview: Main Character Holly Price
What is the title of your most recent adventure?
The fifth book in the series, Calling for the Money, released this summer.
What is your full name? Do you like the name your author gave you? Or would you give yourself something different?
I'm Holly Price and I do like my name.
How did you get involved in the current investigation? Is it your first? Or one of many?
Sometimes I wonder how I get involved in these messes, but when my family and friends are threatened, well, I can't just sit there.
This time, oddly enough, Max Vincent's friends are the ones who need help.
Why is that odd? Max is the son of the woman who recently broke up my parents' marriage. I can't completely blame her—I lay that at my father's doorstep—but Max and I bonded over our irritation with both of them.
After Max's friend disappears and the police won't help, we have to keep digging until we find him—and figure out why he vanished in the first place.
Describe your favorite sidekick.
Laurie Gordon is my best friend and the one person who understands my crazy life. Unfortunately, she's back in Washington state while I'm in California covering this massive corporate transaction. Thank goodness for cell phones.
Then of course, there's JC Dimitrak, Franklin County detective and either the love of my life or the person I'm angriest with. Only someone who's gotten close to me can evoke those strong emotional reactions!
Where does your adventure take place?
While most of my adventures have taken place in eastern Washington, this time the action is in Venice Beach, California.
There's still a skateboard, druggie, surfer-dude vibe to the area, but tech companies, like my client, have quietly moved in and bought up the property. They've transformed it into something different. A little more upscale. A little more bland. Sad to say, no matter where you are, there are always going to be people who think the rules don't apply to them and who create a disaster for someone else.
What is your most defining characteristic?
I'm level-headed and logical—most of the time. My family has been driving me insane with the chaos they've thrown into my life.
But seriously, I'm not as uptight as my author occasionally makes me seem. Rick, my chief manager back in Richland, WA, tells me I'm better with the staff than I think, but I do have to remind myself not to scare them. For some reason, they think I'm intimidating, when that's the farthest thing from the truth.
I may be a bit driven. I've had a lot on my plate this past year, what with Dad having his mid-life melt-down and bailing on Mom. Dealing with his drama while I'm working outrageous hours on this California project is not improving my attitude toward him.
Rate your story: Cozy, cozy with a touch of romance, cozy with a little extra action, private eye, action-packed, leave-the-lights-on-all-night, other.
Hmm, there's definitely a tumultuous romance going on the JC and a bit more detective action than he'd like to see in my life. Really, I'd call the books mysteries. I'm a finance person who turns into an amateur sleuth when it's the right time to do to protect my friends and family.
What does your author have in store for you next?
I wish I knew! She really threw some unexpected personal challenges at me in Calling for the Money. There will definitely be consequences there. My author started a new series with my event-planner half-sister. Maybe I'll wander up to the Cascade Mountains and see what Keri is doing.
Sounds like fun! Can't wait to find out about your next escapades. Thanks for hanging out with us!
---
My thoughts on Calling for the Money
Calling for the Money is a quick, light read for anyone who likes a little romance with their amateur sleuthing.
Holly Price has everything she ever wanted. But is it everything she needs?
Fresh from a breakup with the sexy JC Dimitrak, Holly questions what she really wants out of life and the choices that have led to her current circumstances.
Temporarily located in Los Angeles for work, Holly soon becomes embroiled with the personal drama of a group of friends, including her father's new girlfriend's son Max. Feeling isolated in the big city, and unsure where her future lies, she reaches out to Max for a little holiday cheer, only to find herself investigating a missing person.
Things go from bad to worse as Holly uses her analytical skills to uncover the nefarious criminal network that hasn't even gotten on the LAPD's radar.
Throughout the puzzle of the missing person, Holly also faces her own problems, both personal and professional, as she solves the biggest mystery of all . . . what she plans to do next.
The fifth book in the series, Calling for the Money can be read as a stand alone.
---
The Author of Calling for the Money: Cathy Perkins
Cathy Perkins is the award-winning author of financial mysteries, she writes twisting dark suspense and light amateur sleuth stories.
When not writing, she does battle with the beavers over the pond height or heads out on another travel adventure.
She lives in Washington with her husband, children, several dogs, and the resident deer herd.
---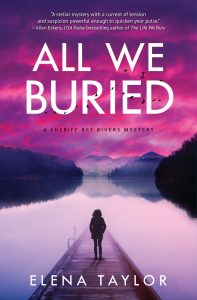 Elena Taylor is the author of All We Buried, available now in print, e-book, and audio book format at all your favorite on-line retailers. And don't forget many independent bookstores can order books for you and have them shipped to your home or for curbside pickup.
For more information on All We Buried, click on the link here to visit the home page.