Lisa Brackmann discusses the (re) launch of Black Swan Rising, music, and her obsession with . . . (read on to find out!)
---
The Author: Lisa Brackmann
Lisa Brackmann is the New York Times best-selling author of the Ellie McEnroe novels set in China and the thrillers Getaway and Go-Between.
The first Ellie book, Rock Paper Tiger was one of Amazon Top 100 Books of the Year and a Top 10 Mystery/Thriller. Hour Of The Rat, the sequel, was shortlisted for Left Coast Crime's international mystery award and was nominated for the Anthony Award for Best Audio Book.
Dragon Day, the third novel in the Ellie McEnroe trilogy, was a Seattle Times Top 10 Mystery of 2015 and was short-listed for a Lefty award. Getaway was an Amazon Best Book of the Month and a finalist for SCIBA's T. Jefferson Parker award. Her novel Go-Between was called, "a terrific noir tale that channels Richard Stark's stories" and a "Hottest Summer Books" selection from the Minneapolis Star-Tribune.
Her work has also appeared in The Wall Street Journal, Travel+Leisure, Salon, Los Angeles Review of Books and CNET. She lives in San Diego with a cat, far too many books and a bass ukulele, and she's playing in a band again after a 17-year break.
To learn more about Lisa, click on her name, photo, or any of the following links: Twitter, Facebook, and Instagram
---
Black Swan Rising by Lisa Brackmann
Sarah Price wants a career in politics. But she has a secret past that won't stay past, threatening her job on a San Diego congressman's reelection campaign.
Casey Cheng wants a story. An ambitious local television reporter, Casey needs to get her career back on track after being seriously injured in a mass shooting. When she investigates the man who nearly killed her, she finds a connection to a group of online harassers called #TrueMen―and realizes her shooter may not be the only killer they have inspired.
Casey's investigation and Sarah's secret put them both in the crosshairs of a hate group that targets anyone they've deemed to be against their cause, including Sarah's boss, the congressman. Now Sarah and Casey have a choice to make―do they hide? Or do they fight back?
To buy the book, click on any of the following links: Amazon, Barnes & Noble, and IndieBound
---
The Interview with Lisa Brackmann
Black Swan Rising covers very difficult issues, including: race, gender, and gun violence. That's a lot to tackle. What prompted you to write about such challenging issues?
Boredom? Masochism? Truthfully all of my books have an issue or two at their core. What happens is, I become interested in something that I think is important, I gather a lot of information and then I need to process it in some way.
I want to communicate what I discovered.
I'm not really an essayist, and I think that fiction is a great vehicle to do that, as long as you can embed the issues deep in the bones of the story. Otherwise you end up with something didactic, which is no fun in a novel.
---
"New publishers aren't generally inclined to pick up an orphaned book, especially in this very challenging business environment."
---
Black Swan Rising was originally published by Midnight Ink, and it was launched again this month as a self-published book. Can you tell us why you chose that route and what that experience was like?
Midnight Ink was shuttered by its parent company about a month after Black Swan Rising was published. I knew that meant no paperback, no further marketing of any kind and limited availability. I didn't want my book to be the resident of an abandoned house, so I pushed as hard as I could to get the rights back.
As to why self-publishing, unless the book was a tremendous hit, your options in this situation are pretty limited. New publishers aren't generally inclined to pick up an orphaned book, especially in this very challenging business environment.
I decided to partner with my agency, Curtis Brown – they have a co-publishing program, and I felt that having some sort of infrastructure behind the book was a better option for me than trying to do it on my own for the first time.
We're still working on stuff like, getting the reviews on the older edition linked to the new one and getting the paperback in publishable shape. But so far so good. I asked the artist who designed the original cover to do this one, and I think the result is spectacular! I wanted the new edition to look professional and be professionally executed.
We follow more than one Point of View character throughout the novel. That's a challenge to pull off, but you do it very well. What was your process in making all the Point of View characters equally engaging? What led you to writing from multiple POVs and why did you choose the characters you did?
That really was an organic process, not something I'd planned.
I started with Sarah. In fact, I wrote that first chapter in July 2014. When I was able to get back to the book, I realized that it would be very difficult for me to tell the story that was evolving as I wrote.
I wanted to talk about the impact of gun violence, and I also was going to need a character who was better suited to investigate what was going on than Sarah—a staffer on a congressional campaign—would be.
So, I had Casey Cheng, a very minor character, an extra with a couple of lines, really—who'd appeared in Sarah's Twitter feed and that I'd decided to make one of the victims of the mass shooting at the book's beginning, just because we'd seen her reporting from the scene and that way, readers would have at least some connection to one of the victims, rather than them just being names.
And I realized that Casey was the perfect vehicle to both look at the effects of gun violence and to further investigate the conspiracy—if there is one–that drives a lot of the action in the story.
I can't remember why I decided to make Lindsey, the congressman's wife, a POV character. I think I just got to the point of the story right before we go into her head and thought, "You know, I think I need another perspective on what's going on here."
I didn't just want to leave the interpretation of Matt, the congressman, all in Sarah's hands. She's simultaneously starry-eyed, suspicious and smitten, but she doesn't really know Matt. I wanted to get closer to him without getting into his head, and his wife seemed like an interesting choice.
Lindsey could have easily ended up as an unpleasant stereotype, and I thought that she might have some interesting things to say to counter that.
As to the "how," a lot of it for me is finding a character's distinct voice. I need to be able to hear them in my head, to channel that onto the page. Whenever I start getting lost with a particular character, I take a step back and try to put myself in their shoes and let how they would see a situation, how they would think about it and talk about it, flow through me.
---
"…San Diego is actually a very safe city–the safest large city in the United States."
---
You and I grew up in the same neighborhood in San Diego. I loved reading this book and knowing exactly where everything took place and what the locations look like. I'm curious if it was psychologically or emotionally difficult to frame such a violent story in your own backyard?
Oh god yes. So, even before the pandemic, I was a huge walker (now I'd put myself in the "obsessive" category). I spent a lot of time walking around this neighborhood and the extended community, observing. Thinking, this is a much more interesting place than I'd realized it was when I lived here before, and it would make a great setting for a novel.
(IMPORTANT BACKSTORY: Elena and I both went to the high school that was the model for Cameron Crowe's FAST TIMES AT RIDGEMONT HIGH. I'm here to testify that Spicoli is real, y'all!). (Elena here—It's true!!! Totally real!!)
As the characters in BSR say more than once, San Diego is actually a very safe city–the safest large city in the United States. But guns are everywhere in this country, and with guns, the possibility of sudden gun violence. San Diego County had what was for a number of years after the worst mass shooting in the US, the San Ysidro McDonald's massacre in 1984.
---
"…I really freaked myself out."

---
I am not really a paranoid person. I walk all over the place, I walk at night, I am observant and aware of my surroundings, but if I really worried about the bad things that might happen, I wouldn't do a lot of the things that I do. But with this there were several times that I really freaked myself out.
One was when I went to an event that featured two congressmen. One of the things that impressed me was how accessible many of our elected officials actually are. But the flipside of this was, I started thinking, "Anyone could walk in here with a gun and start shooting. There would be no way to stop them."
And we want our elected representatives to be accessible—that's a huge part of their job, and a democratic republic can't function without this openness. But it was a frightening and paranoia-inducing thought, just how easy it would be to commit murder in such a setting.
Another example was a sequence I wrote set in a local park. I had a specific park in mind and wanted this to take place during a community fair. Shortly after I wrote it, I walked by the park and there was a community fair going on–and it was pretty much how I'd pictured the one in my book.
I had to change some identifying features of the park in my book after that. I couldn't stand the idea of violence invading a peaceful fun event like this in my neighborhood. Like Casey, I worried that by writing the event, I might somehow be helping to bring it to life. Rationally I knew this was nonsense, but you know, writers are kind of megalomaniacs, right? 😂
---
"I am not the kind of author who can write book after book after book without a break."
---
How does playing music inform your writing?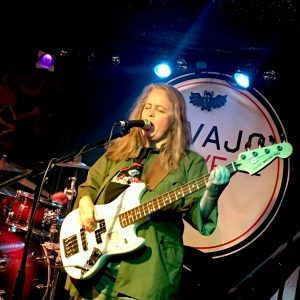 I like to think that my prose has a certain musicality–I want it to sound right, and I select my words and construct my sentences with that in mind. I am very aware of rhythm and how it can help establish mood and tension.
But I also find that playing music is a great outlet that nourishes and expresses a different part of my creative self.
I am not the kind of author who can write book after book after book without a break. I need time to replenish the well, to gather new material, to take things in.
That's where I'm at right now. I still have things I want to express but they don't present themselves in the form of stories. So I've been writing songs again, for the first time in 20 years, and I'm finding that extremely satisfying.
It's a different creative muscle and it feels great to flex it. And singing and playing the bass are fun in a physical way that writing really can't be. There's something about being able to sing a note or a phrase and capture an emotion, about how fingers on the fretboard of my bass and hitting its strings feel that's immensely pleasurable.
---
---
What are you working on now?
Well, as you might have guessed from the above, I'm not really working on a novel. I'd started something after BSR but I was so burned out between the process of writing that book and then what happened to Midnight Ink that I just didn't have a lot of drive to finish it. I do have an idea for a new book but realized that it would actually work better post-pandemic than in the Before Time. And there's no need for me to write speculative fiction when I can just try to survive this and see what things are like for real on the other side.
So I've been working a lot on music and learning how to do home recording—first time I've tried to do it. I'm limited in what I can do by both my own skills, my equipment and my access to other musicians, but I've been collaborating with the guitar player from the band I had in LA back in the 90s, and we've had a blast.
I send him bass, vocals, and robo-drums and the occasional very badly played guitar part (I really can't play guitar!), and he comes back with a bunch of tracks and we do some back and forth until it feels like I have what I need. These aren't polished productions–not even close–but I like to think they capture the feel of the song. I'd really love to get some live drums on them (the drummer I used to work with is looking into how he could add tracks), but what we'd really like to do is at some point go into a proper studio and let the pros handle that part of it.
Otherwise I've been doing the various money gigs I have: writing work for hire, editing, social media, etc.
Oh, and teaching myself to be a better cook. I'm getting a ton of enjoyment out of that! Plus I spend 2-3 hours every day outside, walking. Another form of meditation that's helped me keep whatever sanity I have during this crazy time!
---
"My advice is to write the best book you can."
---
Final words of wisdom . . .
This is an incredibly difficult publishing environment–even tougher than when I was first published a decade ago, and it was no picnic then.
My advice is to write the best book you can. Try to be patient and not rush it. Pay attention to your prose and make sure you are saying exactly what you want to say. Find trustworthy critique partners–that's not always easy, because I'd also say that all feedback is not created equal. Look for people who want to help you write your best book rather than impose the book they would write on yours.
Don't try to time the market. It's nearly impossible to do in any case, given the lag between finishing a book and finding an agent and selling it. Write the book you want to read. Tell the story you want to tell.
---
So glad to have you on my blog today. I loved the book and connecting with someone from not just my hometown, but the same neighborhood! Best of luck with this launch and all your creative endeavors.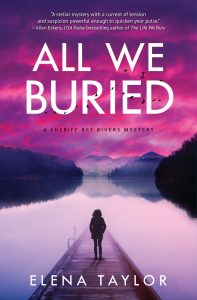 Elena Taylor is the author of All We Buried, available now in print, e-book, and audio book format at all your favorite on-line retailers. And don't forget many independent bookstores can order books for you and have them shipped to your home or for curbside pickup.
For more information on All We Buried, click on the link here to visit the home page.