The Corpse with the Crystal Skull
Visit all the stops along the tour to learn more about Cathy Ace and her most recent release.
---
Love your mysteries cozy? Find out about Cynthia Kuhn and The Study of Secrets, click the link here.
---
The Corpse with the Crystal Skull by Cathy Ace
Welsh Canadian globetrotting sleuth, and professor of criminal psychology, Cait Morgan, is supposed to be "celebrating" her fiftieth birthday in Jamaica with her ex-cop husband Bud Anderson.
But when the body of the luxury estate's owner is discovered locked inside an inaccessible tower, Cait and her fellow guests must work out who might have killed him – even if his murder seems impossible.
Could the death of the man who hosted parties in the 1960s attended by Ian Fleming and Noël Coward be somehow linked to treasure the legendary Captain Henry Morgan might have buried at the estate?
Or to the mission Bud and his secret service colleagues have been sent to the island to undertake?
To buy the book, click any of the following links: Amazon and Kobo
Cozy Mystery
9th in Series
Publisher: Four Tails Publishing Ltd. (June 29, 2020)
Print Length: ~300 pages
Digital ASIN: B087QR91NP
---
My Thoughts on The Corpse with the Crystal Skull
The Corpse with the Crystal Skull is a delightful addition to Cathy Ace's Cait Morgan series.
Cait Morgan makes for a terrific protagonist, witty, clever, and deftly human in her insecurities, she uses her training in criminal psychology and eidetic memory to help solve a murder that stumps the local police, not to mention Cait's husband and his cohorts who are visiting Jamaica for more than just a little R and R.
The supporting characters are equally engaging. My enjoyment of this book came as much from the dynamics between the characters as unraveling the whodunit, though it's a twisty and complex mystery to complement the fun characters.
Cathy Ace has a sharp ear for dialogue, a knack for creating appealing characters, and a deft hand at crafting a satisfying plot. Her characters struggle with aging, relationships, marriages, past traumas, and issues of class, making for an excellent exploration into the human condition—augmenting the clever murder investigation.
Set on a posh, private estate in Jamaica, the location adds another level to the story as Ace shows us the vast differences between the "haves" and "have nots" on the island. A mysterious missing treasure, a locked tower, and a reclusive Italian movie star all add up to a fun summer read.
If you aren't familiar with Cathy Ace's Cait Morgan Series, this book will have you dying to pick up book one.
---
About the Author of The Corpse with the Crystal Skull
Cathy Ace's Welsh Canadian criminal psychologist, and foodie, sleuth Cait Morgan encounters traditional, closed-circle whodunits around the world, while her WISE Enquiries Agency Mysteries feature a quartet of soft-boiled female PIs who solve quintessentially British cases from their office at a stately home in Wales.
Her standalone novel of psychological suspense, The Wrong Boy, became an amazon #1 bestseller.
Shortlisted for Canada's Bony Blithe Award three times in four years, winning in 2015, she's also won an IPPY Award, and has been shortlisted for an Arthur Ellis Award. Cathy lives in Canada, having migrated from her native Wales aged 40.
To learn more about Cathy, click on her name, photo or find her on Facebook, Twitter, and Goodreads.
---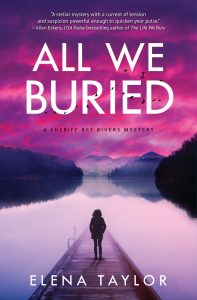 Elena Taylor is the author of All We Buried, available now in print, e-book, and audio book format at all your favorite on-line retailers. And don't forget many independent bookstores can order books for you and have them shipped to your home or for curbside pickup.
For more information on All We Buried, click on the link here to visit the home page.